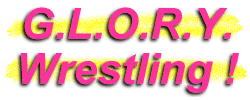 Lady Victoria
Wrestler
Lady Victoria is one lady that you don't want to see standing across the ring from you when the bell sounds. Her impressive 5'3", 140 pound, muscle-packed physique is enough to put away most opponents. And the fact that Lady "V" will mix in a healthy dose of cheating and rule-breaking to collect a win makes her even more dangerous. Look out...here comes Lady Victoria!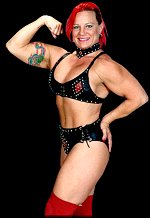 Lady Victoria's physique is second to none!
Lady Victoria prepares a knuckle-sandwich for Mia Martinez.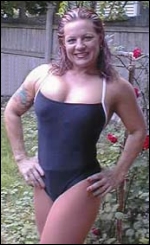 Lady Victoria is looking good...as usual.
A common site: Lady Victoria bringing a scream to the lips of another opponent.
Lady Vic seems nonchalant about this choke she's laying on opponent Louise Lockwood.
Lady Victoria's Stats...
Height:

5' 3

Weight:

140

Hometown:

Dayton, Ohio (USA)
Lady Victoria's Profile...
Gimmick:

I am a heel by trade, but if need be I can be just as nice as the next person..LOL!

Wrestling Style:

I am experienced in all types of pro wrestling. I can fly high or submission wrestle (mat wrestle). I am aggressive in the ring no matter what. That is the key to winning pro wrestling.

Gear:

I wear leather...usually red leather with black diamonds sewn into it. As a face I wear black. As a tag team with Electra, we both wear silver from head to toe.

Titles Held:

NWA Michigan Champion, "Big Time Wrestling" Ladies Champion, IWI Ohio Champion, RAW Ohio TV Champion.

Favorite Type of Match:

Any match where I don't get injured...LOL! Seriously, I love running high spots. I am highly trained and will do more technical wrestling with another trained pro. If wrestling someone green, I keep it simple. Love to chain wrestle.

Favorite Moves/Holds:

I have many favorites, but I particularly like suplexes since they highlight my strength. Also, I like to devise new methods of cheating to take down my opponents. I have many favorites, but I particularly like suplexes since they highlight my strength. Also, I like to devise new methods of cheating to take down my opponents.

Finisher:

Double-underhook pile driver or Power Bomb.

Biggest Allies:

I get along with just about everyone, but Amanda Storm is an especially good ring friend.

Most-Hated Enemies:

Without a doubt, Malia Hosaka. It was one of my first matches and it was a rough one!

Career Highlight:

Wrestling against my husband, Johnny Rayz. He is my teacher and mentor. I have had many matches with him and all were great. We make it work even though he is a man! I have tapes of this match and some with Tami Star for sale from Big Time Wrestling (Bobby Fulton).

Favorite Wrestlers:

Al Snow, of course.

Wrestling Ambition:

To support my husband in every way. I feel as though when he makes it, my path will be short from there. And it looks like he is going to get his break soon!
Lady Victoria's Personal Notes...
I have my own company...PLW "Pro Ladies Wrestling". I run shows with all ladies and capture them on tape. My videos are the highest quality, best camera work on the market today with such wrestlers as Lexi, Brandi Wine, Bambi, Peggy Leather, Rusty The Fox , Katra and Blaze. My goal is to have a huge library of tapes and make my living on the selling of tapes alone. My hope is to have the most popular tapes out within the next five years. Nobody even comes close to the work we do. But, it costs thousands just to put out one tape. So I'll keep wrestling and trying to build my company until I am at the top. I love what I do and never plan to quit...EVER! I have been to Japan on a tour (1999). I've been in a fast action movie in India. The list just keeps growing! I am one of the first ladies to be booked on any female show that comes up. I am at a position where I can pick and choose who I want to work for. If I am not on an all-ladies show, it is because I found the talent to be low and I must think of my safety. I only wrestle other trained ladies...it is so easy to get hurt badly in this business. I am currently doing two pro matches a week now in Indiana, Michigan, Pennsylvania, Ohio, Tennessee and West Virginia. I like to stay close to home as I have two kids (13 and 23). I also have two Dalmatians and one Rotweiler. Along with my husband, this is my whole life. I am happy to be in this business and be successful at it. My ring ability speaks for itself.
Essential Lady Victoria Links...