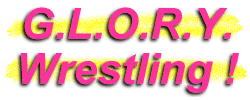 Lacey
Wrestler
Lacey has worked with numerous promotions throughout her career such as Ring of Honor, SHIMMER, IWA-Mid South and NWA Midwest. She was known as the "smartest business woman" in Ring of Honor where she previously managed a stable of wrestlers called Lacey's Angels. Now the well-known indy star is back in ROH as a member of The Age of the Fall. Lacey was a backstage correspondent for MTV's Wrestling Society X and also hosted WSXtra (WSX's internet show) along side Fabian Kaelen. The Minneapolis native often tags with fellow G.L.O.R.Y. Girl Rain as The Minnesota Homewrecking Crew.
Lovely, of course, but most definitely sexy: Lacey!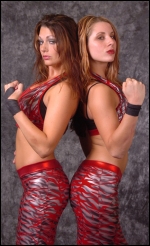 Lacey and Rain are
The Minnesota Home Wrecking Crew!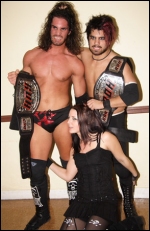 Lacey and her
Age of the Fall
teammates.
Lacey's view on war is pretty clear, don'tcha think?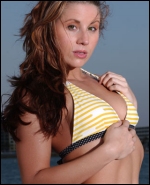 Lacey always turns a lot of heads when she hits the beach in this sexy bikini!
Lacey's Stats...
Height:

5' 6"

Weight:

130

Hair:

Black & Red

Eyes:

Green

Hometown:

Minneapolis, Minnesota (USA)
Lacey's Profile...
How It Started:

I grew up watching wrestling with my father, and he was friends with a few of the Minnesota guys. I fell out of watching wrestling as I grew a bit older, but then began getting hooked again around the age of 13. I began to watch wrestling a bit differently than I had when I was a younger child--I really grew to appreciate the combination of athleticism and entertainment. It was then I realized I wanted to be involved in this business. Luckily, my dad was still friends with trainer Eddie Sharkey and I signed up at his school just after turning 17 years old.

Gimmick:

Lacey is not shy about proclaiming herself to be the "Best Women's Wrestler in the UNIVERSE", as well as part of the "Best Tag Team EVER"...

The Minnesota Home Wrecking Crew

with Rain. Lacey will do whatever it takes to get the win--whether that means following the rules or bending them to suit her needs. She is also part of the

Age of the Fall

in Ring of Honor...along with Jimmy Jacobs, Tyler Black, Necro Butcher and Joey Matthews. Together, they use Ring of Honor as a platform to spread their message about our decaying society and what they believe we should do to save ourselves and the world.

Wrestling Style:

Lacey tends to stick to a more old-school style of wrestling. No fancy-schmancy moves off the top rope or contrived chain wrestling sequences...just whatever it takes to get the job done!

Titles Held:

IWA Midsouth/NWA-Midwest Women's Champion; FLWA Women's Champion; MIW Women's Champion.

Favorite Type of Match:

Tag matches with her partner Rain are definitely Lacey's favorite match type!

Favorite Moves/Holds:

Implant DDT; TKO; Lung Blower; Spinning Heel Kick; Cobra Clutch.

Finisher:

Implant DDT.

Biggest Allies:

Rain; Jetta; Jimmy Jacobs; Tyler Black; Necro Butcher; Joey Matthews.

Most-Hated Enemies:

EVERYONE who disrespects her and who contributes to the decay of society.

Career Highlight:

Working with Sherri Martel at the Target Center in Minneapolis for SDW; Becoming the first IWA-Midsouth Women's Champion; Making it to the finals of the first ever SHIMMER title tournament; Working overseas in Europe; Being part of Wrestling Society X; Being part of the

Age of the Fall

in Ring of Honor.

Favorite Wrestlers:

As a little girl, I used to love Jake The Snake and Undertaker. Nora Greenwald, Madusa and Fabi Apache were great inspirations. Also: Jerry Lynn, Austin Aries, Tracy Smothers and Milano Collection AT, just to name a few.

Wrestling Ambition:

I want to be a part of changing society's perception of women's wrestling today--for the better!
Lacey's Personal Notes...
After graduating from the University of Minnesota in 2004, I packed up my life and my cat and moved out to the East Coast for nearly 3 years. Out there I gained the opportunity to work for many new promotions, including getting my start in Ring of Honor. After having enough of dirty Philadelphia living I moved back to my love, the Midwest.....I grew up dancing and riding horses. I still have my horse, although I rarely see him anymore!.....I'm extremely interested in natural, holistic medicine, herbology and acupuncture, and plan on going back to school for this when I am able to slow down my wrestling schedule.
Lacey Video