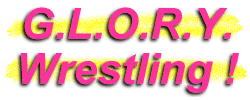 Felina
a.k.a. Gail Kim
Wrestler
Felina, the stunning Asian beauty who has rocketed to super-stardom in the wrestling world, is now on track to become one of the most popular ladies in the WWE. And it's no wonder: not many ladies in the business today can surpass Felina's killer combination of stunning beauty and superb ring skills. Originally wrestling under a black mask, Felina's career actually took off after she lost a big match. One of the stipulations of that match was that she would have to reveal her face if she was not victorious. When the mask came off and Felina's beauty was finally revealed to the fans, everything changed for her. Fans everywhere suddenly wanted to see more of the sexy new grappler...including top executives of World Wrestling Entertainment! With the WWE Women's Title firmly in her sight, it shouldn't be long before we see Felina with the gold wrapped around her gorgeous waist.
Sexy. Beautiful. Athletic. Talented. All apply to the stunning Felina!
It's hard to believe that this sexy and gorgeous lady could be such a rough competitor, but Felina won't walk away from a match...even a hardcore affair.
What more can be said of the this stunning Asian beauty? Just look at this picture...
Believe it or not, Felina wrestled under a mask at the beginning of her career.
You're sure to see plenty of high-flying action during a Felina match. The talented grappler loves to take to the air whenever she can!
Felina's Stats...
Height:

5' 4"

Weight:

125

Hair:

Dark Brown

Eyes:

Brown

Hometown:

Toronto, Ontario (Canada)
Felina's Profile...
How It Started:

I always loved wrestling and wanted to do something as a career that involved being athletic or physical. Luckily, I fell upon AWF's Web site so I figured that I would take a shot. From there, I moved on to the Squared Circle Training Gym in Toronto. It was something that I was passionate about so I gave it everything I had. After a lot of hard work, training and perseverance, I've gotten to the place I want to be and I'm doing what I love!

Gimmick:

I can't really say that I have a gimmick. I just try to do my best to have a great match and pull out a win. Oh...and looking good while doing it always helps, too!

Wrestling Style:

Part technical, part high-flying, and part whatever I have to do to get the victory.

Gear:

I don't wear anything in particular now. Back in my "masked days", I used to wear an all-black catsuit. Now I wear whatever strikes my mood at the time. Usually it's a hot two-piece outfit or sexy, shiny tights.

Titles Held:

None yet. But you can bet I'll be shooting for the WWE Women's Title soon!

Biggest Win:

I'd say it was my very first singles match in AWF against Tracy Brooks.

Worst Loss:

When I wrestled Tracy in an important title match and lost to her.

Favorite Type of Match:

Singles competition mostly, but I also enjoy mixed tag matches.

Favorite Moves/Holds:

Anything that is high-flying. I like taking big bumps, too. :)

Finisher:

Nothing specific. Whatever move I use, I'm happy with it so long as it does its job and finishes-off my opponent.

Biggest Allies:

At this point in my career, I've learned that you can't be allied with anyone too closely, because you never know what might happen. I pretty much rely on my own wits to carry me through.

Most-Hated Enemies:

Can I list everybody? Here's the way I look at it: whoever stands between me and the title I'm shooting for...I consider an enemy!

Career Highlight:

There have been a few. My very first singles win was a thrill. Being signed by the WWE and getting to meet all the Superstars has definitely been a thrill. Also, competing in my very first WWE event. Things are happening so fast now, I feel like there is a new highlight almost every day.

Favorite Wrestlers:

There are so many. But I really like Chris Benoit, Jeff Hardy and Molly Holly.

Wrestling Ambition:

Well, my ambition had always been to make it to the WWE. Now I'd have to say that the next logical step is to go after the Women's Title!
Felina's Personal Notes...
If you're looking for all those cute little facts, hobbies and tid-bits about me like the other wrestlers have on their profiles...get lost! The fact is, my life revolves around wrestling and that's what takes up all my time and energy. When I'm not actually in the ring, I do things that will make me better in this business. Weight training is one of them. Do you think I got this body from sitting in front of the television set watching Monday Night Raw with a bag of Doritos?! After weight training, I like to get involved with various other sports. I find that they help me to improve my physical conditioning, reflexes and overall health. So don't ask me what my "favorite color" is unless you want to find yourself laid out flat on the floor!
Essential Felina Links...