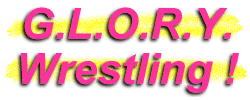 Kirsten Scott
Wrestler
Not yet out of her teens, pretty yet powerful Kirsten Scott is proving herself to be a worthy competitor in United Kingdom wrestling rings. Introduced to the sport by lifelong friend Louise Lockwood, Kirsten now often finds herself battling Ms. Lockwood in her quest to capture the British Championship. Whether it's exchanging technical holds, trading strength moves or simple, out-and-out brawling, this powerful blonde teenager is sure to hold her own and give her opponent a match she won't soon forget. It shouldn't be long before gold is riding around the wasit of Kirsten Scott...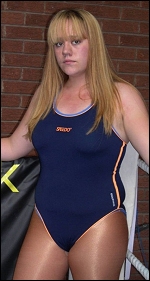 Pretty and powerful Kirsten Scott waits in her corner for the bell to ring.
Kirsten taunts ring foe Louise Lockwood as she tightens-up on the sleeper.
Kirten nearly snaps her opponent in half as she leans back into this Boston crab.
Kirsten is not afraid to break the rules if her opponent wants to brawl instead of wrestle!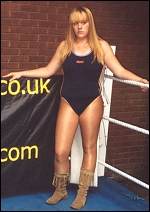 Ms. Scott glares at her opponent from across the ring.
Kirsten Scott's Stats...
Height:

5' 10"

Weight:

160

Hair:

Blonde/Brown

Eyes:

Brown

Hometown:

Manchester, England (UK)
Kirsten Scott's Profile...
How It Started:

I have known Louise Lockwood since I was eight years old and we are good friends outside the ring. When she started wrestling, I went along to watch her practice and I just got hooked and have been ever since.

Gimmick:

I dont really have a gimmick as such. I just like to get in there and get the job done. (God I must sound boring!)

Wrestling Style:

Well, the style I like is the traditional British-style from the 70s...no messing about outside the ring with chairs, tables and all that. I do my wrestling inside the ring.

Gear:

I think a wrestler should look like a wrestler and wear the costumes, tights and boots just like they used to. Call me old fashioned, but that's my style.

Titles Held:

None at the moment...but I'm looking for a chance to fight for the British Title soon, so wish me luck!

Biggest Win:

My biggest win was against my friend Louise in August of 2003. She is a great wrestler and you have to be on your toes against her. It's a shame it was not a title bout though!

Worst Loss:

I have been beaten, but I would not call any of them a worst loss. No one likes losing, but no one is immortal. In losing, I have seen where I have made mistakes...so I suppose the losses have been a learning experience.

Favorite Type of Match:

Anything goes. If people want to rough it up, then this girl will accommodate you.

Favorite Moves/Holds:

I just love the Airplane Spin. When you are up there you are all mine!

Finisher:

The Piledriver it is one of the best finishing moves around. When you connect correctly they are out. If sometimes they dont connect the way you would like, it still weakens them enough for you to get a Sleeper on and then it's goodnight sweetheart!

Biggest Allies:

My family and Louise (when we aren't fighting in the ring that is!).

Most-Hated Enemies:

That has got to be Samantha Wilde.

Career Highlight:

Being voted "Most Up-And-Coming Wrestler" by the BWA (British Wrestling Alliance).

Favorite Wrestlers:

Kurt Angle.

Wrestling Ambition:

Well, I would like one day to wrestle in the States. I would also love to win the British Title. I want to stay healthy, keep on wrestling, and hope the fans enjoy watching me.
Kirsten Scott's Personal Notes...
I would say I am your typical teenager. I love to go to pubs and clubs at weekends here in the UK (you only have to be 18 over here), but during the week I go to college.....I am training to be a health and beauty technician. It will benefit me in the long run, but it can get tedious sometimes.....I also am learning to drive so I dont have to rely on people all the time. Let's hope I pass!.....As you can see by my name, I am Scandinavian. I was born in the UK, but I have descendants from that part of the world. I would love to go to the region one day. It looks so beautiful! Maybe that is where I get my strength--from the Viking part of me!....Thank you for having me on G.L.O.R.Y. I am looking forward very much to meeting the fans. Love to you all!
Essential Kirsten Scott Links...