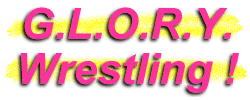 Kassie Rains
Wrestler
Ever since she was a little girl Kassie Rains was enthralled with the wrestlers she watched on TV. As she got older, the attractive Tennessee teen could have very easily chosen to pursue the modeling profession...but she decided that wrestling was something that she just had to try! After finding a school and a trainer, Kassie hit the ring to start her wrestling career. She's still at the very beginning of her journey, but this blonde battler is certainly making an impression on everyone who sees her in action. Keep an eye on Kassie Rains...a girl with a promising ring career ahead of her!
Fast-rising rookie Kassie Rains!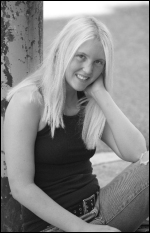 Rains could easily have been a teen model. Lucky for us she chose wrestling!
Kassie works the arm and shoulder of her opponent.
Kassie Rains' Stats...
Height:

5' 5"

Weight:

120

Hair:

Blonde

Eyes:

Green

Hometown:

Knoxville, Tennessee (USA)
Kassie Rains' Profile...
How It Started:

I've liked wrestling ever since I was a small girl. One day I was watching wrestling on TV and just made the decision..."this is something I want to do!" I looked around for wrestling shows and saw a poster for one close by. I went and I was hooked! One of the wrestlers on the show was also a trainer and he answered a lot of my questions about how to get started. I was training at his school the very next week!

Gimmick:

I am a pretty girl who knows it. I'll do anything it takes to win. I may look sweet...but that doesn't mean I am!

Gear:

Black and green pants with a black and green lace shirt.

Titles Held:

UWA TV Title.

Favorite Type of Match:

Mixed tags.

Favorite Moves/Holds:

Flying head scissors; swinging neck breaker.

Finisher:

Stunner;

"Slice Bread"

.

Career Highlight:

Steel cage match with The Dirty White Boy as the guest ref.

Favorite Wrestlers:

HBK Shawn Michales; AJ Styles; Triple H.

Wrestling Ambition:

I would like to make it to WWE, but as long as I'm wrestling I'm happy.
Kassie Rains' Personal Notes...
I like rock music.....I have an English bulldog named Ozzy which I named after the singer Ozzy Osbourne.....I also love to work out and stay in shape.....I put God first in my life always. He has blessed me and given me a wonderful life.
Kassie Rains Video