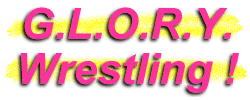 Kara Kildare
Wrestler
The bell is about to sound. A wrestler stands in her corner...nervous...wondering why she signed a contract to compete in this match. Chances are good that her opponent is Kara Kildare! This no-nonsense, powerful lady is an intimidating figure to be standing across the ring from. Kildare's combination of old-school wrestling style and tenaciousness has been winning her new fans everywhere she competes.
Wrestler Kara Kildare!
Kara steps through the ropes.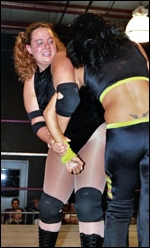 Double-K works over the arm of her opponent.
Kara goes for the cover!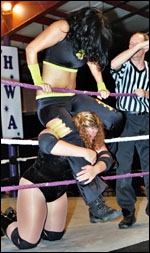 Things don't ALWAYS go Kara's way!
Kara Kildare's Stats...
Height:

5' 6"

Hair:

Reddish-Brown

Eyes:

Gray

Hometown:

Cleveland, Ohio (USA)
Kara Kildare's Profile...
How It Started:

I started watching WWE on TV and got hooked. I found out there was an indy fed (Heartland Wrestling Association-HWA) not far from my house that was actually one of the farm systems for the WWE. I started going to their shows and decided I wanted to train there.

Gimmick:

I'm usually just myself...myself ends up being an easy-going, yet no-nonsense wrestler.

Wrestling Style:

Combination of old-school and technical (well, I try anyway!). But since I'm a big girl and a good base, I do a lot of power moves.

Gear:

I wear various types of gear, mostly pants and tank top combos. I mostly wear my gold outfit. I do have a gold/yellow skirt and tank combo and a singlet with a pink background, and various colors. I also have many sorts of bathing suits that double as outfits for those who like the old scool outfits.

Titles Held:

World Wrestling Coalition Women's Champion.

Biggest Win:

Sept. 8th, 2007: Mary Elizabeth vs. Kara Kildare for the WWC Women's Championship...my 1st title!

Worst Loss:

Once again, nothing really comes to mind. So many matches, so little remembering.

Favorite Type of Match:

I'm good for all types. I've done one street fight and found it to be entertaining, but it was for a custom and didn't require much thought. I mostly wrestle in singles.

Favorite Moves/Holds:

Spinebuster; Tilt-a-whirl; side slam.

Finisher:

Bulldog Powerslam.

Biggest Allies:

I'm all alone at WWC. : (

Most-Hated Enemies:

Mary Elizabeth.

Toughest Opponent(s):

Probably Jenelle Sinclair because we're always wrestling each other.

Career Highlight:

Becoming WWC Women's Champion.

Favorite Wrestlers:

Edge and Christian.

Wrestling Ambition:

Simply to have fun.
Kara Kildare's Personal Notes...
I usually have interests that sit with me for a couple months, then I drop it and move onto the next.....I never thought anything would take the place of Pirates of the Caribbean, but with all the new Star Wars stuff about to happen, I seem to have slipped back in. I mean come on, who doesn't want to see a 3-D Yoda? (General Grevious rules!)
Latest Kara Kildare News...
The new & current WWC Women's Champion!
Essential Kara Kildare Links...