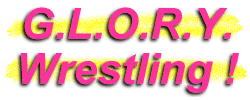 Kameo
Wrestler
After becoming well-known as SCW's "Manager Of Champions", Kameo set her sights on a new challenge: THE RING! Yes, this beautiful lady showed absolutely no fear in stepping out from her managerial role and stepping into actual ring competition. Kameo captured the NWA-VA Women's Title and XIW Women's Championship. She was also the first and only woman to hold the Vanguard Championship Wrestling Women's title. Shortly after winning it, the title was retired to Kameo when she fell ill and was diagnosed with Multiple Sclerosis. Her illness was enough to keep her out of the ring for three long years. Some thought they would never see Kameo competing in the ring ring again. Boy...were they ever wrong! Now Kameo is back and as dangerous as ever. Watch out ladies...many more titles are sure to be on the horizon for this sexy ring siren!
The beautiful and sexy Kameo!
Inside the ring, Kameo displays a surprising mean streak.
When she's not wrestling, Kameo is one of the Mid-Atlantic region's top managers.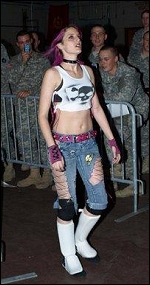 A platoon of happy soldiers have their eyes glued on Kameo as she heads to the ring...
and we don't blame them!
Kameo concentrates on the action in the ring.
Kameo's Stats...
Height:

5' 8"

Weight:

130

Hair:

Always changing! Currently black and pink.

Eyes:

Green

Hometown:

Washington, North Carolina (USA)
Kameo's Profile...
How It Started:

Well I have always been a fan of wrestling for as long as I can remember. I starting attending indy shows around the age of 17. One day, this weird green guy named Toad saw me in the parking lot of McDonalds and told me he just saw me at the show. We became friends and he got me a tryout with SCW in North Carolina. My career went from there.

Gimmick:

A true punk, through and through! As a manager, I am a wrestling "sports agent". I'm usually the heel. People love to hate me!

Wrestling Style:

More technical and old school. I wouldn't call myself a high-flyer, but I occasionally go to the top rope.

Gear:

I make my own gear. I shop the thrift stores and find old jeans or plaid pants/skirts that I can cut up and add patches, etc. Things that make me stand out with my own style.

Titles Held:

I currently hold the XIW and NWA-VA Women's Titles. The VCW Women's Title was retired on me.

Biggest Win:

Winning the first-ever XIW Women's Championship and first-ever VCW Women's Title. Also winning the NWA-VA Title...even though I was "awarded" it.

Worst Loss:

Losing the the first-ever SCW Divas Battle Royal.

Favorite Type of Match:

I am not into hardcore or evening gown matches. I just like good, old-fashion wrestling matches.

Favorite Moves/Holds:

I tend to use the Russian Leg Sweep a lot. It's quick, effective and I can hit you with it out of any position.

Finisher:

I am currently looking for an impact move that I really like. But for now, the Dragon Sleeper is working just fine.

Biggest Allies:

Rex Sterling and Chris Escobar.

Most-Hated Enemies:

It seems that no matter where I go I keep running into this one girl, Persephone. I can't get rid of her.

Toughest Opponent(s):

Lexi Fyfe.

Career Highlight:

My first year in the business I received the SCW Manager Of The Year Award. Winning the first XIW, VCW and NWA-VA Women's Title was wonderful. I'm also the first female to hold an NWA Title in the state of Virginia.

Favorite Wrestlers:

If I had to pick just one it would be Bret Hart. He's my idol, hero and inspiration!

Wrestling Ambition:

I want what we all want: A CONTRACT. I just wanna be able to look back at my career and say: "Yeah, I did it. I lived my dream."
Kameo's Personal Notes...
Hobbies: Writing poetry, photography, reading good novels, going to the beach, and watching movies.....My Favorites List! Band: Pearl Jam; Color: Black (it matches everything!); Actress: Angelina Jolie; Actor: Johnny Depp; Poets: Maya Angelou, Edgar Allen Poe; Authors: Stephen King, Ann Rice.....I am a big animal lover.....My biggest fears include drowning and spiders (Ugh!).....Yes, I have a few pet peeves: People who slurp their soup and cereal or scrap their teeth across their forks; having a dirty bathroom; people who lie; and someone changing the radio station every two seconds while you are driving.....My grandmother is my biggest hero. She is the strongest woman I know!.....What's most-important to me? No matter how rich, successful or famous I could ever be, nothing compares to a healthy life full of love.