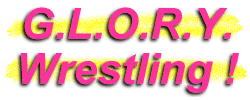 Eden Black
a.k.a. "The Jezebel"
Wrestler
"The Jezebel" Eden Black is one of the new breed of UK women who are proving that the ladies are just as capable of handling themselves in the ring as their male counterparts. This no-nonsense redhead takes it right to her opponent in the ring...using her repertoire of chops, fists, kicks and strikes to gain an advantage. And this jezebel is not against using a choke on the ropes or a hairpull behind the ref's back if the need arises. With a combination of technical skill and more than a hint of viciousness, watch for Eden Black to climb the ranks of the UK Women's Division.
The Jezebel! (Photo: New Pro Wrestling)
Eden flattens her opponent with a clothesline.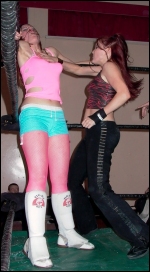 Eden lays into Chamera with some hard chops. (Photo: New Pro Wrestling)
The Jezebel with a sly look.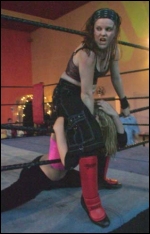 A vicious Eden Black strangles Jade over the middle rope. (Photo: Elisar Cabrera)
The Jezebel struggles to lock a reverse bearhug on her opponent.
Eden Black's Stats...
Height:

5' 5"

Weight:

126

Hair:

Red

Eyes:

Bright blue

Hometown:

Romford, Essex (UK)
Eden Black's Profile...
How It Started:

As a youngster all I did was watch WWE. I got hooked around the age of 11, and remember dragging my parents all the way back home a day early from a holiday on the Isle of Wight just to watch Summerslam '92! I was a huge fan of the Ultimate Warrior--his energy, passion and absolute insanity really appealed to me! As I got a bit older, I drifted away from the WWE and wrestling. I lost track of storylines and just didn't have the urge to get back into it. But a few years later when I was 18, a friend persuaded me to stay up all night and watch a WWE pay-per-view (I forget which) and BLAM!...I was back where I started, in absolute love with the whole idea of wrestling. But this time with a difference--I wanted to do it myself! For the next two years my friends and I went to various live events held locally, seeing the likes of Robbie Brookside and James Mason doing their thing, and I remember vividly thinking: "I can do this! I'm meant to do this!" I was inspired to find a training school and get cracking. And I'm still hooked! I have next to no time for the WWE anymore though. I much prefer to watch ROH/PWG/CZW or Japanese wrestling to get ideas and influence.

Gimmick:

Tough street chick!

Wrestling Style:

Strike based, strong style. Lots of power moves, kicks and chops...but also very athletic.

Gear:

Baggy black and blue hardcore shorts, blue basketball vest, blue kickpads, boots, wristbands and bandana.

Biggest Win:

Over Irish wrestler Rebecca Knox in Dublin (for NWA-Ireland).

Worst Loss:

To Lexie Fyfe at the 2004 IWF Ladies Night in Newcastle.

Favorite Type of Match:

Straight singles or mixed tag.

Favorite Moves/Holds:

"Garden of Eden" (Cross leg STF); "Eden Inch Punch"; "The Last Serenade" (Mafia kick followed by floating neckbreaker); "Possession" (Wrist-clutch exploder suplex).

Finisher:

"Snake In The Grass" (glimmering warlock); Crucifix Bomb or "The Eden Project" (Ocean Cyclone suplex).

Biggest Allies:

JP Monroe; Zack Sabre Jr; Omar Ibrahim; Jimmy Havoc; Rebecca Knox; Riptide; Gabriel Grey; Exodus; Bubblegum; Vic Viper; Red Vinny.

Most-Hated Enemies:

Lexie Fyfe; Phoenix; Jade; Violet; Skye; Jetta; Donna; Jennidee; Courtney Synn; Peter Jay; Danny Williams; The Ballymun Bruiser; Keego Ward.

Career Highlight:

Taking part in the IWF Ladies Night Show, where all proceeds went to Cancer Research UK and Breakthrough Breast Cancer charities...and wrestling Lexie Fyfe while there!

Favorite Wrestlers:

JP Monroe (NWA-UK Hammerlock...my soulmate, mentor and the most amazing, dedicated and innovative wrestler I've ever seen!); Super Dragon; Homicide; CM Punk; Christopher Daniels; Alex Shelley; The Briscoes; The Human Tornado; Amercian Dragon; Chris Bosh; Scott Lost; El Generico; Kevin Steen and far too many more to list!

Wrestling Ambition:

I want to help change the image that women's wrestling seems to have. It's not about T&A or catty fights in the ring after the men have finished wrestling. It's about passion, dedication, and ambition. It's about showing the world in our own little way that strong, powerful women DO have a place in wrestling whether they have a perfect figure or not!
Eden Black's Personal Notes...
When I'm not wrestling, I am sub editor of a trade magazine. It's my first grown-up job since finishing university where I achieved a 2:1 in Journalism and Contemporary History.....My favourite food is Chinese, especially Thai Chilli Tofu and crispy seaweed.....I have two cats without names.....My fiance is NWA-UK Hammerlock wrestler JP Monroe.....My favourite colours are red, black and purple.....My favourite TV shows are Lost, 24, The West Wing, Judge John Deed, Buffy The Vampire Slayer and Friends.....I'm into all kinds of music, but really love metal, industrial and hardcore.
Essential Eden Black Links...