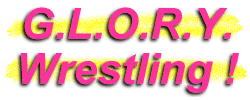 Jessie McKay
a.k.a. "Everybody's Favourite Girlfriend"
Wrestler
It's only taken a short time for Jessie McKay to become one of the most popular female wrestlers in her home country of Australia. And no wonder. This sexy and athletic young lady has shown her ring proficiency in singles competition and tag matches...relying on technical expertise, high-flying, submission wrestling and even some brawling (if the situation calls for it!) to get the victory. After successfully touring the United States, fans who have seen this young lady in action know it is only a matter of time before she explodes onto the worldwide wrestling scene. A star in the making...Jessie McKay!
"Everybody's Favourite Girlfriend"
...Jessie McKay!
Jessie has teamed with fellow G.L.O.R.Y. Girl Madison Eagles to form the
Pink Ladies
.
Jessie puts those long legs to good use in the ring.
McKay doesn't like to break the rules, but she can brawl with the best of them!
This girlfriend isn't afraid to mix it up with the guys.
Jessie loves few things more than finding the perfect outfit...and she certainly looks purrr-fect to us in this leopard dress!
Jessie McKay's Stats...
Height:

172cm (5' 6")

Weight:

60kg (130 pounds)

Hair:

Dark Chocolate

Eyes:

Brown

Hometown:

Sydney, Australia
Jessie McKay's Profile...
How It Started:

I got involved in wrestling when I was about 10 years old from my big brother. He and his friends always packed themselves into my lounge room and watched the latest Pay Per View. One day, they asked me to make a couple of signs for them. Not knowing anything about wrestling then, I wrote

Jericho 3:16

, and they all started laughing at me! My brother sat me down right in front of the TV and since then, I have loved it! When I turned 17, I was fortunate enough to start training with one of my brother's old friends and wife who owned a wrestling academy and promotion.

Gimmick:

I would describe myself as

"Everybody's Favourite Girlfriend"

. I'm the good girl who loves tough competition and pushes herself to improve and become a better wrestler. I love getting the crowd into my matches and having a good time...but don't let my smile fool you, as I do have a mean streak when necessary!

Wrestling Style:

My wrestling style would be a mixture of technical and speed. I love to chain wrestle and try to make my opponent tap with various holds, but I also do a lot of speedy, agile moves like Mexican headscissors, cross bodies and wheelbarrow bulldogs.

Gear:

I love to wear skirts that show off my long legs, along with hot little tops with a lot of colour and sparkle to them. I also accessorize a lot of my outfits...whether it's a sparkly bra underneath my top, a glittery band down my arm or my make-up which always matches my outfit.

Titles Held:

PWWA Championship (Pro Women's Wrestling Alliance).

Biggest Win:

My biggest win would have to be defeating Kellie Skater to become the PWWA Champion! It happened at a PWA (Pro Wrestling Alliance) event on their "Payback" show in August, 2008. It was an intense and brutal match, but in the end I came over victorious.

Worst Loss:

Although we are a tag team now, my biggest loss would be to Madison Eagles in a tables match at another PWA event. Madison and I had a feud that lasted almost a year, and in this match I was unfortunately not able to get the win as I was put through a table with a double chokeslam bomb.

Favorite Type of Match:

My favourite kind of match is a singles, because it's always good to beat someone one-on-one! But I also love tag matches with the

Pink Ladies

as our double-team moves and teamwork are also an innovative and challenging task!

Favorite Moves/Holds:

I love to use strikes like forearms and especially chops! I also use various Mexican headscissors and hurricanranas and like to use different types of pins to beat my opponent. I like using my long legs to wear out my opponent, whether it's a hold or move.

Finisher:

"Boyfriend Stealer"

(Sit-out Uranage Slam);

"7 Minutes in Heaven"

(Octopus Stretch);

"School Girl Crush"

(Big boot/Yakuza).

Biggest Allies:

My tag team partner in the

Pink Ladies

, Madison Eagles.

Most-Hated Enemies:

Kellie Skater; Sway; KC Cassidy.

Toughest Opponent(s):

My toughest opponent would be Sara Del Rey. I wrestled her in an ROH show and didn't even last a minute. Her power, strength and athleticism got the better of me and I was pinned.

Career Highlight:

My career highlight would be my America tour in 2008. I was fortunate enough to work for federations such as ROH, Shimmer, CHIKARA and CZW. I won some matches and lost some matches...but the experience and knowledge gained was incredible.

Favorite Wrestlers:

Growing up in the era of the 90's, my favourite wrestler would have to be

"The most electrifying man in Sports Entertainment"

...The Rock! I absolutely loved him growing up. I loved his talent, good looks and the way he spoke on the microphone.

Wrestling Ambition:

I love wrestling altogether, whether its in front of 50 people or 500 people. It's the biggest adrenaline rush for me, but it has always been my dream to wrestle for the WWE. I think I would have a lot to offer and would love a chance to show the world what I am capable of.
Jessie McKay's Personal Notes...
Things I absolutely LOVE: Rainy weather.....Watching chick flicks and crying at the movies.....Being inspired by wrestling altogether.....Doing ANYTHING for the people I love, especially my mother.....Playing basketball! I've been playing since I was 6-years old!.....Dancing to house/electro music.....Finding the perfect outfit when I'm shopping.....Having my closest friends be my family.....Being romanced very cliche-like.....Cheesymite sandwiches at 11 o'clock at night. YUM!.....My two beautiful dogs, Rocky (a golden Labrador) and Hunter (a black and white Siberian Husky).....Meeting new people and traveling all over!
Essential Jessie McKay Links...