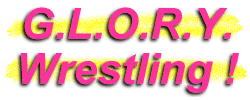 Jade
Wrestler
Talented. Athletic. Cocky. And don't forget sexy! Beautiful Jade is looking to do nothing less than dominate the UK women's wrestling scene. But that's only the first step. This gorgeous blonde then has the rest of the wrestling women of the world in her sights. We wouldn't bet against Jade making that ambition a reality!
Jade!
Jade is intense as she makes her way to the ring.
Cocky Jade relaxes along the corner ropes while waiting for her opponent to arrive.
Jade is determined to become the most dominant woman on the UK wrestling scene!
Jade's Stats...
Height:

5' 8"

Weight:

118

Hair:

Blonde

Eyes:

Sparkling Blue

Hometown:

Braintree, Essex (UK)
Jade's Profile...
How It Started:

I started watching wrestling when my little brother had it on tv. I got enthralled by the HHH/Stephanie McMahon storyline when it was going. I was also blown-away by the Hardyz. They amazed me with their wrestling and characters. I just found wrestling to be so unique in how it blended stories, characters and physicality. I decided I wanted to try it. I've always been athletic and wanted something more physical and challenging than most girls sports and enjoyed proving I'm as tough as guys. I searched the Internet and found a training school not too far away, went along and trained up every week, and I've been hooked ever since. From there I moved on to another school closer and then turned professional in the summer of 2002. And yeah, I HAVE proven to be tougher than a lot of the guys on many occasions.

Gimmick:

Total bitch! I'm prettier, sexier and tougher than all the girls AND the guys! I want to prove that I am the most most intense woman in wrestling today, and better than every other one out there.

Wrestling Style:

High-Flyer; Technical; Heel.

Gear:

My red & black low-cut tight tops and my skin-tight black PVC trousers. That way I distract all the guys I wrestle and make all the other girlies jealous of my body...so both are easy pickings!

Biggest Win:

June 11, 2004. Jade & Skye vs. Erin Angel & Ashe. Simply because I pinned the reigning EWW British Champion Ashe in the centre of the ring.

Worst Loss:

Jade & Erin Angel vs. Klondyke Kate. Technically we won the match via DQ, but I got destroyed by Kate in this match and wasn't right for a long time after.

Favorite Type of Match:

Mixed tag. I enjoy embarrassing guys and beating them up far too much.

Favorite Moves/Holds:

Reverse Tarantula; Hanging Octopus submission; Dragonrana; Flying Huracanrana; Flying Headscissors; Cleavage Stretch.

Finisher:

"The Blonde Bombshell" Diamond Dust.

Biggest Allies:

The UK Pitbulls; The Thunder Dragons; Lisa Fury.

Most-Hated Enemies:

Erin Angel; Skye; The New Breed.

Career Highlight:

In March of 2004 on a trip to the Blue Bloods Academy in Atlanta, GA. I not only trained alongside "Squire" Dave Taylor, American Dragon & William Regal, but I met and got trained by WWE Champion Chris Benoit. That and being a part of the first ever all women's Rumble for WAW in 2002.

Favorite Wrestlers:

Shawn Michaels; Trish Stratus; Chris Jericho; Randy Orton; (the old) Jeff Hardy.

Wrestling Ambition:

To be the absolute best and most dominating woman in England and the history of women's wrestling...worldwide!
Jade's Personal Notes...
I have a beautiful dog named Tifi. She's a rare Hungarian Vissler breed.....I like spending a lot of time with my wonderful boyfriend (who I must keep secret on J) and my close friends, too.....I enjoy working out at my gym, training hard at wrestling school and at shows, and perfecting my wrestling skills.....I like lots of music, mainly rock music.....I'm always watching wrestling on TV, always trying to learn more.....I make everything stop for Sex & The City.....My all-time favourite film is Legally Blonde.