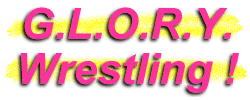 Hurricane Havana
a.k.a. Havana
Wrestler
They don't come much prettier or sexier than G.L.O.R.Y. Girl Hurricane Havana. This Southern California beauty is working her way up the indy wrestling ladder with hopes of making it all the way to the big show: the WWE! We don't doubt that she will succeed...especially when you consider that her trainer is ring veteran Sue Sexton. Watch for Hurricane Havana soon in a ring near you!
The dazzling Hurricane Havana!
HH takes a little break on the mat during a recent workout.
Everyone's favorite superheroine: the caped Hurricane Havana!
Hurricane proudly wears her NTW Women's Championship belt.
Hurricane Havana's Stats...
Height:

5' 4"

Weight:

115

Hair:

Blonde

Eyes:

Green

Hometown:

Born: Guanavacoa, Cuba. Currently: Los Angeles, California (USA)
Hurricane Havana's Profile...
How It Started:

I was contacted by a small wrestling company looking for new talent.

Gimmick:

Cuban Bad-Ass...and sometimes also a Superheroine!

Wrestling Style:

I am an old-school wrestler. I love hold-to-hold (technical) work. I like to leave myself open to new things.

Gear:

Anything that looks good on me that day...mainly multicolor stuff.

Titles Held:

Women's NTW Champion (Oct. 2005).

Biggest Win:

When I defeated Candice Le Rae for the NTW Title.

Worst Loss:

Losing the NTW belt to Metalica.

Favorite Type of Match:

I like to play it by ear.

Favorite Moves/Holds:

Love all the holds...expecially the

Havana Twist

or the

Cuban Missile.

Don't ask me to describe them. You have to see then for yourself!

Finisher:

The

Havana Twist

or whatever else that will get me the win!

Biggest Allies:

Sweet Destiny; Bobcat; Sue Sexton (who also trained me); KC Jones; Cuban Assassin.

Most-Hated Enemies:

I don't have any...YET.

Toughest Opponent(s):

Metalica and Maduza...they are tough chicks!

Career Highlight:

I want to be able to wrestle in Mexico and the USA more then I have been. Being latin, I think I should show the U.S and Mexico that Latinas are just as tough as any guy out there.

Favorite Wrestlers:

Shane Helms; The Rock; Stone Cold; Lita.

Wrestling Ambition:

I want to work for as many indy promotions as possible so that I can build a big fan base. I'd like to build my own women's promotion and train new girls for wrestling in Southern California. I want to go full-bore pro for the feds!
Hurricane Havana's Personal Notes...
If I had to describe myself as a person, I would say I'm very loyal and I have an outgoing personality. Most people call me "bubbly".....I love water sports, horseback riding, working-out and spending time at the beach..... Tree climbing and hiking always make me happy.....I'm a huge animal lover.....I consider myself a hard worker when I am going after something I really want. I feel very strongly that if you put your mind to anything, you can accomplish it.....I like to listen to all types of music.....My past jobs? Well, the first job I had was as a pizza girl! I also worked at a grocery store as a stock person then moved to bakery then to produce. I also cut lawns. I've been a baby sitter and worked at several fast food places. I was a chiropractic assistant at a chiropractor's office before I got married. Then I became a mom...the toughest job of them all!.....I am a proud mom of two kids: one girl, one boy.....My goal is to become a successful wrestler, as well as a respected one.....My favorite colors are red, blue, pink and purple.....I spend a lot of my extra time training and perfecting my skills in and out of the ring so that my dream of becoming a WWE Wrestler/Diva/Superstar can come true one day.
Latest Hurricane Havana News...
I have been away from the wrestling ring for several months due to a hand injury. But I'm all healed now...and ready to go and kick some butt! I will be attending a ladies wrestling event in San Diego in 2008. The name of the event is: Women Wrestling Convention 2008. There's a MySpace page you can check out if you would like to know more about it at http://www.myspace.com/womenwrestlingconvention. Hope to see some of my fans there.
Essential Hurricane Havana Links...
Hurricane Havana Video