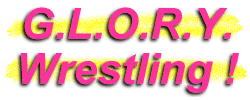 Hollywood Devine
Wrestler
Trained and initiated into the ranks of pro wrestling by Jimmy "The Boogie Woogie Man" Valiant, Hollywood Devine is out to prove that a spoiled, rich girl can make it in this tough business. Already the holder of three titles in her short career, Ms. Devine has shown that she's a quick learner and tough enough to hang with any opponent she faces inside the ropes.
Hollywood Devine poses with one of her championship belts.
Once in the ring, Hollywood shows no mercy as she grinds an opponent with a side headlock.
Hollywood Devine's Stats...
Height:

5' 9"

Weight:

155

Hair:

Blonde

Eyes:

Green

Hometown:

Hollywood, California (USA)
Hollywood Devine's Profile...
How It Started:

Naturally sports minded, I thought this would be a great outlet. I always liked wrestling as a kid.

Gimmick:

Being from Hollywood, CA...I want to prove to people that a rich girl can also be a great wrestler.

Wrestling Style:

Technical.

Titles Held:

East Tennessee Ladies Champion; TCW Ladies Champion; BWC Ladies Champion.

Favorite Moves/Holds:

Arm locks.

Finisher:

The Final Curtain.

Biggest Allies:

Jimmy Valiant; Brittany Diamond; Ms. Rebecca Lynn.

Career Highlight:

First female to graduate from Jimmy Valiant's Pro Wrestling School as a wrestler.

Favorite Wrestlers:

Jimmy Valiant, my mentor and friend.

Wrestling Ambition:

To go as far as I can in pro wrestling.
Hollywood Devine's Personal Notes...
My name, of course, is Hollywood Devine.....I enjoy listening to music.....I also enjoy my volunteer work that I do for the Toys For Tots Foundation.....I have a pet guinea pig, Chester.....I've been married for 10 years.....My favorite color is purple.....One of my greatest ambitions in the world is to educate and help others who want to get into pro wrestling.
Essential Hollywood Devine Links...