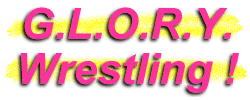 Hellena Heavenly
Wrestler
A flashing smile, flying red hair and energy to spare...it must be Hellena Heavenly! Already a favorite of many Midwest fans, Ms. Heavenly continues to gather momentum with every match she works. This red-haired warrior has already had the opportunity to perform on Monday Night RAW...although it was to absorb a beating from a very upset Ivory who had called her out from the audience. Don't be surprised if you see Hellena Heavenly on RAW again. But next time, it may very well be the redhead who is dishing out the punishment!
Hellena Heavenly shines and shimmers inside the ring and out!.
Ms. Heavenly certainly looks just THAT as she shows off some provocative ring attire!
Outside the ring, Hellena looks like any other gorgeous and sexy redhead that you might see on a modeling runway!
Hellena immobilizes her opponent with a perfectly executed figure-four head scissors.
Hellena Heavenly's Stats...
Height:

5' 7"

Weight:

135

Hair:

Red

Eyes:

Blue/Gray

Hometown:

Santa Barbara, California (USA)
Hellena Heavenly's Profile...
How It Started:

I've been a huge fan since I was 8 years old. I knew I wanted to be involved in pro wrestling since then.

Gimmick:

I was stuck portraying the "slut chasing the guys with the belt" gimmick for awhile. But now I'm moving on to something a little more fun and respectable. I haven't really had the chance to be myself yet. I guess that idea is too frightening for people!

Wrestling Style:

Mostly old-school and technical. I try to learn from whatever I see that is unique and cool.

Gear:

Nothing in particular yet, although I have some ideas for outfits that I hope to be debuting soon.

Favorite Type of Match:

Tag teams are fun and my favorite.

Favorite Moves/Holds:

I haven't found anybody to let me try all the moves I really like on them. They're skeered!

Biggest Allies:

That's strictly confidential.

Most-Hated Enemies:

Miss Natural; Nevaeh.

Career Highlight:

The most fun I had was being one of the women that Ivory challenged from the crowd on RAW a few years ago.

Favorite Wrestlers:

Manami Toyota; Jumping Bomb Angels; Molly Holly; Jazz; Bret Hart; The British Bulldogs...this list could go on for days!

Wrestling Ambition:

To wrestle more, keep improving myself, build up my website and make a living doing what I love.
Hellena Heavenly's Personal Notes...
I live in the northern Kentucky area and hang with a great crew of ladies who wrestle their hearts out......Things I like to do: dancing, listening to music (all kinds), movies (especially B-movies like horrors, comedies, mysteries and thrillers), going to zoos and wildlife parks, and watching hockey and football.....I'm a big fan of Italian and Mexican food. Oh yeah: sweets, too!.....When I'm not involved with the stuff I just mentioned, you can bet you'll find me SHOPPING.....I enjoy spending time with friends and laughing until I ache!.....I'm also fond of traveling whenever I can.....And nothing beats just being pampered!.....I was raised by my mom (a Professor of History) and moved over twenty times as a "college brat". I think my nomadic existence was good preparation for my career choice.....I'm one German class away from a degree in Theater and have a complete degree in Education.
Latest Hellena Heavenly News...
New updates and changes will be made to my site www.ringgoddess.com in this new year so check in regularly. Plus, I now have a MySpace page and a Yahoo group!
Essential Hellena Heavenly Links...