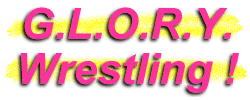 Heather Divine
Wrestler
An old-school heel from the Lonestar State, Heather Divine's ambition is gold plated...and she'll make sure that nothing--and no one--stands in the way of her attaining it. This New Mexico brawler found her calling in the rings of Texas, where she's been clobbering all-comers...female and male. Ms. Divine has even held an Intergender Title along the way. Conquering Texas looks to be just the first step in the career of tough Heather Divine.
Heather Divine is one of Texas' top female wrestlers.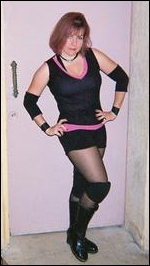 Heather strikes a pose before heading out for her match.
The strikingly beautiful Heather Divine.
A wildcat in the ring, Divine works on ripping the head off of this unfortunate opponent.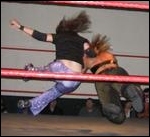 Ms. Divine plants another opponent's face into the mat with her favorite move...the bulldog!
Heather Divine's Stats...
Height:

5' 3"

Weight:

130

Hair:

Brown

Eyes:

Brown

Hometown:

White Sands, New Mexico (USA)
Heather Divine's Profile...
How It Started:

I grew up watching wrestling. My fondest early memories are being huddled on the couch late Saturday Nights with my dad and brother watching the Von Erichs and the Freebirds. I went to my first independent show to meet Shawn Michaels and became fascinated with the business. I wouldn't rest until I was involved.

Gimmick:

I'm a bad girl who is only interested in the GOLD!

Wrestling Style:

I'm an old-school rule-breaker who'd much rather grapple a full match than go flying off the turnbuckles!

Gear:

I've had my boots for over five years, made by the remarkable Clifford Macias. Other than those, look for me in anything shiny, sparkly and DIVINE!

Titles Held:

CTPW Intergender Title; CTPW Women's Title; LSWA Women's Title; TXW Women's Title; UCW Women's Title; SWF Women's Title.

Biggest Win:

My biggest win was scoring the CTPW Intergender Title from the incomparable Flaming Rose in June of 2001.

Worst Loss:

My hardest loss was losing the CTPW Women's Title to Char Starr in December of 2001.

Favorite Type of Match:

I like to mix it up with intergender matches every now and then, but my favorite type of match is an old-school one-on-one slobberknocker!

Favorite Moves/Holds:

My favorite moves to do are leg drops, sidewalk slams and I'm a huge fan of bulldogs!

Finisher:

"Divine Intervention"

Biggest Allies:

Me, myself and I!

Most-Hated Enemies:

After carrying on rivalries with some of the top ladies in Texas for the past 7+ years, right now I'm feuding with SWF's Fair Kitty.

Toughest Opponent(s):

Char Starr was always a rough and tumble competitor, as well as Nayati and Ann R. Key, just to name a few!

Career Highlight:

The show that stands out most thus far was in Hidalgo, Texas...sharing the roster with Buff Bagwell, Lex Luger and others. I took on Char Starr in front of almost 3,000 fans!

Favorite Wrestlers:

Molly Holly.

Wrestling Ambition:

I hope to be able to continue traveling and meeting unique and interesting people from all over the world, while doing what I love best.
Heather Divine's Personal Notes...
I love my family above all else!.....I'm a little nerdy but enjoy my hobbies very much.....Wrestling, though, is the one place in the world that I truly feel like I belong. I owe so much to the industry and my trainer, George De La Isla, for believing in me and supporting me. He gave me a whole new life!
Latest Heather Divine News...
Right now I'm looking forward to beginning to work with Warriors 4 Christ Wrestling and OSF in San Antonio! Keep an eye on my website for upcoming dates!
Essential Heather Divine Links...