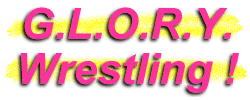 Fire
Wrestler
Fire is the perfect name for this beautiful, blonde, West Coast G.L.O.R.Y. Girl. Why? Because she is totally fired up about being a professional wrestler! From her determination to have the best possible match every single time she steps into the ring...to spending time with the young fans who cheer her on...Fire is a perfect example of someone who enjoys what she is doing. How can a lady with this much enthusiasm and determination be anything but successful?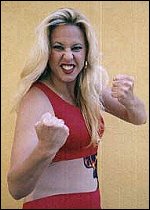 Even when she tires to look nasty, you can tell that Fire loves what she does!
Fire tries to escape from a full nelson applied by a male opponent.
Lovely Fire during a serious moment...
So where else would you expect to see this G.L.O.R.Y. Girl but hanging onto the running board of a fire engine?!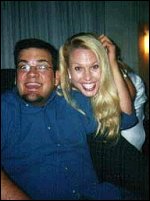 One of Fire's favorite things about being a professional wrestler is having the change to make a fan happy.
Fire's Stats...
Height:

5' 10"

Weight:

150

Hair:

Blonde

Eyes:

Blue

Hometown:

Baton Rouge, Louisiana (USA)
Fire's Profile...
How It Started:

I LOVED watching G.L.O.W. on Friday nights growing up and then, well, I "grew out of it"...or so I thought! Then Ric "The Equalizer" Dresin put an ad out to find women to train in his ring and I applied. Since I was already doing stuntwork and also coaching softball professionally, I wanted to remain in the business of sports somehow...and wrestling seemed like a fun way to do it. The audition itself was simple: if you lasted the two hour, three-times-a-week training you made it! When I started, we had about 15 really great women. But three years later, I ended up as the only one still in the business.

Gimmick:

Being that I'm from Louisiana, you know that I have to do something involving Mardi Gras! I come out to the ring throwing beads and chocolate to the crowd (they LOVE it!)...and my rather thick country girl accent helps a lot, too.

Wrestling Style:

I call myself an "old-school-high-flying-pro-wrestler!"

Gear:

Red and orange...anything with fire on it! Usually a two piece with sparkles.

Favorite Type of Match:

Mixed-tags sure seem to get the crowd going, so I do like them. But, I also enjoy an old-school singles match against another girl (although they seem to be hard to come by these days).

Finisher:

Fire's "STOP, DROP & ROLL!"

Biggest Allies:

Mexico's Lady Victoria. She gave me my start and I owe all my work to her.

Most-Hated Enemies:

Looney Lane; Riptide.

Career Highlight:

Working and training with the Lucha Libre wrestlers from Mexico. All the training is done in Spanish, so at times I'm not too sure what is going on...but I do my best to keep up!

Favorite Wrestlers:

Luna! I got to meet this amazing lady just recently and she is simply incredible. She's really nice...until you make her mad and then WATCH OUT! She's liable to take off your head! Luckily, I've always been on her good side and I am going to do everything in my power to stay there! She's gracious and hard-working, and has true desire and ambition to get all women to the next level.

Wrestling Ambition:

My wrestling ambition is to do this full time.Travel, see the world and wrestle...what more could one ask for?
Fire's Personal Notes...
Well, where to start?!.....I guess the one thing that REALLY--I mean REALLY--turns me on about this sport is the response I get from young girls. They love wrestling and for the most part, they go to the indy shows and enjoy seeing the men wrestle. But every once in awhile they get to see a female match. Not women cheering from the sidelines with big boobs and taking a bump...but real women going for it! For many of them, they have never seen anything like. They get giddy and it looks to me like they start to dream a bigger dream about doing something more than watching from the sidelines. I really like being a part of that experience for them!.....I spend a lot of my down time training my dog. I call her a "chaweenie", because she's part dachshund and part chihuahua. I take her with me on the road and she is part of my entourage. The kids just love her and she does pretty well, except if I get hurt in the ring. Then she gets real protective and gets on the mat and growls at my opponent!.....I'm a big reader. If I'm not actually wrestling or driving to a show, you can bet there will probably be a book in my hands.....I enjoy stealing my two-year-old godchild away from her Mom so that we can go to the zoo, movies, anywhere! It's so amazing to see things through her eyes, because she sees so much for the first time. Like when I took her to her first movie. She just couldn't believe what a HUGE room we were in! Until then, I never thought of the movie theater as being such a big room before!.....As for music, I like all kinds. Today I might be listening to Kirk Franklin, but who knows what I'll feel like tomorrow?! Neil Diamond? Eminem? Dean Martin? Michael Jackson? Any of them are possible!