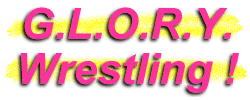 Fate
Wrestler
She may look like a girlie-girl, but Fate has a very mean side to her...and it usually shows itself whenever she steps into the wrestling ring. The fans call her prissy and bitchy and she takes that as a compliment! Fate admits to being a cheater. She's gained a reputation for being a back-stabber. She even views being power hungry as a virtue! Fate is determined to make it big in the wrestling game...and she's going to look good while doing it!
Fate is not only interested in victory...she also wants to look good while she's winning!
Fate has a few choice words for the referee.
Sumie is down on the mat...and Fate wastes no time in putting the boots to her!
Fate can take as much abuse as she dishes out!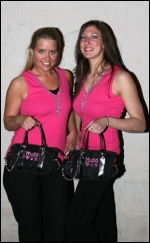 Fate and partner Kylie Pierce: The Jawbreakers!
Fate's Stats...
Height:

5' 6"

Weight:

150

Hair:

Blonde

Eyes:

Blue

Hometown:

Baltimore, Maryland (USA)
Fate's Profile...
How It Started:

The guys in my family always watched wrestling, which I couldn't stand at the time. The only wrestling I could ever watch was the women...for some reason, it got my attention. I was only about 7 when I started watching women wrestling. When I was in my early teen years I did not care for it anymore at all. It took to the age of 17 for me to become interested again. I will say I became interested in all of wrestling, I fell in love with it. My first show at the Baltimore arena got me hooked. The crowd was amazing and so was the show. I knew when I left that night, I wanted to feel what those wrestlers feel when they walk down the ramp and into the ring. At the age of 19 I started in a wrestling school and had my first show in 2001.

Gimmick:

My gimmick is a girlie-girl with a mean edge...very prissy and bitchy. I am a cheater, a back-stabber and very power hungry.

Wrestling Style:

I wrestle Japanese and Mexican style. I have a very unique combination. I do a lot of brawling, high-flying, technical and rule-breaking. I believe I am the new generation style wrestler.

Gear:

I wear a bright pink shirt with hearts or with sequins and black pants with pink pin stripes. I come out with a purse and hairspray.

Titles Held:

EWA Maryland Tag Title.

Biggest Win:

My win against Derrick Fraiser and Stevie Riggs (EWA), for the tag titles.

Worst Loss:

When I lost the belt to Jim Christian and Jaxx Craven (EWA).

Favorite Type of Match:

Singles and tag matches are both favorites.

Favorite Moves/Holds:

My favorite moves are the Curb Stomp, Yucuza Kick to the face, and a Hanging Man DDT off the corner turn buckle.

Finisher:

Flatliner (face-first to the mat).

Biggest Allies:

Kylie Pierce is my tag partner in EWA. I also have a manager named Marcus "King Kong Dowling". In my real life, I am cool with everyone invovled in the business.

Most-Hated Enemies:

The Legion of Ungood.

Career Highlight:

In 2006 I had an awesome singles match with Sumi Saiki (a wrestler from Japan). I received "Best Match of the Night. My tag team, The Jawbreakers with Kylie Pierce, is starting to take off in the indy scene. We've had a lot of publicity surrounding our matches lately.

Favorite Wrestlers:

Ric Flair; Victoria; Molly Holly; and The Kick-Ass Queens from Japan.

Wrestling Ambition:

I want to be in the WWE. I hope that my unique techniques and hard work pay off.
Fate's Personal Notes...
I love rock and alternative music.
I am a huge fan of horror movies and I have a huge collection.
My cats are named after the Rocky movies. Their names are Rocky and Adrianne.
My boyfriend is a big indy wrestler, Ruckus from CZW in Philadelphia, PA.
One of my dreams is to be in a horror movie.
I'm a huge fan of sports cars.
I love roller coasters!
My favorite actresses are Drew Barrymore and Reese Witherspoon.