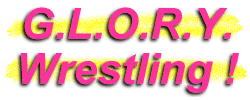 Fantasia
Wrestler
Fantasia--the 5' 9", 180 pound power lifter from Myrtle Beach, South Carolina--is one of the most intimidating ladies in the ring today. Having the size and strength to hang with any woman (and most men) currently in the pro ranks, Fantasia also has over a decade of grappling experience under her belt. She's wrestled WWE Superstars Chyna and Lita during her career...and Fantasia continues to be a force on the women's indy scene.
Fantasia!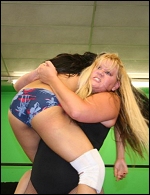 Fantasia bearhugs the life out of her foe.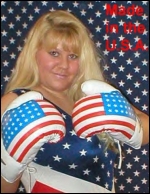 Yes, Fantasia boxes too!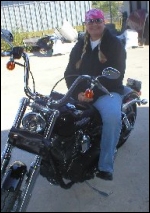 Fantasia likes to spend time away from the ring on her Harley.
Fantasia locks-up with April Hunter...
and then puts the squeeze on her!
Fantasia's Stats...
Height:

5' 9"

Weight:

180

Hair:

Blonde

Eyes:

Green

Hometown:

Myrtle Beach, South Carolina (USA)
Fantasia's Profile...
How It Started:

My power lifting and volleyball coach in high school said I should get involved with a contact sport like wrestling. So together we attended an NWA live show in Baltimore, Maryland. At first I was not interested. But then two ladies put on a match...Linda Dallas and Misty Blue. I was excited to see how they kicked butt and entertained the fans. It was at that point that we found a school and I began my training. I was trained by Nasty Angel, Spike and Playboy Bobby Starr...thanks for the chair shot!

Gimmick:

"The American Woman"...lots of power and giving justice to all women that we are just at tough as men. Old school look.

Wrestling Style:

Power wrestler and old school.

Gear:

A variety of outfits made by Jolene and others. Old school look.

Titles Held:

MEWF; WOW; MCW (under Dave Casinova); ISWA; NCWA; PWE; WWWA; SWA; USCW; IAWF; WCEW/Thundergirls. To name a few...too many to list!

Biggest Win:

Defeating Angelica (a.k.a. Lita) in North Carolina. I kicked her butt!

Worst Loss:

Against Joannie Lee (a.k.a. Chyna)and Lexie Fyfe.

Favorite Type of Match:

Mixed-tag matches are always fun. But I like a good old school match with another wrestler who knows how to do the same.

Favorite Moves/Holds:

Powerbomb; submission holds; head butts; chops.

Finisher:

Spinal Spike

or powerbomb.

Biggest Allies:

No one. I trust nobody! I have met a lot of wonderful people over the years in wrestling (and some not so wonderful)...but I keep in touch with the wonderful ones! xoxoxoxo

Most-Hated Enemies:

Untrained wrestlers, cheap promoters, trouble makers, t&a girls and grasshoppers! OK...as far as ongoing battles: Lexie Fyfe and anyone else I take on in the ring.

Toughest Opponent(s):

Myself! LOL!

Career Highlight:

Wrestling against Joannie Lee (Chyna) in a Grudge Match. A month later, I was named Chyna's toughest opponent.

Favorite Wrestlers:

Leilani Kai, Aidiean and Desiree Petersen. I also admire the ongoing ability of Lexie Fyfe, Daffney, Rain, MsChif, Amber and Becky's drive to learn and succeed. Lady Amazon for being an Amazon in wrestling and so many others in this wonderful world of wrestling.

Wrestling Ambition:

To keep entertaining the fans, keep women's wrestling alive and respectful, and continue to help the new generation of lady wrestlers. To get my point across that beauty in women's wrestling comes in all sizes, shapes, colors, race, wrestling talent and true skills.
Fantasia's Personal Notes...
I love playing with my four dogs: Lucy, Hunter, Roman and Dolly Wiggles. My oldest dog, Puddin, passed away March 2006.....I enjoy making others laugh, all types of sports, romantic moments, reading, riding my Harleys and laughing till my stomach hurts!.....I enjoyed the road trips over the years with Flex, Aidiean and Playboy Bobby Starr!.....I love meeting new people and training new girls in wrestling.....Also, keep your chin up and be supportive of others. Be proud of yourself and your accomplishments. Make your goals and dreams a reality. When times are down, pray about them and remain positive. And always have fun and don't do anything you will regret later in life. Be proud and respect the veterans in this business!
Latest Fantasia News...
Fantasia has been on a road of success, she is the current WCEW/Thundergirls Ladies Champion!
Essential Fantasia Links...