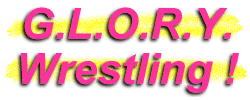 Faith Diva Lehaine
Wrestler
Whether she's inside the ring wrestling in one-on-one competition, brawling in an intergender tag match, or accompanying her men into battle as their manager, Faith Diva Lehaine is a woman to be reckoned with. The rules mean nothing to her...she'll stop at nothing to come out victorious. Originally from North Carolina, Lehaine now terrorizes the rings of her new home country: Great Britain. But could a tour of U.S. rings be in the future of this vicious wrestler/manager?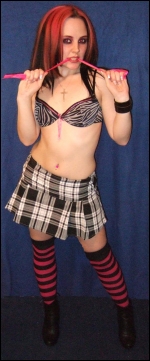 The sexy Faith Diva Lehaine!
Faith is a dangerous lady...whether she's carrying a bat or not!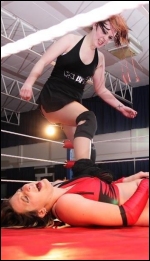 Lehaine viciously stomps away at her opponent.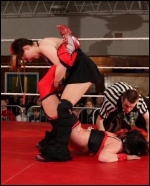 Faith utilizes a boston crab to try to get the submission.
When she's not wrestling, FDL is just as happy to collect wins by managing her men to victory.
Faith Diva Lehaine's Stats...
Height:

5' 1"

Weight:

109

Hair:

Black, blonde and pink.

Eyes:

Blue & Green

Hometown:

Wilmington, North Carolina (USA)
Faith Diva Lehaine's Profile...
How It Started:

I was raised in a household where the only other female was my mother. My eldest sister (who didn't live with us) was a tomboy and I had two much older brothers. I had no choice in whether or not I watched wrestling on TV...because they wanted to see it, I was forced to watch it with them. I fell in love with it! I've always been a performer, dancing, singing and acting...so the showmanship of wrestling was everything I could dream of. When I turned 13 I found a wrestling school and the rest, as they say, is history.

Gimmick:

A rich southern belle with an innocent face, but the smile hides the truth: what really lies beneath is a bad ass b*tch who will do whatever it takes to get what she wants. Not to mention, making sure she looks good whilst doing it.

Wrestling Style:

Brawler, rulebreaker and high flyer.

Gear:

When wrestling: a black skirt, black spanky pants, black halter top and black boot covers. When managing: depending on who is using my services, it can vary from a classy suit with a corset rather then a shirt...or a pair of denim daisy dukes and stiletto cat boots.

Titles Held:

Three-time UCW Women's Champion.

Biggest Win:

My biggest win had to be the first ever UK Bra & Panties match against Lamia for UCW. I won, but I was still stripped down when I was celebrating. It was a solidly technical match with all the fun of a brawl. I had an amazing time.

Worst Loss:

My worst loss? Has to be my debut match in BAWA against Million Dollar Baby. I got too cocky. Need I say more?

Favorite Type of Match:

I've always had fun doing bra & panties matches, but I love a good solid intergender tag. That's when I can really shine, showing that a women can face a man, and still win. : )

Favorite Moves/Holds:

Tornado DDT; boston crab; surfboard submission; hurricanrana; head scissors.

Finisher:

Swanton; handstand frankensteiner to an opponent in the corner.

Biggest Allies:

Triggerman & Cash Calloway, collectively known as "The Body Fascists"...a group of which I am the first and ONLY female memeber. Also: Pure Lee Class, Alex Steele and Pox.

Most-Hated Enemies:

Million Dollar Baby; Gideon; Rampage; Stu Odyssey.

Toughest Opponent(s):

Gotta be MDB. I still don't have a win over her, but not for long...

Career Highlight:

Being the first and last UCW Women's Champion.

Favorite Wrestlers:

Mickie James, Jeff Hardy, Triple H, Shawn Michaels and G.L.O.R.Y.'s own Melissa Stripes.

Wrestling Ambition:

I just want to be successful. If that means the WWE, then that's where I want to be. As an actress, I also use my wrestling skills for stunt work and would love to break into Hollywood at some point.
Faith Diva Lehaine's Personal Notes...
Im into cult movies, especially horror. But with the recent spout of bad horror movies being released, I have revisited my love for musicals too. I love the Legally Blonde musical.....My first horror movie was A Nightmare On Elm Street and to this day it remains my favourite franchise of the genre. I also adore Tarantino PRE-Grindhouse though.....When it comes to TV, I LOVE CSI...Vegas and NY. (I hate Horatio Caine! lol). Also: Desperate Housewives, Grey's Anatomy, Private Practice, Supernatural, Reaper, Buffy, Angel, Firefly and How I Met Your Mother.....I love to party with my friends. Not so much going out as just gathering at someone's house with some movies, good food and drink. That equals a wicked night for me!.....I have three tattoos, but I'm looking to get more as I am hooked on it now.....I've also recently become hooked on the 360, playing Gears Of War and Guitar Hero 3.
Essential Faith Diva Lehaine Links...
Faith Diva Lehaine Video