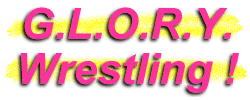 Erin Angel
a.k.a. "Little Miss"
Wrestler
Although "Little Miss" Erin Angel may only be 4' 11" in height, she's been coming up big in the rings of the United Kingdom. It's still early in her career, but Erin already can boast of a victory over UK veteran Klondyke Kate. This ambitious youngster is not only striving to be the best wrestler possible in her native Britain...she also has her eyes set on conquering opponents around the world!
UK wrestler Erin Angel!
Erin Angel...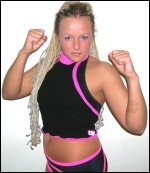 Erin Angel is ready to mix it up!
Erin Angel's Stats...
Height:

4' 11"

Weight:

128

Hair:

Blonde

Eyes:

Bluey-Green

Hometown:

Southampton, England (UK)
Erin Angel's Profile...
How It Started:

My younger brother has been a big fan of wrestling, therefore it was on in my house all the time. I got into the storylines and characters, then started to watch it frequently. My mum saw an advert in our local newspaper for a wrestling show near where I live. She said she was going to take my brother, so I went along too. This is where I first saw wrestling live. That's when I decided wanted to wrestle. On the programme we were given at the show, it said if you want be a wrestler call this number...so I did! I did three weekend training schools which were held monthly with this promotion. They brought in some of the best British wrestlers in England. I recieved training from Drew McDonald, Doug Williams and Jonny Storm. Then the promoter moved abroad. But before he went he introduced me to another top British wrestler and promoter, Phil Powers. From then on, Phil Powers trained me.

Gimmick:

I'm a little angel...until you cross me!

Wrestling Style:

My style is mixed. I have been taught British old-school style. Although, I mix this with new school, high flying stuff.

Gear:

I love pink! My favourite costume is my chaps set (black with pink).

Biggest Win:

Over Klondyke Kate (23 stone). Well, she got disqualified...but it still counts! Also defeating Simply Luscious when she was in my home town of Southampton, England!

Worst Loss:

Against Luna Vachon in the UK (2006).

Favorite Type of Match:

I like doing singles, intergender, tag matches and mixed tags.

Favorite Moves/Holds:

Anything that will help me win!

Finisher:

Reverse cross-body or drop-kick off the top ropes.

Biggest Allies:

The Flatliner.

Most-Hated Enemies:

Luna Vachon; Klondyke Kate; Sweet Sayara; Lisa Fury; Simply Luscious; Minx.

Career Highlight:

Valeting Jake "The Snake" Roberts at Croydon, England.

Favorite Wrestlers:

Bret Hart; Shawn Michaels.

Wrestling Ambition:

I would love to travel and perform in different countries, as well as being a part of British Wrestling for many, many years to come!
Erin Angel's Personal Notes...
When I'm not wrestling you might find me swimming or at college. I'm also a swimming instructor.....I enjoy listening to music. Anything really, but I love Pop and Dance music.....I love clubbing and going out.....My family has a few pets, and I have a lovely bulldog named Dolly!
Essential Erin Angel Links...