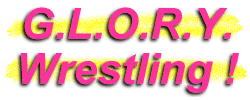 Elektra Arion
a.k.a. The Gorgeous Greek
Wrestler
As the sister of not one but two professional wrestler brothers, it's surprising that Elektra Arion didn't become involved in the wrestling business sooner. It's not that she wasn't a fighter...she just chose to train as a boxer instead! But in early 2008, Elektra came around to giving wrestling a try and decided to join her siblings in the ring. That decision has been a good one for "The Gorgeous Greek". Although still early in her wrestling career, Elektra Arion is already being recognized as one of New England's up-and-coming women grapplers.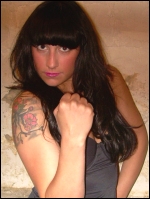 Elektra Arion!
It's obvious why Elektra is also known as
"The Gorgeous Greek"
.
Put 'em up! Arion was a boxer before deciding to tackle the wrestling world.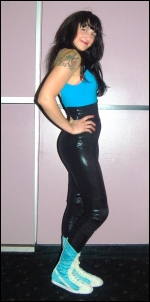 Elektra strikes a sexy profile.
Elektra Arion's Stats...
Height:

5' 7"

Weight:

127

Hair:

Black

Eyes:

Green

Hometown:

Manchester, New Hampshire (USA)
Elektra Arion's Profile...
How It Started:

As you may or may not know, wrestling runs in my family. My two brothers, Alex and Frankie, are both wrestlers. I was not bitten by the wrestling bug right away. In fact, I boxed for two years before I ever started thinking about becoming a wrestler. I honestly woke up one day and simply said to myself:

"I am going to learn how to wrestle"

! Much to my boxing trainer's dismay, I hung up my gloves and decided to follow in my brothers' footsteps and become a wrestler.

Gimmick:

I always play by the rules. I am a natural born fighter and will give anyone a run for their money.

Wrestling Style:

I just like to go out and have a good old-fashioned wrestling match.

Gear:

I am really into pin-up girl style dressing, so I usually wear my high-waisted snake skin pants. I just love them!

Titles Held:

None yet...but I hope to own some one day soon!

Biggest Win:

When I sneaked up on Sean Gorman at a WWW show. He always tries to rain on the WWW parade...but I showed him when I threw him out of the ring.

Worst Loss:

Every loss is a horrible one.

Favorite Type of Match:

I like one-on-one matches the best...but intergender matches are pretty cool, too.

Favorite Moves/Holds:

I don't really have a favorite move or hold.

Finisher:

A right hook or a back cracker.

Biggest Allies:

Alex Arion; Frankie Arion; Lexxus; Max Bauer; Amber.

Most-Hated Enemies:

Anyone who is opposite me in the ring.

Toughest Opponent(s):

I haven't had many opponents yet, but all these ladies seem pretty tough.

Career Highlight:

Representing WWW on Eddie Andelman's radio show to promote the Hot Dog Safari which benefits the Cystic Fibrosis Foundation.

Favorite Wrestlers:

"The Golden Greek" Alex Arion; Frankie Arion; Nikki Roxx; The Undertaker; Bret Hart; Ric Flair; Arn Anderson; Tully Blanchard; HHH; Stone Cold Steve Austin.

Wrestling Ambition:

I hope to go as far as I can in wrestling. I enjoy what I do very much and really can't see myself doing anything else.
Elektra Arion's Personal Notes...
I love my family and my friends. They mean the world to me and I wouldn't be the woman I am today without them.
Essential Elektra Arion Links...