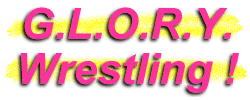 Desire
a.k.a. Shelly
Wrestler
Edgy, dark, mysterious and very, very sexy...Desire is not a lady who would strike most people as being a professional wrestler. That is, until they see her battling in the ring! This beautiful pin-up model turned grappler has been plying her trade and taking her bumps across numerous West Coast arenas, unafraid to step between the ropes to take on any female or male opponent she crosses paths with. It's only a matter of time before Desire is known from coast to coast!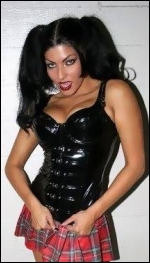 One look at Desire (a.k.a. Shelly) is enough to tell you that she is one of the most unique ladies on the indy scene today.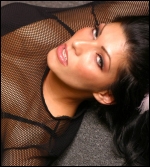 Desire is also a very accomplished Net and magazine model.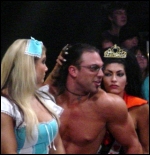 Shelly and fellow G.L.O.R.Y. Girl Beth Phoenix protect their man at a recent OVW show.
Shelly tortures Christy Hemme in the OVW ring.
Desire's Stats...
Height:

5' 4"

Weight:

120

Hair:

Black

Eyes:

Green

Hometown:

Southern California (USA)
Desire's Profile...
How It Started:

Well, long story short, I have been a fan since I was a little girl...from watching wrestling on TV with my pops and grandfather, to playing old school WWF in the backyard of my grandma's house with my cousins. I got into modeling hoping to find out how to become a wrestler. I would never shut up about wrestling so that maybe one day the right person would be able to guide me in the right direction. I was cast to be in an indy movie about wrestling and that is where I met a promoter that had a wrestling school. I started to train there shortly after meeting him.

Gimmick:

Desire is a girl who is ready to attack anyone, anywhere.

Wrestling Style:

Lucha style wrestling with some brawler mixed in.

Gear:

I like to keep the gear fresh so people won't get tired of seeing me in the same things...so I change it up. I tend to stay with an edgy/darker look though.

Titles Held:

EWF Intergender Tag Team Champion.

Favorite Type of Match:

Mixed tag teams.

Favorite Moves/Holds:

666 Forearm; Black Widow; Wheelbarrow Bull Dog.

Finisher:

Shell Shock.

Biggest Allies:

Eric Matlock; Catastrophe; Diablo; Aaron Stevens; Beth Phenoix; Melina.

Most-Hated Enemies:

Mickey James.

Career Highlight:

WWE Contract (April 2005); Touring with RAW and Smackdown.

Favorite Wrestlers:

Ultimate Warrior; Trever Murdoch; Undertaker; Rey Mysterio; Kurt Angle.

Wrestling Ambition:

WWE Women's Champ!
Desire's Personal Notes...
My hobbies include: wrestling, car shows, pin-up modeling; going to Disneyland; going to concerts.....My other intersts are: hot rods, nascar racing and music.
Essential Desire Links...