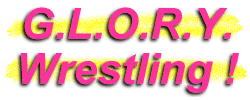 Dymond
a.k.a. The Urban Jewel
Wrestler
Although she had a successful career managing The Soul Touchaz, it didn't take long for the beautiful Dymond to find herself competing herself inside the squared circle. The old-school style of wrestling that she's employed has been good to Dymond: she's already captured several championship titles and more are sure to follow!
"The Urban Jewel"
Dymond.
Dymond isn't afraid to mix it up with the men.
Dymond relaxes with one of her title belts.
Dymond and fellow G.L.O.R.Y. Girl Sandra D.
Dymond's Stats...
Height:

5' 4"

Weight:

135

Hair:

Brown

Eyes:

Brown

Hometown:

Soul Of America (USA)
Dymond's Profile...
How It Started:

My husband is also in the wrestling business. One day he got a ton of messages on his cell phone from a company that we were working for. They wanted to make sure my husband brought me to the show that night. It turns out that the company had a huge contact on the line and one of the matches that had to put on was a ladies match. The ladies champion had canceled and her opponent decided to back out. Another wrestler was bringing a lady wrestler with him, but they needed another woman to face her. When my husband told me what was planned I was more than happy to do it.

Gimmick:

I'm a diva that has a great sense of fair play.

Wrestling Style:

I'm more of an old-school wrestler.

Gear:

I wear different (but stylish) outfits. Definitely clothing befitting a diva!

Titles Held:

Windy City Pro Wrestling (WCPW) Ladies Champion; Vanguard All-Star Alliance(VWAA) Women's Champion; Stars & Stripes(SSW) Tag Team Champion.

Biggest Win:

My biggest win was when I captured the WCPW Ladies Title from long-reigning champion Cheeks Manson. Even though the match was short and I caught her off guard, it's still my biggest win because I won the title.

Worst Loss:

My worst loss is my

only

loss to FAITH.

Favorite Type of Match:

I would say that my favorite is intergender matches. I love taggin' with my man, C.Red, or

The Soul Touchaz

.

Favorite Moves/Holds:

Monkey flip; cross body; drop toehold.

Finisher:

"The DYMOND Xchange"

.

Biggest Allies:

My ONLY allies are

The Soul Touchaz

.

Most-Hated Enemies:

Her name is FAITH! We use to be part of a stable called "The C.U.R.E." But then she tried to get close to my man Red...that I wasn't going to take! We've been bitter enemies ever since.

Toughest Opponent(s):

Former WWE diva, Jazz. I still owe her one!

Career Highlight:

I was part of Chikara's "King Of Trios 2009" with

The Soul Touchaz

. We were in Philadelphia for three days and we got so much love from the fans!

Favorite Wrestlers:

Chyna; Shawn Michaels; Ric Flair; MsChif; John Cena; Amazing Kong.

Wrestling Ambition:

I hope to make an impact, along with

The Soul Touchaz

, very soon. I could see myself in Shimmer, ROH, TNA or DragonGateUSA!
Dymond's Personal Notes...
My favorite color is purple.....A hobby that I really enjoy is doing crochet.....I love shrimp and lobster!.....My favorite music is R&B and Gospel.....I'm a mother of two and stepmother of three).....We own two dogs--a rottie named Sweetie and a rat-tail terrier named KoKoMo--and a cat named Destiny.
Essential Dymond Links...