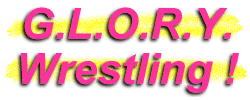 Dixie
Wrestler
Hailing from Mobile, Alabama, Dixie is one of the brightest young prospects on the Southeastern women's indy scene. Her early training under Dory Funk, Jr. brought Dixie the BANG! Women's Title, and now she's sparking the interest of fans wherever she performs. Besides being committed to her wrestling career, Dixie also finds time for modeling and acting. Oh...and did we mention that this young lady is still a high school student?! A bright future looks to be a certainty for this Alabama beauty!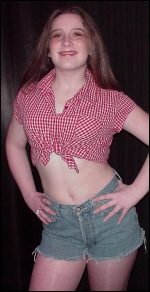 Dixie hails from Mobile, Alabama.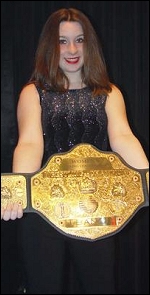 Dixie displays her BANG! Women's Title belt. She's the youngest woman to ever hold the title.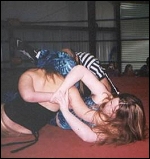 Dixie's submission hold is about to bring a screaming surrender from her opponent.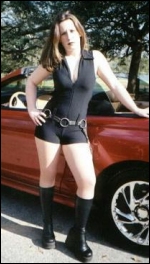 Dixie is as attractive outside of the ring as she is skilled inside of it.
Besides wrestling, Dixie is also an experienced model and actress.
Dixie's Stats...
Height:

5' 5"

Weight:

130

Hair:

Brunette

Eyes:

Brown

Hometown:

Mobile, AL (USA)
Dixie's Profile...
How It Started:

My two older brothers were into wrestling, so I kind of grew up around it. I went through a stage where I thought pro-wrestling was stupid...but then I just starting watching it again. I have done acting and modeling before and I have always been into sports, so wrestling ties everything together for me. I starting researching wrestling schools and I saw plenty that I liked. But being a teenager, it was hard to find a school that I could train at. I stumbled across Dory Funk, Jr.'s website and saw that he had a teen camp that ran for four days. I begged and pleaded to be able to go and I was finally allowed to. My parents didn't really like it at the beginning, but since then my dad has come around and hopefully my mom will eventually. I went to Dory's July 2002 Teen Camp and after my first bump, I just knew this was what I wanted to do for the rest of my life. It felt incredible to walk into the Dory Funk arena...and then to look to my side and see Dory Funk, Jr.--a living legend in the wrestling business--it was indescribable. I went to the IMTA (International Model & Talent Association) 2002 Convention in New York City the week after my first pro-wrestling camp and I couldn't really enjoy it because all I wanted was to be back in the ring. After that first experience, I went on to work with Dory for over a year and I still go and work his shows. I met a wrestler in Mobile, and he hooked me up working and training at Sun Coast Championship Wrestling after my first teen camp with Dory. I met my trainer at SCCW, Mercury McLoud, who is an incredible talent, and I am honored to be trained by him. And I now work for the Independent Wrestling Council, and other various wrestling organizations.

Gimmick:

I am part of a team called Trailer Fabulous and we are very baby. I manage my trainers Mercury McLoud and Crazy Joe Fargo.

Wrestling Style:

I try to be the most versatile wrestler that I can. I do some big high flying moves, but I love technical wrestling.

Gear:

I have all my gimmicks made by Adrian Street and Miss Linda, and I get their style in all my gimmicks. I get bell bottom type pants and tops that velcro around the neck.

Titles Held:

BANG! Women's Champion; IWC Women's Champion; IWC Champion (with Mercury McLoud).

Biggest Win:

I guess winning the IWC Tag Team Titles with Mercury McLoud.

Worst Loss:

Every loss is bad! But seriously, it's a team sport: you win some, you lose some. As long as I can walk back through the curtain knowing I gave it my all, everything went well, and the crowd was into it...then it was a good night.

Favorite Type of Match:

I love mixed tags because I enjoy working with the guys. I also enjoys singles.

Favorite Moves/Holds:

Hammerlock roll submission and the stump puller.

Finisher:

The Rat Killer and the Climax.

Biggest Allies:

Mercury McLoud; Crazy Joe Fargo; Moondog.

Most-Hated Enemies:

Zip; Bruiser Brown; Allah Akbar & the Jihad Warriors.

Favorite Wrestlers:

Molly Holly; Jazz; Ivory; Shawn Michaels; HHH; Kurt Angle; Mercury McLeod.

Wrestling Ambition:

I would love to work overseas and I would also love to be with the WWE someday. But my biggest aspiration is when I am done, I want to be remembered as someone who took women's wrestling to the next level.
Dixie's Personal Notes...
Most everything I do is centered around wrestling!.....I love music, especially country.....I also like reading romance novels.....But other than that, it's wrestling! I eat, sleep, and breathe the business.