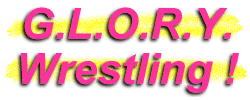 Demonica
Wrestler
Always dressed in black and never found without her trusted whip, Demonica has not just embraced the dark side...she is the dark side! This part-gothic princess/part-dominatrix wrestler and manager is not to be taken lightly. As many of her unfortunate opponents have learned, Demonica's ring abilities are only surpassed by her rulebreaking skills. Beware the dark side!
Demonica!
Back-to-back with one of her biggest allies: Demonica and Alexzandra Heiress.
Demonica continues to attack a thoroughly beaten Ariel.
Demonica is rarely found without that trusted whip.
Demonica takes a handful of Ariel's hair and climbs the corner ropes.
What did we tell you about Demonica and that whip?!
Demonica's Stats...
Height:

5' 6"

Weight:

None of your business!

Hair:

Black

Eyes:

Blue

Hometown:

Saratoga Springs, NY (USA)
Demonica's Profile...
How It Started:

Well, I've been a wresting fan for as long as I can remember, but I never really thought about getting into it myself. Indy shows were few and far between in my area, so when I finally found out there was a fed that had started up close by I went to check them out immediately. Seeing it up close is what gave me "the wrestling bug"...being in the ring just looked like too much fun to resist! A friend introduced me to the trainer and even though there weren't any other women on the roster at the time, he was gracious enough to let me in. It's been a wild ride ever since!

Gimmick:

A tough, sadistic, ruthless woman with a bad attitude. One part dominatrix, one part biker chick, one part goth girl...all parts evil! I don't just have a dark side: I AM my dark side!

Wrestling Style:

I'm definitely a rule-breaker. Otherwise, my style is pretty basic. Some brawling, some technical. I'm not much of a high-flyer, but I'll throw in a couple of those types of moves every now and then.

Gear:

When I'm wrestling, I usually wear black pants, a black shirt and long black latex gloves. When I'm managing, I usually come out in my leather jacket, a short skirt or dress and my knee-high platform boots. The one thing I always have with me is my whip...you never know when it'll come in handy!

Titles Held:

World Of Hurt Tag-Team Championship (with Core) in 2001; TSW Manager Of The Year (2000); PWF Northeast Favorite Female Personality (2002).

Biggest Win:

Winning the WOHW Tag-Team Title with Core.

Worst Loss:

To Simply Luscious at PWF Northeast's "Animosity" show. If it weren't for Mercedes interfering at the last minute, I would've had her beat!

Favorite Type of Match:

Just a straight-up, one-on-one match, whether it's a women's match or intergender. I've never liked catfighting (no offense to the catfighters out there). One match I'd like to try but haven't had the chance to yet, is a hardcore match. No thumbtacks, though. ;)

Favorite Moves/Holds:

Any variation of a neckbreaker or DDT.

Finisher:

The Demonizer (Tornado DDT from the center of the top rope).

Biggest Allies:

The Brotherhood Of The Damned (Mad Dog, Draven, Kyle Storm and Tommy Knoxville); Dean Ripley; Phil Gates (Ha!); Maxx Burton; Alexzandra Heiress.

Most-Hated Enemies:

Anyone who thinks they can get in my way!

Career Highlight:

My run as commissioner of TSW...although taking the Spanish Fly from the SAT would be a close second.

Favorite Wrestlers:

I can't pick just one, but some of my favorites are Chris Benoit, Jerry Lynn and Nova. I'm also an old-school Undertaker fan, if you couldn't tell!

Wrestling Ambition:

I'm not concerned with getting to the WWE, being a "diva" or anything like that. I just want to get out there, give it my best and have fun doing it. As long as I'm working somewhere where I'm not taken for granted, I like what I'm doing and the fans like it too, I'll be happy.
Demonica's Personal Notes...
Random facts: My usual hobbies are reading and working with Photoshop.....My favorite band is Type O Negative, but I listen to everything from Johnny Cash to Depeche Mode (no rap, though).....And before anybody asks, I DO have a boyfriend (sorry, fellas)!.....I like meeting new people, but I'm typically a very private person. As my friends can tell you, it takes a while to get to know me, so if I'm a little reserved when you meet me don't take offense!.....Speaking of friends, one of my best friends--Alexzandra Heiress--is also on this site, so be sure to check her out!