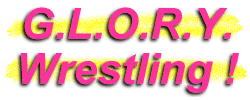 Deanna Conda
Wrestler
Deanna Conda likes to say: "Some women are built for ballet...and some aren't. And I'm no ballet dancer!" But most opponents of this nearly 6-foot tall, almost 200-pound powerhouse wish she would take up ballet. Toronto-based Deanna loves nothing more than stepping into the ring and devastating her foes. Winning? That's secondary to simply squashing her opponents while displaying her raw, unrestrained aggressiveness!
The sexy and dangerous Deanna Conda!
Deanna's strength is on display as she easily scoops up her opponent for a bodyslam.
Deanna sizes up the competition as she heads to the ring.
Deanna smiles as she squeezes the life out of LuFisto!
Deanna Conda's Stats...
Height:

5' 10"

Weight:

185

Hair:

Dark brown with highlights.

Eyes:

Dark Brown

Hometown:

Toronto, Ontario (CAN)
Deanna Conda's Profile...
How It Started:

I have always been into contact sports. Anything that involves aggression has my attention. Since I was a kid I wanted to wrestle, but I thought it was a long shot. Then one day a friend of mine from work came up to me and told me I should consider wrestling. He said I have a good look for it and that all these wrestling feds are in serious need of a woman who can kick butt! I then thought to myself: "God did not make me almost 6 feet, 200 pounds for nothing. Some women are made for ballet, and some aren't!"

Gimmick:

The GLAMAZON from THE AMAZON!

Wrestling Style:

I am a brawler/super heel. I'm the one with the garbage can. I get into the ring, devastate and leave. 'Nuff said.

Gear:

Whatever makes 'em sweat!

Worst Loss:

Against LuFisto...recently. She is one TOUGH LADY!

Favorite Type of Match:

Mixed singles and tag matches; battle royals; squash matches are my specialty!

Favorite Moves/Holds:

Power moves.

Finisher:

I GOT A "CRUSH" ON YOU

...sidewalk slam and body splash.

Biggest Allies:

Shantelle Taylor; Tiana Ringer.

Most-Hated Enemies:

Anyone who gets in my way!

Toughest Opponent(s):

TNA's Sirelda/Jamie D and Lufisto. These are the only women who were able to throw me around.

Favorite Wrestlers:

Chyna; Lita; Hardy's; Kane; Rey Mysterio; Victoria; Molly Holly.

Wrestling Ambition:

Wrestling has been a big part of my life for quite a few years. I have met all kinds of great people from all over. I want to keep having fun as long as my body can stand it.
Essential Deanna Conda Links...