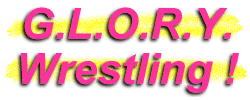 Daizee Haze
Wrestler
She's a lover, not a fighter. But she does enjoy a good, clean wrestling match! Meet Daizee Haze...the groovy, high-flying, peace-loving, hippy chick who is making a big splash in rings across North America. While she may be one of the smaller girls on the indy scene today, Daizee makes up for her lack of size by leaving the mat and taking some major air to deliver stunning blows to her opponents. And all those muscles built up from her daily training regimen help a lot, too. Sure she may be a peace-nik outside the ring...but once the bell sounds, expect a good, hard, clean wrestling match from Daizee Haze!
Groovy Daizee Haze!
Daizee hits another one of her high-flying moves!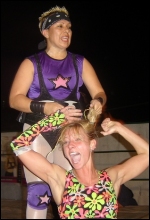 Polly Star's violent hairpull introduces Daizee to the rigors of the Mexican ring.
Fitness enthusiast Daizee flexes for the camera.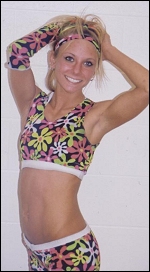 A big smile from Ms. Haze!
Daizee Haze's Stats...
Height:

5' 3"

Weight:

115

Hair:

Blonde

Eyes:

Blue

Hometown:

Forrest Park, Illinois (USA)
Daizee Haze's Profile...
How It Started:

I was never really a wrestling fan growing up, but was always into sports and athletics. Violence and foul language were outlawed in my house as a kid so wrestling and other programs (Married With Children, Roseanne and The Simpsons) were not allowed to be turned on the television. Instead, I was involved in gymnastics, dance, soccer, basketball, volleyball, indoor co-ed soccer and was a cheerleader in jr. and high school. After high school, I wasn't involved in any organized sports...but then one of my friends started to train to wrestle. I was curious, so I went along. I sat and watched as many assorted people tried different techniques and attempted running the ropes. I was very interested in the technical wrestling stuff and kept coming back with my friend to watch people train. I didn't have the guts to get in the ring yet, but learned little by little by watching others get trained until I attained the guts to try. Once I got in the ring, things just clicked and I couldn't stop training or yearning for more knowledge. That was in 2002 and I'm still training and learning everyday!

Gimmick:

Peace-spreading, love-sharing flower child. Not big on fighting, but love to wrestle a fair competitive match.

Wrestling Style:

Mad groovy technical style with Lucha-influenced high flying!

Gear:

Crazy colorful skirts and sport tops with arm flares and headbands.

Titles Held:

All Pro Wrestling Future Legends Title (current); NWA Midwest/IWA Mid-South Women's Title (2/2005).

Biggest Win:

IWA Mid-South 6-way Women's Title Match (2/12/05 at the Lincoln Center in Highland, IN).

Favorite Type of Match:

Technical style.

Favorite Moves/Holds:

Heart punch; top rope drop kick.

Finisher:

Heart punch/yakuza kick combo or "Cashed Out" (jaw breaker and face buster combo).

Biggest Allies:

Tracy Brooks; Mickie Knuckles; Christie Ricci; Trinity.

Most-Hated Enemies:

Pollution, hate and other variants that destroy the Universe.

Career Highlight:

Awarded "Rookie of the Year 2002" from a local Missouri promotion; awarded "Georgia Wrestler of the Year 2003"; appearing on NWA-TNA Xplosion a number of times managing and wrestling; becoming APW's Future Legends Champion as well as the NWA-Midwest/IWA-Midsouth Women's Champion;becoming a vital part of Ring of Honor's developing women's division.

Favorite Wrestlers:

Magnum Tokyo has my favorite entrance of all times, it keeps getting better. Molly Holly was my favorite signed by the WWE until she got released. Johnny Saint is remarkable.

Wrestling Ambition:

I want to change the status of women's wrestling. It should be looked at and respected as a competitive sport that involves talent and athleticism: talent aside from looks and athleticism aside from rolling around on the ground and pulling hair.
Daizee Haze's Personal Notes...
Aside from wrestling, I am attending a 4-year University studying Exercise Science. I love working out and resistance training, so this is the perfect degree for me.....Recently, I picked up sewing wrestling gear as a hobby. I have a lot of fun making my own gear while also constructing things for others. Check out my work on Delirious, Matt Sydal, MsChief and Trik Davis.....I really take pleasure in reggae and dub style music. It offers a lot for my easy going attitude. If I'm ever down, I jam to some good music and the positive vibes flow.....I also love nature and taking hikes, climbing mountains and wandering around in the woods, but rarely have the chance!.....In summary, My Life is: a) Wrestling and Training; b) School; c) Sewing; d) Positive Dub Music....."Darkness cannot drive out darkness; only light can do that. Hate cannot drive out hate; only love can do that." -- Martin Luther King, Jr.