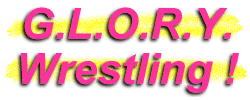 Christie Ricci
Wrestler
If dedication, drive and desire are needed to be a success in the wrestling business--and they are--then Christie Ricci is well on her way to stardom. This beautiful and skilled grappler has impressed all who have seen her in action...including her mentor, the legendary Leilani Kai. Ricci has been called "The Total Package" in women's wrestling today. One look at this sexy and athletic blonde beauty is all you need to realize the truth in that description!
The gorgeous and sexy Christie Ricci!
Christie Ricci has been called 'The Total Package' in women's wrestling today.
Christie can make any bikini look great!
Ms. Ricci is in trouble here as she's mauled on the ropes by her mentor, Leilani Kai.
Ricci bridges into a stretch on the suffering Amber O'Neal.
Christie is looking fantastic at the water's edge.
Christie Ricci's Stats...
Height:

5' 10"

Weight:

160

Hair:

Blonde

Eyes:

Brown

Hometown:

San Diego, California (USA)
Christie Ricci's Profile...
How It Started:

I grew up in Clinton, Mississippi, and there was a guy in my Sunday school class named Teddy Dibiase. He was the son of Ted Dibiase..."The Million Dollar Man." Though I was only 8 years old, I became a wrestling fanatic. While most young girls have role models that consist of super models and actresses, my idol was Ted Dibiase. I was captivated with wrestling and I never once lost interest. In high school, I began to tell people I was going to be a professional wrestler. To most people that goal seemed nearly impossible to achieve, but I knew that if I worked hard enough it would be probable. After high school, I left for college with my wrestling dream still profoundly on my mind. When I finished two years of college, my parents agreed to allow me to transfer colleges to Georgia Tech so that I could attend a wrestling school in Atlanta. Weeks before I was to move to Atlanta, I met a local promoter who introduced me to Lei Lani Kai. My plans were instantaneously rearranged so that I could stay in Nashville to train with Lei Lani and finish college without transferring. So here I am!

Gimmick:

My gimmick is the "All-American Sweetheart." I grew up in the pageant business, so I enjoy being a role model for other females representing anything that is positive. I might be a sweetheart, but business is business and when I am in the ring all morals are set aside.

Wrestling Style:

Because of my strength and size, many would consider me a power-wrestler. But I would also consider myself a technical wrestler.

Gear:

I am very fickle, so my gear changes quite often. But you will rarely find me wearing long pants. I have very long, muscular legs...so I enjoy showing them off!

Titles Held:

LLF; XWF Women's Champ; NWA Women's Champion; a few more that I can't recall at the moment.

Biggest Win:

Any time I win against Princess Sugeit, which is very difficult to do. She is my toughest opponent in Mexico.

Worst Loss:

Can't recall.

Favorite Type of Match:

I usually love all matches--and I am happy as long as I am in the ring--but I hate cat fighting, evening gown matches or any other match that does not demonstrate the agility and athleticism of the opponents.

Favorite Moves/Holds:

I love creative submission holds such as variations of the Indian Death Lock and a version of a Short Leg Scissors. My most favorite move, though, is the Flying Arm Bar. I love the pain and damage a simple arm bar can do!

Finisher:

I have two modified moves that I like to use as finishers. Both of them are power moves that take a lot of strength to execute. I call them the

"Makeover"

and

"Tummy Tuck"

.

Biggest Allies:

I'm on my own!

Most-Hated Enemies:

My most hated enemy is ALL lucha libres. Most of them resent an American girl having their championship title, so I am not exactly their most favorite person!

Toughest Opponent(s):

Princess Sugeit and Lei Lani Kai.

Career Highlight:

I have had many career highlights, and I plan to have many more! I am grateful for every time I step foot into the squared circle. Some very special moments for me have been: being rewarded as "2002 Rookie of the Year" by the PGWA and ladysports.com, winning the LLF Championship and wrestling before 5,000 people in Mexico. Wow! What an experience!

Favorite Wrestlers:

I have many favorites and it would be hard to choose between them. Of course, Ted Dibiase is a favorite. But I also like Dynamite Kid, Bret Hart, Chris Benoit and Eddie Guerrero.

Wrestling Ambition:

To be one of the best women wrestlers ever! And to make a living at wrestling as long as I can. Check out www.ChristieRicci.net for downloads!
Christie Ricci's Personal Notes...
If I could use any word to describe myself, I would have to use the word "achiever". I am a very resolute and driven person. When I set goals I never relinquish them until they are achieved, and that is applied to every aspect of my life.....When I am not training in the ring I am training in the gym. I started bodybuilding when I was 17. I knew that if I was going to compete with the other women in wrestling, I would need to be in the best possible physical shape.....In the future, I plan on competing in bodybuilding competitions and pursuing fitness modeling.....I have always been raised believing in the importance of education. I graduated with my Bachelors in Business in 2004 then went on to obtain my Masters in Business by 2007......Everything I am doing now is to help me prepare for the future. I have always been taught that life is what you make it, and I am in the process of making it a living dream.
Essential Christie Ricci Links...