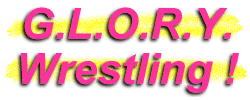 Chacala
Wrestler
In the world of luchadoras, you have to be tough and powerful to succeed. And there is no one tougher or more powerful than Chacala! This Monterrey-based ruda is a brutal competitor who will do whatever it takes to win her matches. Devastating punches, big kicks, crunching stomps, stinging chops and powerful slams are common place when Chacala is in the ring. Come to think of it, they are common even when this lady is pounding away at her opponents outside the ring! Many of Mexico's technicas have found that simply surviving a match against this ruda is a victory in itself. Watch out for that "Chacala Bomb"!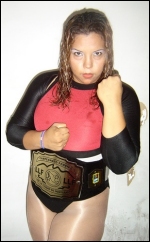 Beautiful, no-nonsense and powerful, meet Mexico's Chacala!
Chacala plants Nikki Roxx into the mat with her famous "Chacala Bomb".
Powerful Chacala uses a big boot to send her opponent to the mat.
Chacala's Stats...
Height:

5' 10"

Weight:

Perfect!

Hair:

Brown

Eyes:

Dark coffee

Hometown:

San Pedro Garza Garcia, N.L. (Mexico)
Chacala's Profile...
How It Started:

I admired the wrestling style of The Canadian Vampire and began training with The Little Diamond, who was my teacher. My first match was a tag team and my partner was The Little Storm. We fought against Samantha and M'lady in Montemorelos.

Gimmick:

I am a ruda (heel)...because rudas are the best!

Gear:

My favorite colors are black and rose, so I use them for my costumes. At the beginning of my career I wore a mask, but I later decided to wrestle without it.

Titles Held:

City Of Monterrey Championship.

Biggest Win:

Against April Hunter in Arena López Mateos, Estado de México.

Favorite Moves/Holds:

Inverted crucifix.

Finisher:

"The Bombazo 252" (a.k.a. "The Chacala Bomb").

Biggest Allies:

Polly Star; Tsunami.

Most-Hated Enemies:

Nikki Roxx and Diana la Cazadora...although last time out, Diana lost the championship of Monterrey, so she doesn't interest me so much anymore.

Favorite Wrestlers:

Vampiro; Lola Gonzalez.

Wrestling Ambition:

To continue seeking other championships in the LLF and to wrestle in rings throughout Mexico and in Japan.
Chacala's Personal Notes...
I have two sons whom I love: Pablo is eleven years old and Orlando is five years old.....My favorite food is shellfish and I love Piña Coladas!.....Many thanks to all those who have supported me, even though I'm a ruda!.....Thanks to the promoter and staff of the LLF, where I found the opportunity that I had sought so much.....And, finally, a big greeting to Dynamite 252!