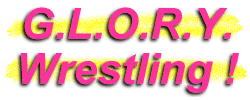 Cathy Cougar
Wrestler
Don't expect to see a clean, technical match when Cathy Cougar steps into the ring. Think more in terms of hand-to-hand combat. Well...if you consider choking, stomping and biting heads as combat. It sounds more like a back alley brawl! But that's the way "Combat Cougar" likes it. As far as she's concerned, the more blood, guts and carnage this Canadian veteran leaves behind in the ring, the better!
A nasty scowl from Cathy Cougar!
Camouflage!
Locked, loaded and heading for the ring!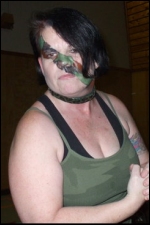 The scary and dangerous looking
Combat Cougar!
Cathy Cougar's Stats...
Height:

5' 5"

Weight:

170

Hair:

Black

Eyes:

Green

Hometown:

Buffalo Narrows, Saskatchewan (CAN)
Cathy Cougar's Profile...
How It Started:

I trained with High Impact Wrestling Regina under the supervision of Crusher Carlsen, Rex Roberts, Massive Damage and Charley Hayes. They offered me spots on their shows after I had been training for about three months.

Gimmick:

Cathy Cougar is a crazy, mean, bitch! I've been a heel for most of my career and take great pleasure in beating up men as well as dominating the women that I fights. Forget about technical holds...I like to bite heads and choke my opponents.

Wrestling Style:

I'm a heel specializing in old school matches and can easily swing into more of a high-flyer style when working with men that are much larger. I prefer hardcore and anything-goes matches.

Gear:

I've recently gone on the war path and have traded my kitty make-up for camouflage...my wrestling clothes for combat gear.

Titles Held:

HIW Women's Champion.

Biggest Win:

My biggest wins were scored when I competed with my tag partner Damon The Fan Guy. We were slotted for a title match-up when Damon made an untimely exit from the wrestling business.

Worst Loss:

My worst loss was to Sexy Samantha at an HIW Regina show in 2006. I broke my eye socket and cheek bone when Sexy Sam leveled me with a spinning heel kick.

Favorite Type of Match:

Hardcore all the way baby! The more blood and carnage the better!

Favorite Moves/Holds:

Killer clothesline; back breaker; sidewalk slam; reverse japanese piledriver; full nelson; headlock; mandible claw; camel clutch.

Finisher:

Japanese reverse piledriver.

Toughest Opponent(s):

Rex Roberts.

Career Highlight:

Cathy Cougar vs. Mike Hammer: Woman vs. Midget! This was my best match ever. The crowd loved the comedic side of it as well as gave out a few

"holy s**t"

chants as I beat the young quasi-midget into submission.

Favorite Wrestlers:

Mick Foley is God!

Wrestling Ambition:

I would like to be recognized for the many years that I have given to this sport in Canada.
Cathy Cougar's Personal Notes...
I'm a single mother of five.....I've been a performer since the age 14 when I first began accepting professional singing jobs. I have performed with Jamaican recording artist Frank Carroll and Hit Squad, The Regina Symphony Orchestra and have sung lead for numerous bands.....I am currently working on my first CD of original music.....I have a Bachelor of Business Administration and a Certificate in Local Government Administration.....I currently work for KidsFirstNORTH in Buffalo Narrows as an Administrative Assistant.
Essential Cathy Cougar Links...