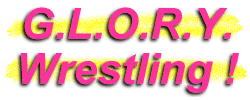 Bobcat
Wrestler
Beautiful Bobcat is, without a doubt, the sexiest WWF Hardcore Champion in history! This lady may have won the title on a fluke when she pinned an already KO'ed Crash Holly back in 2000...but she was the first woman to hold the Hardcore Belt. Over and above her brief brush with WWE greatness, Bobcat is a popular indy wrestler who has been rocking the Northeast wrestling scene since the late-90s. She's already accomplished much...but you can expect a lot more in the future from the sexy and talented Bobcat!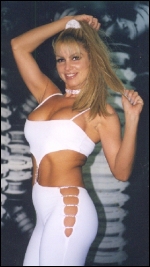 Hard to believe that beautiful Bobcat was once the holder of the WWF Hardcore Belt!
Have you ever seen a sexier wrestler?!
Bobcat may not look like a rough and ready wrestler...but wait until she steps into the nearest ring!
Bobcat's WWF Hardcore reign was brief after Crash Holly rolled her up for the quick pin.
Bobcat's Stats...
Height:

5' 8"

Weight:

130

Hair:

Blonde

Eyes:

Brown

Hometown:

New York City, New York (USA)
Bobcat's Profile...
How It Started:

I can't really say that it's such a long and amazing story! I was simply a fan for a long time. I always enjoyed watching the matches on TV. I just decided that I wanted to go for it...so I started training and worked my way into the indies.

Gimmick:

Bobcat is a face or heel...you never know which Bobcat is going to show up for the fight! I also wrestle as a trashy heel known as Barroom Barbie.

Wrestling Style:

I try to be versatile and know a bit of everything. Technical, old-school, high flying. I've also reffed, done commentary and managed. I make it my business to do everything I possibly can.

Gear:

I don't have a set outfit or color combination. But you can always be sure it will be sexy and athletic.

Titles Held:

First woman to hold the WWF Hardcore Championship; NWA Junior Heavywight Championship (men's title).

Biggest Win:

Has to be winning the WWF Hardcore Title from Crash Holly.

Worst Loss:

Easy. Getting re-pinned by Crash about 30 seconds after winning the belt!

Favorite Type of Match:

No-holds-barred. The fewer rules, the better as far as I'm concerned!

Favorite Moves/Holds:

Tarantula

Finisher:

"Barroom Stunner"; "Cameltoe Clutch" (Reverse Boston Crab).

Biggest Allies:

Becky Bayless; Ref Hanson; Simon Diamond.

Most-Hated Enemies:

Little Jeanne; Ariel.

Career Highlight:

Have to go back to that WWF Hardcore Title win in Cleveland, Ohio.

Favorite Wrestlers:

Ricky Steamboat.

Wrestling Ambition:

To be as successful as possible. I just love being a part of the wrestling business. If WWE happens again, that would be great. But if it doesn't, I'll still enjoy every minute of my time in wrestling.
Bobcat's Personal Notes...
I have a four-legged roommate: my miniature pincher named Elvis!.....I love to go motorcycle riding whenever I can.....Nothing beats quality time with my family and friends.....I have a weakness for old situation comedy reruns. My favorites are The Golden Girls and--believe it or not--The Nanny! Fran Dreshler cracks me up!.....I'm a fan of all kinds of music, but I really love 80s rock: REO Speedwagon, Poison, Bon Jovi...BIG HAIR BANDS RULE!