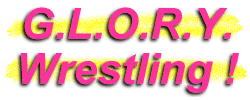 Blue Nikita
Wrestler
Originally from Greece, Blue Nikita has been enthralled with pro wrestling since the time she was a young child....watching the pros battling on TV every chance she got. It was at that early age when Blue decided that pro wrestling was the career she would pursue. Now residing in Berlin, Germany, Blue Nikita has become one of the toughest and most popular ladies on the European continent. Can Japanese and U.S. rings be the next step for this talented grappler?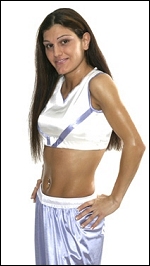 Blue Nikita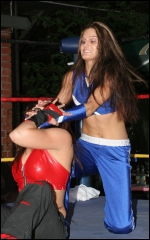 Blue Nikita enjoys applying the chinlock on her opponent. [Photo: Dragonhearts.de]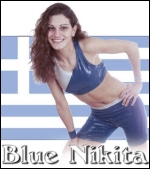 A smile from Blue Nikita.
Blue Nikita's Stats...
Height:

5' 7"

Weight:

136

Hair:

Dark brown

Eyes:

Brown

Hometown:

Thessaloniki, Greece
Blue Nikita's Profile...
How It Started:

I watched wrestling on TV as a child and I decided that it was something that I was going to do someday.

Gimmick:

I'm just a nice girl who wants to give her best. : )

Wrestling Style:

I'm a combination of different styles: high-flyer, technical, a little bit of old-school.

Gear:

Long trousers and short top...different colours, but mostly blue.

Titles Held:

VdB European Woman's Title; EWA Woman's Title.

Biggest Win:

VdB European Woman's Title Match; winning the EWA Woman's Title.

Worst Loss:

Losing the EWA Woman's Title.

Favorite Type of Match:

Singles; mixed-tags; streetfight.

Favorite Moves/Holds:

Air Raid Crash; various headscissors; insiguris.

Finisher:

Sunset flip into a powerbomb or the Air Raid Crash.

Biggest Allies:

GWF.

Most-Hated Enemies:

Wesna.

Toughest Opponent(s):

Toyota Manami.

Career Highlight:

Working for NWE Nu Wrestling.

Favorite Wrestlers:

Crazy Sexy Mike; Ahmed Chaer; Aykut; Toyota Manami; Kobashi; A.J. Styles.

Wrestling Ambition:

To be one of the best woman wrestlers in the world and go to Japan.
Blue Nikita's Personal Notes...
I am originally from Greece but I live in Berlin and train in the GWF.....My favorite colours are blue, black, purple and white.....I like to chill with friends, go out, watch movies and listen to music.....I love to go to the gym.....Wrestling is my life!
Essential Blue Nikita Links...