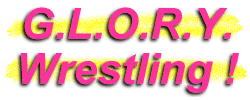 Bacardi
a.k.a. Hailee Jefferson
Wrestler
What a trip it's been for Bacardi. First, North Carolina. Then a move across the Atlantic to the United Kingdom. The final leg of her journey? The rings of the UK indy scene! Bacardi has spent the last several years learning and honing her ring skills...and now seems to be on the verge of a big time breakout. Whether she's wrestling in singles competition, tag matches or intergender battles, you can be sure that Bacardi will continue to impress wrestling fans across Great Britain!
UK wrestler (via North Carolina)...Bacardi!
Bacardi waits in her corner for the bell to ring.
Bacardi with a face-buster on her opponent!
Bacardi suffers as her arm is wrenched.
Bacardi's going down!
Bacardi is not afraid to mix it up with the guys.
Bacardi's Stats...
Height:

5' 7"

Hair:

Black

Eyes:

Bluey-Green

Hometown:

Cameron, North Carolina (USA)/Fleet, Hampshire (UK)
Bacardi's Profile...
How It Started:

I always watched wrestling as a young girl and one day I just decided that was what I wanted to do. I am not too sure when that decision came about! I was working at Tesco when someone noticed my wrestling tattoo and they ended up giving me the number for Jake "The Snake" Roberts. That's when I started training and I've never looked back.

Gimmick:

A sweet, innocent girl...but a bitch when crossed!

Wrestling Style:

I wouldn't say I have a fixed style. I have had training from so many different people, I have almost blended all their styles together to make a style of my own!

Gear:

All depends on where I am, and if I am wrestling or managing. I like to look good at all times and to make sure I am noticed for my outfits.

Titles Held:

No titles yet, but hopefully soon!

Biggest Win:

My biggest win so far was on a show for BAWF in Bracknell, Berkshire against a great opponent named Jordan. This was the first show my family had seen me wrestle live at, as it was the first show close enough for them to come see. It was great not only to hear the crowd's reaction when I won that match, but to see my family so excited (and my nan wondering whether I was about to pass out!).

Worst Loss:

My worst loss so far would be in a six-person tag match in AWW. I was teamed up with Danny D and Ronin. A silly mistake of mine cost us the match, which ended up with me getting a TKO and a corner splash from a 25 stone guy. Proper painful that was!

Favorite Type of Match:

I will always love a good singles match because of the greatness of competition. I did find doing a hardcore match fun. Painful...but fun.

Favorite Moves/Holds:

"Bacardi Screwdriver"

; bulldog; swinging neckbreaker.

Finisher:

I am always changing my finisher. I have yet to find one that suits me well enough to keep.

Biggest Allies:

Will Davison; Carnage; Ant Lacayo. Also, in wrestling I have made great friends with Lucy Clayden and The Baroness Simone.

Most-Hated Enemies:

Jordan, my current enemy, seems to pop up a lot.

Toughest Opponent(s):

Lucy Clayden, The Baroness Simone and Jordan. All three girls are extremely tough to beat.

Career Highlight:

The highlight of my career was wrestling on a show for the legendary Pippa L'Vinn. I was also ecstatic at the time I got to do a training seminar with Bret Hart.

Favorite Wrestlers:

The Undertaker; Jeff Hardy; Alison Danger; CM Punk; Amazing Kong.

Wrestling Ambition:

I just want to keep wrestling for as long as I can, for as long as the fans want to see me. I would love to become a champion.
Bacardi's Personal Notes...
Well, outside of wrestling I enjoy doing a lot of things. I have recently become addicted to Guitar Hero 3 on the 360! I probably spend way too much time on it.....I also enjoy shopping, hanging out with my mates and spending time with my boyfriend. ....I do a bit of graphic design work, mainly for pleasure. I taught myself how to do graphic design when I was at college, so it's something I do to entertain myself when my boyfriend sits playing boring games on the 360!.....I love listening to rock music, and can regularly be found at the Agincourt Rock Club.....My family and friends are very important to me, as is wrestling.
Essential Bacardi Links...