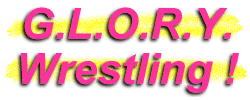 Sugar Sanchez
a.k.a. Athena Gold
Wrestler
While still early in her career, Sugar Sanchez shows the drive and determination needed to make it to the top of the UK wrestling scene. This beautiful blonde was inspired to give wrestling a try after seeing Lita and the Hardy Boys in action. Now--rather than just watching the action--Sanchez is training hard and following her dream to become the best in the sport!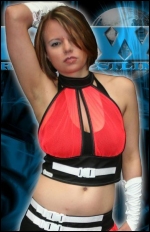 Sugar Sanchez!
Sanchez works the arm.
This hairpull can't feel good for Sugar!
Sugar Sanchez's Stats...
Height:

5' 7"

Weight:

140

Hair:

Blonde

Eyes:

Brown

Hometown:

Swindon, England (UK)
Sugar Sanchez's Profile...
How It Started:

I always watched wrestling when I was younger, but as I grew up other things took my interest and wrestling just became a part of the background. One day when my brother was watching wrestling, I noticed the Hardy Boys and Lita...who I thought were amazing. They inspired to me to take up wrestling as a career. I started looking around for schools in my area but, unfortunately, there weren't any at the time. I met a guy in college who told me there was a wrestling school that had started up in our area and I went along to check it out. I've been hooked ever since!

Gimmick:

I don't have a gimmick. I just get in there and give it everything I have!

Wrestling Style:

Technical.

Gear:

Orange, black and white.

Biggest Win:

I don't count one win bigger than the other...every win is great to me!

Worst Loss:

All of them...I don't like to lose!

Favorite Type of Match:

I prefer one-on-one to everything else.

Favorite Moves/Holds:

Bulldog; Flapjack; Facecrusher.

Finisher:

"Sanchez Stretch".

Biggest Allies:

David Sharp; Dan Splash.

Most-Hated Enemies:

Nadia.

Career Highlight:

I'd say it's too early in my career to have a definite career highlight. I'm just getting started so I expect many to come!

Favorite Wrestlers:

Kurt Angle; Chris Benoit; Eddie Guerrero; William Regal; Trish Stratus.

Wrestling Ambition:

To become the best there is. If you don't aim to be the best, what's the point in trying?!
Sugar Sanchez's Personal Notes...
Outside of wrestling, I watch a lot of movies--especially action and horror.....I don't watch a lot of TV, but I absolutely love Family Guy (Stewie rules!).....I enjoy listening to rock music (none of that pop stuff!) and dancing.....I also have a huge interest in Photography and Art, which I pursued at college.
Essential Sugar Sanchez Links...