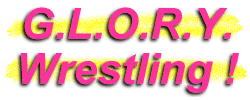 Ashley Nicely
Wrestler
Some fans see Ashley Nicely as the girl next door. But more and more wrestling fans are seeing this athletic blonde grappler as an up-and-coming competitor on the East Coast indy circuit. Ashley might be small in stature--just an inch over five feet--but her repertoire of high flying tactics and technical expertise more than make up for her lack of height. With only a handful of years on the wrestling scene, Ms. Nicely has already captured multiple women's titles...and her fans think that many more are on the way!

The girl next door? Yes...and her name is Ashley Nicely!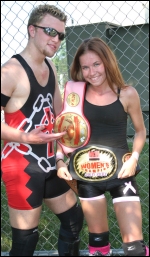 Ashley with her main ally, boyfriend Alan Cross.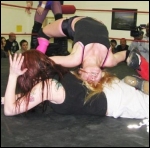 Ashley uses a nice bridge to urge a submission out of her opponent.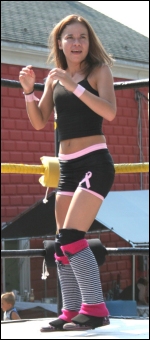 Ashley prepares to lock up with an opponent.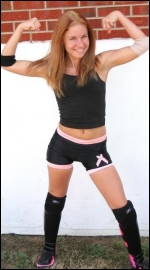 This blonde grappler may be small in stature, but she can flex with the best of them!
Ashley relaxes after a recent match.
Ashley Nicely's Stats...
Height:

5' 1"

Weight:

115

Hair:

Blonde

Eyes:

Blue

Hometown:

Charm City Baltimore, Maryland (USA)
Ashley Nicely's Profile...
How It Started:

I got into wrestling by helping out with the ring crew at a local indy show in my area. There, I met a few guys who offered to train my boyfriend and me...since we both wanted to become wrestlers. I've been a fan of wrestling since I was a little girl but wasn't exactly sure how it worked.

Gimmick:

I guess you could say that I'm a never-break-the-rules kinda good girl...but I do fight fire with fire if I have to! I'm usually much smaller than my opponent so I do what I have to do to win. But most fans see me as the girl next door.

Wrestling Style:

I would say my wrestling style is a little bit of a high-flyer mixed with technical. I love submission and chain wrestling, but I also like to throw in a few head scissors and hurricanrannas.

Gear:

I've got a few different things I like to wear. I have custom short tights that are black and pink with a breast cancer ribbon on the front and my name on the back. I have a school girl outfit, and I also have many other skirts and shorts I like to wear. Unless I'm in a street fight...then I wear jean shorts.

Titles Held:

I've held the PCWA Women's Title and the CPW Women's Title. I am currently the MCW Women's Champion for the second time.

Biggest Win:

I think my biggest win was when I won the MCW Women's Title for the second time. It was MCW's big anniversary show in Milton, DE. My parents and family were in the crowd cheering me on. It was an intergender tag match for the MCW Cruiserweight and Women's titles with myself and Sexy Steve vs. Rebecca Payne and Jimmy Dream.

Worst Loss:

My worst loss was probably when I lost the PCWA Women's Title to a valet. She was managed by a heel tag team and they cheated...hitting me with a double-team move allowing her to pin me. I worked so hard to get that title, then a valet comes along and squashes me to take it away!

Favorite Type of Match:

I love intergender matches. I usually team with my boyfriend, Alan Cross. We have a ton of double team moves and combos that we do and it's just great for the fans to see women and men mix it up.

Favorite Moves/Holds:

I love using head scissors, hurricanrannas and my own submission which is a variation of a figure-four and a bridge. Also: mafia kick, DDT, cross body from the top rope, neckbreaker and chain wrestling.

Finisher:

I use my own submission (figure-four bridge) and the 619 (which i call the 410) followed by a cross body from the top.

Biggest Allies:

I have a lot of allies. Number one is my boyfriend

Totally Awesome

Alan Cross. Also: my brother

The Skateboard Classic

Chris Lasek; my long-time friend and someone I consider my older brother, Louis Rich; and there are many more but I just don't know if i can list them all!

Most-Hated Enemies:

As for enemies, I would have to say Rebecca Payne. I've battled her in multiple federations. Also: Miss Dixie; Trixie Lynn; Chrissy Johnson.

Toughest Opponent(s):

My toughest opponent would probably be Rebecca Payne since she is the 2008 Queen of the Deathmatch.

Career Highlight:

My career highlight would probably be winning the MCW Women's Title for the second time. I was the first ever two-time MCW Women's Champion and it was an awesome match. I had my family and friends in the crowd. I also had my boyfriend Alan Cross watching in the back and he was so proud of me, which really meant a lot. And everyone in the back told me how great it was, how well I did and how I had come such a long way. It was an incredible feeling!

Favorite Wrestlers:

Trish Stratus; Gail Kim; Sara Del Ray; Edge; Bryan Danielson; Austin Aries; Eddie Guerrero.

Wrestling Ambition:

I would say that I simply want to continue entertaining fans on the indy circuit. I don't plan on going to WWE because I don't want it to become a job. It's the funnest thing ever to do, but I think if I made it to WWE my heart wouldn't be in it as much. I like interacting with the indy fans. Its an incredible high.
Ashley Nicely's Personal Notes...
OK, well here it goes.....I love spending time with my boyfriend, Alan Cross.....I love any kind of pasta!.....I enjoy setting-up fish tanks and aquariums, and I also enjoy going to aquariums and zoos.....My favorite movie is Superbad.....I enjoy watching UFC and any kind of MMA.....I really love spending time at home with my boyfriend, my family and my friends!
Essential Ashley Nicely Links...
Ashley Nicely Video