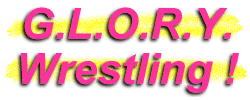 Ashleigh Vayda
Wrestler
Don't let the blonde hair, blue eyes and wholesome appearance fool you. Ashleigh Vayda may look like the proverbial girl-next-door, but this sexy young lady readily admits that she's "a good girl who does bad things"! Perhaps that is why she was drawn to the world of professional wrestling. Where else could a girl this pretty be that bad? Watch out for Ashleigh Vayda as she makes a name for herself across Canada and the Northeastern United States.
Ashleigh makes her way to the ring.
Elmira is about to be taken down by a Vayda Flying Head Scissors.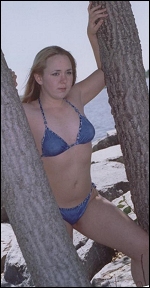 Away from the ring, the sexy Ms. Vayda spends some time on the beach.
Ashleigh Vayda's Stats...
Height:

5' 6"

Weight:

130

Hair:

Blonde

Eyes:

Blue

Hometown:

Winnipeg, Manitoba (CAN)
Ashleigh Vayda's Profile...
How It Started:

A long time friend was doing his training at Battleground and asked me to go with him to the school one day. Not being a huge wrestling fan, I decided it would be quite interesting to see how it worked and I was instantly hooked.

Gimmick:

Whether I am a heel or a face, I am the good girl that does bad things.

Wrestling Style:

I'm an old-school, technical wrestler

Titles Held:

OSPW Women's Champion.

Favorite Type of Match:

Singles.

Finisher:

The "Monthly-Plex": A side suplex where my opponent gets flipped mid-air and dropped on their face.

Career Highlight:

Being invited backstage for WWE Smackdown.

Wrestling Ambition:

Just to have fun.
Ashleigh Vayda's Personal Notes...
I met my husband (Blackjack Phoenix) while on tour in August 2003. The night we met we decided to get married. We made it official in September and have been happily married ever since. We have two children, Bradley (born June 2004) and Holly (born March 2008).....I finished my associates degree in Marketing in June 2007.
Latest Ashleigh Vayda News...
I gave birth to a beautiful baby girl, Holly, on March 23rd, 2008!
Essential Ashleigh Vayda Links...