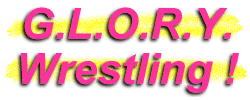 Ann Brookstone
Wrestler
Mid-western mega-heel Ann Brookstone has been leaving behind a trail of broken opponents in her pursuit of any title belt in sight. But what else would you expect when you mix the blonde's strength and endurance with one of the nastiest vicious streaks in pro wrestling today? In fact, when you ask Ann herself what her style of wrestling is, she proudly exclaims: "CHEATING!"
Don't let the smile fool you. Ann Brookstone is one mean and nasty wrestler!
Brookstone viciously chokes an opponent with the ring ropes. So much for rules...
Ann is out of control! Look at how she hammers away at ODB!
How can this sexy lady be such a brutal competitor in the ring?!
Ann Brookstone's Stats...
Height:

5' 10"

Weight:

140

Hair:

Blonde

Eyes:

Blue

Hometown:

Minneapolis, Minnesota (USA)
Ann Brookstone's Profile...
How It Started:

I entered a local "Tough Enough" contest in Minnesota and was one of the finalists. I've been wrestling ever since and having a blast!

Gimmick:

I am a really loud, obnoxious heel.

Wrestling Style:

Cheating.

Gear:

Usually long pants and a colorful shirt. Pretty basic.

Titles Held:

X-Jam Women's Champion; 3X Women's Champion.

Biggest Win:

Beating Tracy Brooks to keep the 3X Title! Also, beating Daffney at 1st Avenue in a falls count anywhere match.

Worst Loss:

Losing that 3X belt to Bryce Benjamin. Yup, a guy.

Favorite Type of Match:

Singles and a little bit of hardcore.

Favorite Moves/Holds:

Pendulum/turnbuckle slam combo; crossbody backbreaker; crotch bite; steamroller.

Finisher:

Death valley driver.

Biggest Allies:

None!

Most-Hated Enemies:

MsChif; Mickie Knuckles; ODB.

Toughest Opponent(s):

Lacey and Daffney...two of the best I've come across.

Career Highlight:

Falls count anywhere vs. Daffney at 1st Avenue in Minneapolis. Wrestling WWE's Cherry for

Heavy on Wrestling

in November of 2008.

Favorite Wrestlers:

Nora Greenwald; Lacey; Terry Funk; Mick Foley.

Wrestling Ambition:

My ambition in wrestling is to take it as far as I can and, most importantly, to enjoy myself everytime out.
Ann Brookstone's Personal Notes...
Outside of wrestling, I enjoy music, shopping, bowling and just having fun!
Latest Ann Brookstone News...
Come see me July 31st in Minneapolis, MN when I face Roxxi in a hardcore match at the 1st Avenue Nightclub. The next day, August 1st, I'll be wrestling in a four way vs. Daffney, ODB and Awesome Kong at Stargate Nightclub in Superior, WI!
Essential Ann Brookstone Links...
Ann Brookstone Video