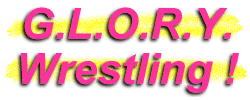 Amber
Wrestler
Talk about starting your career at the bottom of the ladder! Amber was involved with working at the concession stand at her local indy when the wrestling bug bit her. From there, this beautiful lady moved onto taping shows, time keeper and ring girl. She advanced to being a manager and valet as she trained for her chance to step into the ring. And when her time did come to battle between the ropes, this lady won the SAW Women's Championship in her first match! Amber may have started at the bottom of the wrestling ladder, but she's quickly climbing her way up its rungs to success!
Amber!
Amber is looking good after a recent match.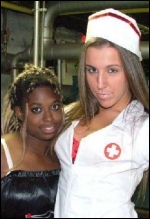 Nurse Amber teamed with Luscious Latasha at a 2006 Halloween show.
Amber revs the crowd up as she heads to the ring.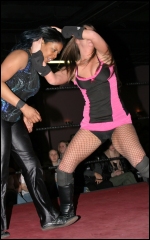 Amber has Jana's head and she's about to snap her to the mat!
Amber is about to kick this opponent into oblivion!
Amber's Stats...
Height:

5' 6"

Weight:

140

Hair:

Medium/Light brown

Eyes:

Brown

Hometown:

New Bedford, Massachusetts (USA)
Amber's Profile...
How It Started:

For about a year I was closely involved with some people in a local indy promotion, so I was always around the wrestling action. I was never into wrestling as a kid...but after being around these people and seeing other promotions, I wish I had gotten into it earlier! I was always helping out: the concession stand, taping the shows, time keeper and bell, and even a ring girl to take the wrestlers things to the back. I became a short-term (and by short-term I mean two shows!) valet for that company. That was during the summer of 2003. That November, I left and started training with EOS, then at the Squared Circle Academy with Matt and Kyle Storm. And here I am now!

Gimmick:

Depending on what promotion I'm working in, I play a heel or babyface. When I am a heel, I'm a cocky "you hate me because you want me" kind of person. When I'm a babyface, I try to get the crowd to have fun while watching me and my opponent.

Wrestling Style:

Any style I need to use to get the win!

Gear:

You'll sometimes see me in fishnets with black "booty" shorts, my hot pink and black top, black knee, elbow and kick pads. Other times I might wear my shiny blue outfit...only on my good days ; ) I'm always thinking about changing it up because I get bored with the same look. Always rockin the kick pads though!

Titles Held:

Two-time SAW Women's Champion; Powerhouse Wrestling Women's Champion.

Biggest Win:

Becoming the first ever Powerhouse Wrestling Women's Champion. But every other win is just as important, of course.

Worst Loss:

Every loss is bad, but my loss to Mercedes Martinez at the 2006 WXW Elite 8 was a b-a-d one! She's one tough woman!

Favorite Type of Match:

Singles and mixed-tag matches.

Favorite Moves/Holds:

Enzeguri; flip-over bridge pin that looks good and sometimes even gets the job done!

Finisher:

Enzeguri...or whatever it takes!

Biggest Allies:

Jon Thornhill; Luscious Latasha; Mia Love; all my girls at World Women's Wrestling.

Most-Hated Enemies:

Anyone opposite me in the ring!

Toughest Opponent(s):

Mercedes Martinez has been my toughest opponent to date. She has a lot more experience than I do, and she lays every move in hard. She's a great athlete.

Career Highlight:

Not really any specific matches because I think wrestling anywhere is a highlight to me. But just meeting people everywhere I wrestle is special.

Favorite Wrestlers:

Rey Mysterio; Edge; Eddie Guerriero; Shelton Benjamin.

Wrestling Ambition:

The typical answer is WWE...but it's so true. To be able to make it to the top would be amazing. I'd especially love to travel to different parts of the world as well. An important thing for me will be when someone hears my name and can say "That's a talented worker". No matter where I am...indies, overseas, WWE...that will make it all worth it.
Amber's Personal Notes...
Besides wrestling, music is a huge passion of mine. I can go on and on about how amazing almost every type is! I am a huge fan of rock, alternative, rap, hip-hop, R&B, Reggaeton, techno and some pop.....I have taken a bunch of dance classes, including tap, jazz, ballet, lyrical, funk, and hip-hop.....I used to be in my high school's colorguard. (For those who don't know exactly what that is, it's the visual portion of a marching band's show: dancers with flags, rifles or weapons.).....I was in my school's chorus. I love to sing and when I was younger my dream was to become a singer! lol.....I love working out. Right now I am an Assistant Manager at a GNC in my area and I've also worked for the YMCA teaching fitness classes.....I also get a workout as a part-time (5 months) gym teacher for a private school--teaching the Pre-K to 3rd Grade classes!