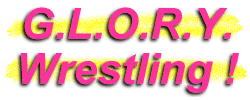 Amanda Storm
Wrestler
Amanda Storm, sometimes known by her alter ego as "The Blak Widow", is an enigma of sorts. At one moment, she can be high-fiving hundreds of cheering supporters...and another moment, berating and abusing those same fans. One night, she can be smashing a chair over the skull of an enemy in a hardcore battle...and the next night, besting an opponent with pure strength and technical skill in a competitive wrestling match. She has two pet bunnies...yet admires the aggressiveness and tenacity of the arachnid who shares her name. There is only one thing you can be certain of with Amanda Storm...SHE IS UNIQUE!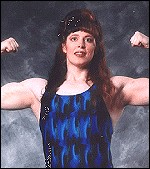 Amanda Storm displays her awesome physique!
Ms. Storm loves to taunt the fans when wrestling in Canada.
You never know when Amanda will morph into The Blak Widow!
Amanda Storm's Stats...
Height:

5' 7

Weight:

170

Hair:

I don't remember...

Eyes:

Green. No! umm...blue.

Hometown:

Sacramento, CA...currently living in Gray, Maine (USA)
Amanda Storm's Profile...
Gimmick:

Gimmick? I'm like this all the time!

Titles Held:

World Wide Wrestling Alliance; Penn York Wrestling Women's Title; Maple State Cruiserweight Title; Universal Champion (Tournament), and Women's Title; Dragon Crown Pro Titles: Wrestling Women's Title; All Star Wrestling Women's Title; NWA New England Women's Title (3); Main Event Wrestling Cruiserweight Title; Ultimate Professional Wrestling Women's Title; Lutte Internationale 2000 United States Women's Title; Yankee Pro Wrestling Women's Title. Martial Arts Titles: Maine Skirmish Heavyweight Women's Champ; Northwest Grappling Challenge Women's Heavyweight and Women's Overall Champ.

Favorite Type of Match:

I'd pretty much have to say the ones where I walk out of the ring and my opponent has to be carried out on a stretcher! Seriously though...oh, wait...I WAS BEING SERIOUS. Actually, I enjoy mixed matches. I started my career wrestling women like Violet Flame, Precious Lucy, K.C. Houston, Felicity, Brittany Brown, Lady Victoria and Little Jeanie, but lately the promoters have been matching me up against the male wrestlers. There's nothing better than dismantling a cocky man right there in the center of the ring.

Favorite Moves/Holds:

I'm partial to a nice little bodyslam. I swear that one day I WILL be able to put someone THROUGH the mat to the floor! But, when I'm in a technical mood, nothing beats working over an arm...

Finisher:

Tombstone Piledriver.

Most-Hated Enemies:

Right now I'd have to say it's Chris Blackheart and "Nightmare" Nick Steele...oh, and that weasly manager of his, Kevin Castro.

Career Highlight:

Helping to push King Kong Bundy to victory in front of thousands of screaming fan in Montreal....Also, it's been exciting to be featured in such magazines as LadySports, Fighitng Females, Pro Wrestling Illustrated and Penthouse(!) Magazine.....And being a part of MTV's special, "True Life: I Am A Pro Wrestler", was pretty cool.
Amanda Storm's Personal Notes...
I'm currently in intensive training so that I can participate in competitive submission wrestling matches across New England. Right now, I am sparring competitively with men who have middle and advanced belts. I assume that if I can do well against them, then I stand a very good chance against female competition when the time comes.....I wrote a book which was just recently published, titled "BlakWidow: My First Year As A Professional Wrestler".....I have had about 200 poems, several short stories and numerous articles published also.....I enjoy role-playing games such as Dungeons and Dragons.....I find juggling to be very relaxing, and I can do it pretty well, too!.....I play the soprano recorder for run.....In music, I will listen to anything from White Zombie and Judas Priest to the Indigo Girls and The Village People. Hey! Scratch that Village People comment. That's gotta be a typo! Wait 'til I get my hands on that WebMaster guy!!!
Essential Amanda Storm Links...