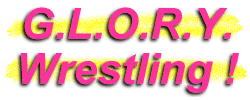 Allison Wonderland
Wrestler
Allison Wonderland peered through the looking glass...and realized that she was meant to be in one place: the professional wrestling ring! This cute and spunky lady started out as a valet, but it didn't take long for her to make her way inside the squared circle. The energetic Wonderland learned quickly and threw herself into combat. Now this rookie is one of the fasted-rising stars on the Minnesota indy scene!
Miss Allison Wonderland!
A sexy little pout from a very sexy Ms. Wonderland.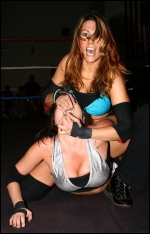 Allison takes some nasty punishment from fellow G.L.O.R.Y. Girl Rain.
Allison looks like she's ready to kill her opponent!
A very hot Allison Wonderland models as well as she wrestles!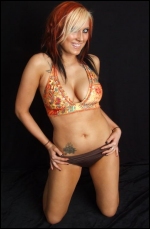 Who wouldn't want to have a blanket on the sand next to this sexy bikinied beach beauty?!
Allison Wonderland's Stats...
Height:

5' 4"

Weight:

120

Hair:

Usually dark with lighter highlights.

Eyes:

Blue/Green

Hometown:

St. Paul, Minnesota (USA)
Allison Wonderland's Profile...
How It Started:

I used to watch wrestling with my dad and older brother all the time as a kid and I loved it. When I got to high school, I was more involved with music so I didn't follow wrestling as much. But then I started going to local wrestling shows and I caught the bug again! I decided I wanted to try it out. I started as a valet and later decided that I wanted to get in the ring myself.

Gimmick:

It depends. I can be the cute, spunky Allison Wonderland...but I can also be quite the bitch. Either way, you won't miss me, I'm loud and I'm in your face!

Wrestling Style:

A little bit of everything. But I was a dancer for 13 years so I like to show of my flexibility.

Gear:

I wear a lot of black, but usually some other brighter colors along with it...and it's usually something sexy!

Titles Held:

MCW Tag Team Champion.

Biggest Win:

Every win is a big win! But it's always fun when I beat the boys!

Worst Loss:

I hate losing.

Favorite Type of Match:

I love intergender tag matches. They're always fun. But I also like my singles matches as well.

Favorite Moves/Holds:

I love doing moves that show off my flexibility.

Finisher:

G-Spot

(X-factor).

Biggest Allies:

Age of the Fall! (Jimmy Jacobs, Tyler Black, Joey Matthews and Necro Butcher); Pete Huge (The Junk Squad); Horace the Psychopath (a good friend and trainer); Kid Krazy (I was his valet for a while); Arik Cannon (a good friend and someone I look up to in the business); Ryan Cruz (a good friend and an awesome wrestler).

Most-Hated Enemies:

Ann Thraxx; Big Brody Hoofer; Jerry Lynn.

Toughest Opponent(s):

Rain. She is a very good wrestler and very tough to beat!

Career Highlight:

My career highlight wouldn't be just one thing, although working at Ring of Honor has been a pretty big highlight. I think it's really just meeting new people all the time and going places that I've never been before. It's been an awesome experience so far and I'm excited for my future in wrestling as well!

Favorite Wrestlers:

For the women: I'd have to say Tracy Brooks, she's a good wrestler and she taught me a lot about the business. Also, Christy Hemme, she's gorgeous! For the men: I'd say Roddy Piper. And I've always loved some good ol' Hulk Hogan. I'm also a fan of Matt Hardy. He's hot! hehe.

Wrestling Ambition:

Wherever my wrestling career takes me! Who wouldn't love to make it to the WWE or TNA? But I just love the opportunities to travel and meet people.
Allison Wonderland's Personal Notes...
I was born and raised in Minnesota with my Mom, Dad, Big Brother, and--more recently--my dog Lucy.....I grew up as a bit of a tom boy. I loved to go play outside and get dirty!.....But I also started taking dance lessons (tap, jazz and ballet) at the age of 3 and I stayed with that until I was about 15.....I also play piano and sing. Music has always been a passion of mine and I got very involved in music in high school.....I've won a lot of awards at different competitions for my opera singing, but I've also won talent shows when I sang in a band (mostly doing No Doubt covers!).....For now, music is just a hobby. But maybe someday I will really do something with my voice.
Latest Allison Wonderland News...
I just had Allison Wonderland T-Shirts made!
Essential Allison Wonderland Links...