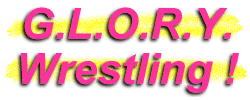 Allison Danger
Wrestler
Allison Danger has managed to capture the attention of adoring fans everywhere she's appeared--from her home base of the East Coast of the United States all the way to Japan! That's not hard to understand after you see this beautiful young lady in action. But don't let her pretty appearance fool you. She's also a tough competitor who is not above breaking the rules of the ring if she has to. When she's not wrestling, Allison is often at ringside keeping her managing abilities sharp. Beauty, brains and ring talent? What's not to like about Allison Danger?!
The sexy and talented Allison Danger!
An exciting entrance during her European tour!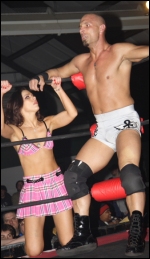 When she's not wrestling, Danger will often manage men such as TNA's Christopher Daniels.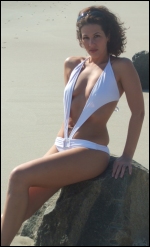 Allison is quite a sight on the beach as she relaxes in a stunning swimsuit.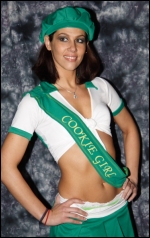 Cookies, anyone? We'll take a box of thin mints!
Allison Danger's Stats...
Height:

5' 7"

Weight:

130

Hair:

Brunette

Eyes:

Brown

Hometown:

Belmont Hills, Pennsylvania (USA)
Allison Danger's Profile...
How It Started:

I accompanied Francine, "The Queen Of Extreme", to an Indy show in Reading, PA. The Sandman was on the same show and it just so happened that he needed a valet in his match against The Damned. He involved me in his match and a few weeks later I was invited by the promoter to return to his next show. I've been working ever since. In recent years I have concentrated my training at the CHIKARA Wrestle Factory and Ring of Honor wrestling school. In addition, I have trained in the AtoZ dojo and Pride dojo in Japan, as well as Switzerland, Germany and England.

Gimmick:

I am heavily influenced by the Joshi style of wrestling. The old school lifestyle has also shown through in my wrestling.

Wrestling Style:

My style is an amalgam of old school, lucha, strong style and brawler.

Gear:

I employ two separate outfits, one done in the Can-Am style and a second done in camo. Each outfit contains my Maple leaf/American star/Kanji symbol.

Titles Held:

Current ICWA Women's Champion (France); North American Champion; IWF Tag Team Championship with Rapid Fire Maldanado (3/01, quite possibly the first inter-gender tag champions in wrestling history); Thundergirls champion; New Breed Wrestling Alliance Women's Champion.

Biggest Win:

In 2003, I, along with partner Rie Tamada, successfully defeated the team of Sachie Abe and BABY A at the AtoZ debut show. In addition, I am the only female to pin Wesna in GSW competition.

Worst Loss:

Losing in my title attempt to GSW Women's Champion Wesna in October 2007. Not only did I lose the match, I lost hearing in my left ear due to injury.

Favorite Type of Match:

Singles; Four Corner Survivals; Tag matches.

Favorite Moves/Holds:

Shimmering Warlock; Lovelace Choker; Curb Kick; DVD; Stretch Plum Choke; STO.

Finisher:

Shimmering Warlock; STO.

Biggest Allies:

Christopher Daniels; Sara Del Rey; Daizee Haze; Joe Legend.

Most-Hated Enemies:

Cindy Rogers; Rebecca Knox; Jetta; Stevie Douglas.

Toughest Opponent(s):

Rebecca Knox; Wesna; Daizee Haze.

Career Highlight:

Going to Japan (in 2003 and 2005), Hawaii, Guam and Korea; Being ringside with Christopher Daniels and Dan Maff as they faced the Great Muta and Arashi at ROH's Final Battle 2003; debuting in England at the ROH shows in Liverpool in March 2007.

Favorite Wrestlers:

Christopher Daniels; Joe Legend; Milano Collection AT; Mariko Yoshida; Manami Toyota; Muta; AKINO; Masato Yoshino; Ares; Sara Del Rey.

Wrestling Ambition:

To continue growing as a wrestler, to travel overseas more and to bring American Joshi to every wrestling fan.
Allison Danger's Personal Notes...
When not wrestling, I hit the gym, read, knit and am currently learning German.....I have a soft spot (my stomach!) for Mongolian BBQ and Buffalo Wild Wings.....I am obsessed with the shows Lost, House and How I Met Your Mother.....I split my time between living on the beach and living in Zurich, Switzerland.
Essential Allison Danger Links...