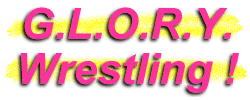 Alex Breslin
Wrestler
Hailing from Dublin, Ireland, Alex Breslin is proof that beauty and toughness can co-exist in the world of pro women's wrestling. With few female competitors available for matches in her home country, Alex finds herself facing-off against men more often than not...a situation which doesn't bother her in the least! This lovely Irish lass can more than hold her own in the ring against male opponents, often getting the guys to tap-out to one of her many finishing submissions. Having trained in America, Ms. Breslin is familiar with the U.S. wrestling scene. Will it be long before we see Alex competing against the top ladies in North America's rings?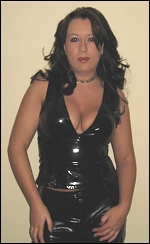 Ireland's Alex Breslin!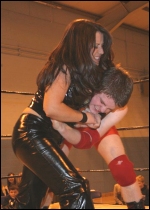 Alex shows that she can certainly handle herself in the ring against the men.
Alex relaxes away from the ring.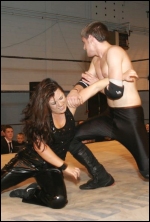 Alex is tough enough to take whatever her male challengers can dish out!
Uh-oh...it looks like Alex is running into a little trouble against fellow G.L.O.R.Y. Girl DellaMorte.
Alex Breslin's Stats...
Height:

5' 2"

Weight:

126

Hair:

Dark Brown

Eyes:

Brown

Hometown:

Dublin, Ireland
Alex Breslin's Profile...
How It Started:

Wrestling has always been a part of me. I was a huge fan growing up. I don't ever remember not watching it. I always thought it looked like something really cool to do, but it just seemed like a pipe dream. Eventually though, I decided I had to at least try...I would never have forgiven myself if I didnt! My kind of motto for life is that I'd prefer to regret doing something then regret not doing something. So anyway, once I'd made up my mind, I started to look up wrestling schools. There was nothing in Ireland at the time, but the one name that kept coming up was Dory Funk Jr. I got in touch with them and spoke to his wife Marti, who is just a lovely, lovely lady. I traveled to Florida, and it went from there!

Gimmick:

When I started in Dory's I was heel. I basically was a bitch who cheated and did everything she could to get her own way. When I came home though, I was the only girl in the promotions I worked for. So it made more sense for me to be face as I would be matched against men. Since then, its basically been a gimmick of trying to prove that I can hold my own in a man's world.

Wrestling Style:

I use a mix of everything really. My style changes depending on who I'm working. I do use a lot of submissions though.

Gear:

I change around a bit, but it's usually made of PVC.

Titles Held:

I was the Funking Conservatory Women's Champ and two-time ACWA Women's Champ.

Biggest Win:

Probably winning the Funking Conservatory belt. That meant a lot to me at the time and still does now. Also, beating Della Morte for the ACWA belt was great.

Worst Loss:

Losing the belt back to Della Morte! We've gone back and forth with it a bit.

Favorite Type of Match:

Battle Royals are so much fun...but I probably like intergender singles matches best.

Favorite Moves/Holds:

I can't pick just one!

Finisher:

My finisher changes depending on who my opponent is. I do tend to use a lot of submissions though.

Biggest Allies:

My biggest ally, without a doubt, is Joey Cabray. I'd trust him with my life. We've been through a lot together.

Most-Hated Enemies:

Della Morte, definitely. We've had a rivalry for the past couple of years now and its still going.

Toughest Opponent(s):

I have to give it to her...that would be Della Morte again. We seem to test each other a lot!

Career Highlight:

Highlights for me have been holding my own against the guys I train with and earning their respect. Getting to travel and wrestle in front of different crowds is brilliant too.

Favorite Wrestlers:

Scott Hall, without a doubt. I've always been a huge fan of his.

Wrestling Ambition:

Ultimately, I would love to wrestle for a living. I want to keep doing this as long as I can.
Alex Breslin's Personal Notes...
I'm a huge, huge Metallica fan. Wrestling and Metallica are the first two things that people usually find out about me!.....By day I do accounts for a travel company. That comes in handy because I love to see different places.....I have two tattoos and hopefully another one soon.....My favorite book is Rachel's Holiday by Marion Keyes (very, very funny!).....I'm a bit of a chocolate monster, and the way to my heart is with a fudge bar!
Essential Alex Breslin Links...