Kelly Tabor
"The Diva"
April 26, 1974 - December 22, 2002
The Diva's G.L.O.R.Y. Profile
Preserved as it was on December 22, 2002
Thoughts and Remembrances...
From: Gerald Tabor (December 24, 2002 6:15pm)
Our Daughter, "The Diva"
"The Diva" What a shock it was to the two of us to find that our Kelly had entered into professional wrestling. Leaped is probably a better word, because she went into it with a passion and a total commitment that was typical Kelly style in anything she truly loved. We often wondered how she could maintain a full time schedule of work at night, a full time schedule of classes during the day and time to find for practice and the travel from show to show. She lived for the weekends and was so proud of her accomplishments in such a short time. We came to know many of her wrestling colleagues from her Sunday afternoons spent with us.....her only free time. But she was doing what she loved, typical Kelly style. 100% give and 100% enjoy. We were surprised at the outpouring of love and kindness from the wrestling family. They, along with everyone who knew Kelly and many who had never met her, have helped us so much, deal with our family grief. We want to express our gratitude to all of you. The Diva loved being a "bad guy" but she was a total opposite. She always gave so much of herself and still found time to give a little more. Her family will forever miss her and she will always be in our hearts as I know she will be in yours.
With eternal gratitude,
Dad, Mom and Eric
---
From: Eric Tabor (December 24, 2002 3:30pm)
The DIVA loved all her fans...
My name is Eric and I am the DIVA's brother. I just want everyone to know how special Kelly was and how much she loved her fans, and fellow wrestlers. She loved the excitement and the thrill of thousands of screaming fans. Me and my family are devastated about the loss of our best friend. Kelly will miss all of you just as much as you miss her. I hope the DIVA brought lots of joy into your hearts, because I know my family and friends will miss her deeply. Your prayers and thoughts are much appreciated, as this is a very trying time for my family. We all miss her deeply, and just hope that the legacy of the DIVA lives on forever in your hearts...I know that she wouldn't want it any other way. Thanks for all your support- my family really appreciates it.
---
From: Steve Branam December 23, 2002 7:25pm)
The Diva...."Daughter", Best Friend, Wrestler.
Kelly Tabor was NOT your ordinary wrestler. Oh no, not The Diva.
She didn't want to wrestle, just manage. One day at an ICW show, I brought her in to manage the Bomb Squad. They had doubts, but decided to test her. They were going against Vic The Bruiser, and Sean Venom. Sean was the one with the two huge snakes...lol. At the end of the match, Sean was to bring them into the ring, and the Bomb Squad was to run away, leaving The Diva in the ring alone. Sean put the snakes on top of her, and she screamed and writhed on the canvas like she was being killed. Her boys got her out of the ring, and later, in the back they apologized for it, telling her that they didn't realize that she was afraid of snakes. Her comment? "I love snakes....I was selling". She was their manager from that point on.
Few people know just how educated she was. She was on the Dean's List her sophomore year at college. And working a full time job at night, AND going to wrestling practice 3 nights a week.
She was a true student of wrestling, and if it didn't make sense in the grand scheme of the match, then she had to question it. And offer her suggestions...politely, of course!
She always wanted to be the Heel..and was very good at it. She only had to walk out from behind the curtain to elicit a round of boos, and "Crack Ho". She truly loved it, and when she returned to the back, she was grinning from ear to ear.
She was always looking for a charity to donate to, and was a regular blood donor.
But, she was much more to me, and my son. She once told me that she wanted me to be her surrogate dad.....I laughed at that one, but there was more truth in it than not. She began to call me "Dad" and we talked on a daily basis...about anything that was troubling her. She called my son her little brother...and they fought like true siblings. She always gave him a hard time...but lovingly.
There are so many more "Kelly-isms" as we called them. It seemed that on each road trip, she would come up with something that would shock or surprise us...that was a Kelly-ism.
I loved her as if she were my daughter, and I am not ashamed to admit it. I didn't think myself capable of crying so many tears...but I have....and still will. She cared about us, she worried about us, she got on me for taking bumps when she didn't think I should have...and she would hide her eyes when I did.
Kelly was a beautiful young lady, who never felt that she was pretty enough to work with the likes of Mercedes.....and Amber Holly.....and many others. She always came into a locker room and introduced herself to everyone there. She always had a good word about every match. She loved Mercedes like a sister, and talked about her all the time.
There is not much more that I can say about her....especially since it is hard to type with watery eyes.
She is probably going to be watching from above, along with others who have passed way too soon. And I just know, that at some point, I will hear her yell at me for trying to take a stupid bump...."Get your A&% off that top rope". You know, right about now, I would give anything to hear her yell at me...
Kelly, my "daughter", my friend, my stubborn little redhead....where ever you may be....remember this....."Dad" loves you....and misses you like mad!
Kelly, just remember the words of your great trainer....."Turn Right", Tuck Your Chin"..............and know that we all love you.
Steve Branam
"Dad"
---
From: Macaela Mercedes (December 23, 2002 5:30pm)
December 22, 2002 was a sad day in professional wrestling!
Kelly Tabor (The Diva) passed away and left us here wondering, "Why would God take such a bright, wonderful girl from us?". Well, I don't have the answer to that, but I know that in her 28 years of life, she touched many people including myself!
I met Kelly in Indianapolis at an ICW show early in 2001. She was a valet at the time, but she was a valet that was about to be asked to learn how to wrestle. After only one month of training, she had her first match with me in front of about 300 fans. She was so scared going into it, but left the ring with a huge rush and was immediately addicted! Kelly started to train hard, so I started getting her booked on shows with me. Before we knew it, she was a very good wrestler with a bright future in the business.
I have traveled with Kelly to Indiana, Ohio, Missouri, West Virginia, Michigan and New Mexico, and we became pretty close friends! She would call me her little sister in life and her big sister in wrestling. She would always joke around and say that I was her idol and I would just roll my eyes at her. We had some great moments that i will never forget!
For anyone who did not get the opportunity to meet Kelly, you missed out on a great person and wrestler. Those who did know her will mourn her passing for a long time!
Kelly, I know you are now looking down on us, so save me a match in Heaven! Always remember, we love you!
Jillian
Macaela Mercedes
---
From: Andy "Aggy" Tomlin (December 23, 2002 8:00pm)
Tribute To A Diva
I never saw Kelly 'The Diva' Tabor compete.
I never spoke to Kelly.
I never e-mailed or corresponded with her in any way shape or form.
And because of that maybe I don't belong in the list of tributes to this young lady taken before her time. But GLORY is more than just another wrestling website, its a family.
It's hard to imagine that the lady who posted with such joy at 8.42 to say her webpage was under construction would be taken away a few hours later. The Diva seemed to have been on the website for a long time, appearing in pictures and messageboard posts months before her official debut. Her posts on the board were always bright and cheerful.
Now The Diva has been signed to the big federation in the sky and she'll be missed. My deepest condolences to her family and friends.
Andy 'Aggy' Tomlin
---
From: ACASTROFL (December 23, 2002 8:00pm)
God Bless
I am shocked. I am a long distance fan...God bless the family and take care of her...
---
From: John Winters II (December 23, 2002 10:00pm)
We miss you Diva...
I only got to see her a few times, but the few times I saw her I just fell in love with her. She was one of the best in the U.S. and the WORLD if you ask me. I think she could have made it big time one day.
You will be missed Diva. R.I.P.
John Winters II
Ohio City, Ohio
---
From: Miss Jade (December 23, 2002 10:00pm)
I have only met The Diva twice. She came to work for the BBW and I had a chance to work with her again, just this past Saturday. She seemed so passionate about wrestling, knowledgeable and talented. I express my deepest sympathy to those that were close to her.
Jade
---
From: LLWJR (ChristmasBaby57) Message Board Post (December 24, 2002 12:15am)
It would have been great to have Diva in a promo for the Glory Girl Convention. This time folks, I'm doing a promo of a different kind.
I have for the last year voted for my dear friend Allison Danger religiously, even made Glory Girl of the Month for February. However for the rest of the year I'm going to cast my vote for Diva, and I'm sure Miss Danger will understand and support my decision.
I cast my first vote for Diva tonight, and I'm going to ask everybody who reads this post to do the same. I have the greatest respect for all the ladies in the polls, but what better way to make Diva a continued part of the Glory Family than help her win the December Voting. Now I can't make anybody do this, you have to do what is in your heart. I do hope we can put our differences away for the next week, and show everybody what Diva meant to us. I know this will be a big sacrifice for the ladies who are currently leading, but I do believe this would be the right thing for us to do. I would like to thank everybody in advance who has and will vote for her, but I will not hold it against anybody who doesn't.
David Martin, you said maybe we can get her a shrine, maybe this will be it for her, and she can continue to be part of Glory lore. I thank everybody for reading this.
I want to take an earlier passage on a promo we had on Angel Williams' promo...
"Everytime a bell wings, an angel gets her wings."
Way to go Kelly!
---
From: Evil Zebra (December 23, 2002 9:15pm)
The news today of the passing of Kelly "Diva" Tabor has made for a very sad day in the "Glory Family".....
I would like to at this time send out my deepest sympathy to Kelly's family, friends and fans.
We who have come to know her though our Glory Family will truly miss her and Indy Pro Wrestling has lost one of it's brightest "Stars"!
Rest in Peace, Kelly.....
E.Z.
---
From: Jerry Wilson & HPW (December 24, 2002 12:00am)
Rest In Peace HPW Will Miss You!!!!
As a promoter I had a chance to know and respect Kelly as a great worker who was always there to do her best for your group. She and Mercedes brought women's wrestling back to my group and I know the fans in Columbus, In and the HPW Wrestling Family will miss "The Diva" very much. Our thoughts and prayers go out to the family and friends of Kelly. Life is so unfair at times and this is one of those times. Rest In Peace Diva and know that you will always be in the thoughts and prayers of your HPW fans!
Jerry Wilson HPW Promoter, HPW Staff, Wrestlers and your HPW Fans
God Bless you our friend!
---
From: Bud "Lavish" Lane (December 23, 2002 8:45pm)
Diva Memories...
Although I had only been talking with Kelly "The Diva" for a little over a month, she had one of those personalities that made you feel like you have known her for a lifetime...She had a true head for this business and loved it almost as much as she loved the people around her...Anyone that had the pleasure of ever seeing her and talking with her, or even the ones that read her post on this site knows that she was in a class all of her own...It still seems weird knowing that I had just spoken with her and now she is gone...Even while writing this my eyes are full of tears and my holiday happiness has turned to the same tragic grief as if I have lost a member of my own family...
"Words can not explain how I feel inside,
My feelings of grief I can not hide.
The world will truly miss that smile you shined so bright,
Now you shine as a star in heaven to help brighten the darkest night.
One can only wonder what truly could have been,
But now you are in heaven, where the angels the purest send."
---
From: David (December 23, 2002 8:45pm)
You will be missed...
I would be what the webmaster termed as a "distant fan." I knew of her only through the Glory website, but after re-reading her bio, it's obvious that even though The Diva was a heel inside the ring, Kelly Tabor was a caring, giving and loving person outside of the ring. It seems like heels are always the nicest people outside the ring.
This is just another example of how precious life is and how life can change in an instant. So we always have to be thankful for all of our blessings and cherish the people around us.
My thoughts and prayers are with Kelly's loved ones.
David
---
From: Scotty Blaze (December 24, 2002 2:30am)
I had the pleasure of meeting Kelly "The Diva" Tabor on October 19th in Cambridge, Ohio when we were both booked for a show and at the restaurant the talent went to afterwards.
Although our meeting was brief, you could tell the spark in her eye when she talked about wrestling. And that she loved it with all her heart. She came across very professional like and also as a genuinely nice person.
When I handed Kelly our business card, she said "Erotica, Cool! She is on Glory! Where is she?" My wife, Erotica, and our son were both sick and had stayed behind at the hotel. Kelly was saddened by not being able to meet yet another Glory Girl and expressed her well wishes to them both.
It is always tragic when someone so young passes away. But more so this time of the year. Our thoughts and prayers go out to her friends and family in this most difficult time.
Rest in Peace Kelly
Scotty Blaze
---
Graphic made by: Die Hard Dustin Lee (December 24th, 2002 8:15am)
Poem submitted by: Jason Marples (December 24, 2002 8:45am)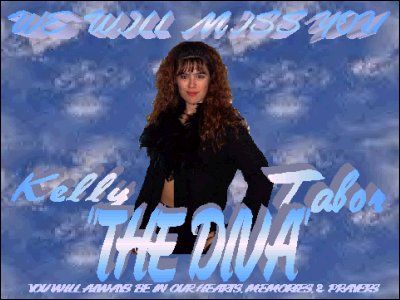 When Tomorrow Starts Without Me
When tomorrow starts without me,
And I'm not there to see;
If the sun should rise and find your eyes
All filled with tears for me;
I wish so much you wouldn't cry,
The way you did today,
While thinking of the many things,
We didn't get to say.
I know how much you love me,
As much as I love you,
And each time that you think of me,
I know you'll miss me too;
But when tomorrow starts without me,
Please try to understand,
That an angel came and called my name,
And took me by the hand,
And said my place was ready,
In heaven far above,
And that I'd have to leave behind
All those I dearly love.
But when I walked through heaven's gates,
I felt so much at home.
When God looked down and smiled at me,
From His great golden throne,
He said "This is eternity,
And all I've promised you."
Today for life on earth is past,
But here it starts anew.
I promise no tomorrow,
But today will always last,
And since each day's the same way
There's no longing for the past.
But you have been so faithful,
So trusting and so true.
Though there were times you did some things,
You knew you shouldn't do.
But you have been forgiven
And now at last you're free.
So won't you take my hand
And share my life with me?
So when tomorrow starts without me,
Don't think we're far apart,
For every time you think of me,
I'm right here, in your heart.
---
From: Michael Walsh (Message Board Post) (December 24, 2002 2:34am)
For wrestlers, and their sacrifices...
As fans, we devote our time, our income, our attention to wrestlers. Not actors, not athletes...performers, wrestlers, a mix of both. We can see the pain suffered by longtime stars such as Mick Foley, Akira Hokuto and the Dynamite Kid, and in their pain we can see their devotion, and their sacrifice to the business that they love, that we love. Without ever stepping foot inside of a ring, we can see what makes a wrestler special. We see it in Tommy Dreamer, in Precious Lucy, in Osamu Nishimura. We see ordinary individuals overcoming incredible things, a ruined back, a destroyed knee, inoperable cancer...to put on a show for us. They leave their families behind to travel the world, and they do it for us...because they love us and they love the business.
Some, like Darren Drozdov, give up their way of life. Others, like Plum Mariko and Owen Hart, give up their very lives entirely. But they sacrifice these things while doing what they love. And you have to wonder, if given the chance to do it over, would they? And that answer is always difficult, because they were all doing what they loved, what we love.
Kelly Tabor was one of them. While I still don't know how or why she was taken from us, I do know she was in the game. I know she loved this industry, and she sacrificed much to be a part of it. While I never saw her wrestle, I could tell that she was special. And I know she left us, doing what she loved.
Its Christmas Eve as I write this...about a girl I never met, and I've never been one for praying. But without seeing her, hearing her, knowing her, I'll still offer up a prayer. For I know she was in the brotherhood, and she gave her life for us.
Wrestlers too, are fans like us.
---
From: Jim Hawkins (December 24, 2002 8:30am)
When something like this happens it really puts into perspective how really fragile life is. This wonderful young lady worked for MDW two times in 2002, and definitely had a spot with the promotion in 2003. She worked Brandi Alexander on one occasion and Macaela Mercedes on another and had very good matches each time out. She was a class act and professional to the core. I don't know why things work the way they do, but I am emphatic when I say the world is less of a nice place with her gone.
Jim Hawkins
Mason Dixon Wrestling
---
From: G.L.O.R.Y. Girl Mia Martinez (December 24, 2002 9:00am)
My thoughts, prayers and love go out to Kelly's family. Much like everyone else, I was devastated to hear the tragic news. Kelly had a lot of heart for the business, and it was great to work with her. It was exciting to see how much she progressed every time I saw her in the ring. In this business that we love so much, most of the people that we meet become our extended family. I am truly saddened to have lost a sister. She will be missed.
See you for that rematch in the sky 'lil Diva.....
Mia Martinez
---
From: G.L.O.R.Y. Girl Alicia (December 24, 2002 12:00pm)
I wish I had gotten a chance to work with Kelly, I heard nothing but good things about her. The Indy's have lost another bright up and coming talent, and it's a shame. My love, thoughts, and prayers go out to her family, friends, and fans.
Rest In Peace Kelly
Alicia
---
Made by: Clark Adams (Whyte Nyte) (December 24, 2002 12:45pm)
(Please click the smaller image to see in full-size so that you may read the inscription.)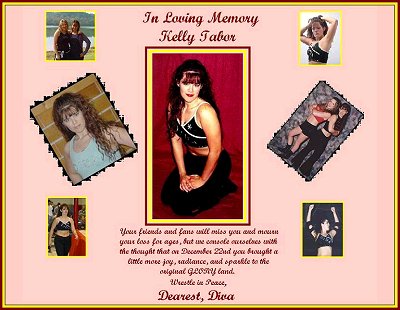 ---
From: Ron Jaggers (December 24, 2002 10:30pm)
Not sure who to address this to but I just wanted to say a few words about a Friends Daughter.
I knew Kelly thru her Father, Gerry. He & I work together and I met her a few times when she came to see him at work. She was always very courteous & respectful. I knew how Kelly was always doing thru conversations with her father. He was so Proud of her, not for being a well know Women's Wrestler, but as a Smart, Beautiful Daughter.
My Families' Hearts go out to Gerry, Terry, & Eric.
God be with you all.
Ron Jaggers
---
From: Khanstance Carleigh (December 24, 2002 6:30pm)
Though I only met her a few times at CIWIndy shows, she was one of the classiest women I knew. I'm still in disbelief....this is a sad week for wrestling. Hopefully she is in a better place.
Jennifer (Khanstance)
---
From: Ryan Oskar (December 24, 2002 7:00pm)
Remembering "The Diva"
I never got the chance to meet the Diva. I am a big fan and friend of Mercedes. I have seen the Diva on tape many times in some of her matches against Mercedes. The Diva looked to me to be a great, upcoming star. I am a referee for an independent organization in Akron, Ohio. I saw Mercedes wrestle in Cleveland a couple times, and i then got her booked here in akron with my promoter. It was shortly after that when i became aware of The Diva, when i started paying more attention to ladies wrestling. Kelly appeared to be a very polished, and very beautiful wrestler with a very bright future. I still don't know what happened yet, or how she passed away, but this is a true tragedy. I was thinking about trying to get her booked here against Mercedes for a future show, but unfortunately that's not gonna happen now. I just found out of her passing last night, December 23, and it has had me baffled all day. Such a young, athletic, and beautiful lady gone at such a young age. I've never spoken to Kelly at all in any way. I was definitely becoming a fan though. I was very impressed with her talent in the ring, and she looked like she could really go a long way in professional wrestling. I consider her and Mercedes two of the best in wrestling. I just want to offer my condolences to her family, friends and fans. While I never knew her, this is sad for me too. I guess all that is left to say now is thanks for the memories Kelly, although for me there are few as I've only seen you on tape. While I never got to ref one of your matches here, maybe one day I can ref one of your matches in Heaven. It would be an honor! Rest in peace Kelly, we'll never forget you!
Ryan Oskar, referee for United Wrestling Council in Akron, Ohio
---
From: Marty Fogelman (December 24, 2002 7:00pm)
We will miss you...
CIWIndy enjoyed having Kelly Tabor "The Diva" as part of CIWIndy's family, she was a former CIWIndy Women's Champion. Kelly Tabor "The Diva" will always be in our hearts and will never be forgotten. Kelly had a huge heart and was not too proud to show it. That is what made her so special, Kelly touched so many people's hearts and we will all miss her. we send our prayers out to her family. Heaven just gained a pretty, stubborn redheaded angel. CIWIndy fans will miss you.
CIWIndy
---
From: Shawn Cook (December 24, 2002 8:45pm)
Well I am not for sure where I should even start. I was truly saddened and at a complete loss for words when I heard the news.
I'll give everyone a brief insight on how I got to know and love Kelly.
We first met at a show in Indianapolis in the early part of 2000. Kelly was only a manager then but was by far getting more heat than most of the "boys". Kelly instant messaged me one day and re-introduced herself to me, but little did she know I was well aware of who she was. We spoke for a short time and traded emails for even longer. When we would see each other at shows we would pick up right from where we left off from the emails. During this period though we tried to keep things hush hush because "you know how the 'boys' like to talk" as Kelly would say.
We became very close as the days, weeks, months had passed. During this time Kelly had me over to her apartment on numerous times so we could watch old wrestling tapes, which was a feat since she made it known NO ONE was ever invited in to her apartment.
There are many stories I could bore you all with such as a time we went to a show in Peru, Indiana and she was supposed to be navigating and she got us lost! Every road trip we ever took all we ever talked about was the business and sports. Kelly could talk sports like no other female could. Kelly went on numerous trips with my brother and I to manage us, but that was the last time she ever navigated!
Kelly always asked questions in hopes of learning more about this great business of ours. After Kelly had started to work instead of manage all I heard from people was how she was constantly having the best match on the shows. I actually had the privilege of getting to work with Kelly a couple of months ago, she was great the whole match. I can remember when we were trying to put together a few spots for our match in the back and whenever I would throw an idea out that didn't make any sense she had an even better idea than mine that actually made sense. Kelly tried to make sense out of this business when she could, even though more time than not in this business things don't.
I lost my dad to cancer about 7 months ago and the whole time I was going through my sorrow I was always getting e-mails from Kelly asking me how I was doing. I actually received an email from her a week ago and she just stated that she was sure I was missing my dad this time of year and wanted to let me know that if I ever needed to talk to just call her.
I could type for hours telling you about the great things about Kelly but she would be mad at me for talking about her for so long. Kelly, I will truly miss you.
Shawn (Sexy Shawn Cook)
PS: I'll bring that Bull Durham tape with me when my time comes and I'll cash in on that rain check!
---
From: Richie Acevedo (December 25, 2002 12:45pm)
A true wrestling legend...
On behalf of A.I.W. and myself I would like to take this time to express our condolences and remembrance of Kelly "The Diva" Tabor.
I first met Kelly on a MDW show in Williamson, WV back in October. She was wrestling Brandi Alexander and what a match these two ladies had.
I have been in the wrestling business for 14 years now and I have seen great wrestlers come and go. When Davey Boy Smith passed away this year I thought that was hard to swallow and now another truly great wrestler has left us.
I had Kelly come down and work for me in Bud, WV this past December 14th and I had her work Brandi Alexander. These two ladies had another great match.
I have been a professional in this business for a long while now and I can truly admire her talent for this business and I will never forget her respect that she had for what we do in this business. If anyone that can be considered a true LEGEND it is KELLY "THE DIVA" TABOR.
I have had the honor of meeting Kelly and seeing her work as well as having her on one of my shows. I had no idea that one of my shows would be one of her last matches.
She will be missed as well as her true talents. I guess GOD needed a CHAMPION in HEAVEN. Kelly, you will be missed and remembered as one of the great ones. Just keep your boots laced and save a match for me when it is my time. There is a saying that goes like this: "Heros come and Heros go but LEGENDS live forever". As so will Kelly "The Diva" Tabor, a true wrestling legend.
Richie Acevedo a.k.a. The Cuban Assassin#2
Owner of A.I.W. and Ace Entertainment
---
From: Maggie (Allie Spirit) (December 25, 2002 9:15am)
Tomorrow is a different day...
I've been trying to find the words to express my feelings but there are none. I never talked to Kelly and had only seen her once before at Greenfield, IN. And I didn't speak to her because I thought; "I'll talk to her next show she looks busy." Little did we all know that she could be taken away so suddenly. I would have loved the opportunity to have done business with her, but it was not to be. So I'll just say this, may we all find our passions young so we can enjoy every minute of our lives. Lord only knows when we could have it all taken away.
God Bless, Kelly.
No one truly dies if they stay alive in our hearts.
Maggie (Allie Spirit)
---
From: Misty (Charley Boy) (December 25, 2002 2:15pm)
"Some things in life
are unjust and unfair.
Some people get a good run
other just don't get their share.
Life doesn't last forever
sometimes it's cut way too short.
Try adding up the logic
and at times it will come to nought.
You would do anything for anyone
you would have given them the shirt off your back.
You were kind, generous, and caring,
these were qualities that you never lacked.
For everything there is a reason
even though it is not always clear.
Your spirit is with us
you will always be near.
So life must go on
just like it has done before.
We know you will always be with us
yesterday, now, and for evermore."
Misty (Charley Boy)
---
From: Larry Quinlin (December 25, 2002 5:00pm)
Kelly "The Diva" Tabor...
I really don't know where to start, as I am still in total shock at the terrible news of my niece, Kelly Tabor passing away this past Sunday.
I never saw Kelly wrestle, but I always got the play by play from Terry and Gerry. Every time I visited, Gerry and Terry would go on and on about Kelly's and Eric's achievements. The fine people of pro wrestling came to know a little about the Kelly that we have known since she was born.
Although our family I think had a hard time showing and sharing our emotions, me included, Kelly, along with a couple of the other kids in the family, got us to where we were sharing hugs and kind words each time we parted ways.
I remember at all the family picnics, at my mom's house, all the kids in the family, her age and younger, would follow her around, just to hang out with her.
Kelly was, and still is, a shining star in the history of the Quinlin/Tabor family.
I miss her terribly.
Your uncle forever
Larry Quinlin
God bless you, Terry, Gerry, and Eric.
---
From: Danielle D'Adamo (G.L.O.R.Y. Photographer) (December 25, 2002 12:05am)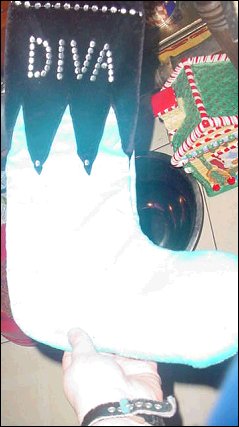 The Story of the Diva Stocking...
My mom always calls me a Diva...how I can be somewhat of high taste and class, and that I will always be spoiled and need to get my own way. A couple of years ago, my mom made the stocking for me and used to say that I will always be her "little Diva".
Well, last night as I was hanging up the traditional stockings, I came across this one. I completely forgot about it, and when I looked at it, I thought of Kelly and how God made sure I saw this stocking again, to remember Kelly and what she has done, and that we will meet again in his kingdom. I hung the stocking up as a reflection and of a remembrance of Kelly.
Danielle
---
From: Shiai Mata (December 25, 2002 10:30pm)
It was my pleasure...
I had the pleasure of meeting Kelly and seeing her work this past June in Branson, and I was impressed not only by her talent, but more importantly, by her as a person. I only regret not having had more of an opportunity to speak with her.
My deepest condolences.
Shiai Mata
---
From: Lyla Bowling (December 25, 2002 11:00pm)
My thoughts on Kelly...
I met Kelly and her wrestling "family" at the EWF in Marion, IN. As time passed, I grew closer to my "Uncle Steve" and I grew fonder of Kelly, and she quickly became my favorite female wrestler. I looked up to her, because I knew that she could kick butt in the ring, but that she was truly a great person outside the ring. I remember the first time Uncle Steve introduced me to her, I was so nervous. I couldn't believe that I was standing there, talking to one of my role models. I would go to as many shows as I could to see her, and even though she was working heel, I would always cheer for her anyway. I would speak to Uncle Steve on a regular basis, and he would assure me that Kelly was still thinking of me, and that she couldn't wait for me to come to another show. I went to the ICW show when she won the ladies title, and I was so happy for her. I remember looking at her, and seeing the excitement in her eyes, and I shared it with her, because nobody deserved to be that happy more than she did. When I got the news of her death, it shocked me. I couldn't move, I couldn't breathe, I just cried. I think part of me is still in shock. I will never forget her kindness, and how she made me feel welcome, even though I am just a fan. She was a truly beautiful person, and she is dearly missed.
You're always in my heart Kelly!
Lyla Bowling
---
Made by: Stacy aka Sugar Stace (December 26, 2002 2:50am)
(Please click the smaller image to see in full-size.)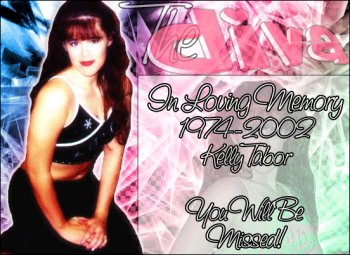 ---
From: Khanstance (December 26, 2002 5:00am)
I don't know why this is so hard for me...
It is almost 4:00am (Chicago time) and I've not been asleep in two almost three days. Why? Kelly, I keep thinking about how God took away someone so young and why it happened to her.
I first met Kelly at CIWIndy, I was asked to do a battle royal. That was one of my first opportunities to speak with Kelly and she was so sweet, all the girls were. That was probably one of the most fun shows I've ever had the privilege to be on.
I don't know why this is affecting me so much. I think today it really hit me hard. It hit me that I'll never get to work her again. I'll never get to see her again. No more chats. My mind is working overtime on the death of Kelly. This is so hard for me and I still haven't figured out why. A friend of mine MIA told me it's okay to feel the way I do. Thanks Mia you don't know how much those words calmed me down a little.
It's so crazy how young people die to day. I have a friend who cried most of the night for someone she didn't even know. She was ridiculed by a "friend"....a "friend" she'll probably never talk to for her insensitive words.
Now I am faced with the task of getting off work to make it to either the funeral or the wake. I just started a new job and I have no time off. So I just felt the need to write this in case I am not able to make it and I will definitely continue to talk to GOD in regard to Kelly.
I wish I had the funds to put on a memorial show for her. It would mean a lot to everyone who knew her. Kelly must have been a very special person if she affected someone she wasn't very close with.
Thank You Kelly for everything, these tears I cry tonight are for you......
Jennifer Matlock
*Khanstance*
---
From: Louise Lockwood (December 26, 2002 10:00am)
May God Look Over You...
Although we never met Kelly we are greatly saddened by her loss, our hearts and deepest sympathy's go out to her Family and Friends.
May God Look Over You All.
Louise Lockwood
---
From: Marvin Brewer (December 26, 2002 8:00am)
(Please click this smaller image to see in full-size.)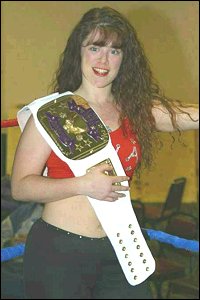 Words of Diva...
I met The Diva for the first time at an ICW event. She came out to the music of Pink's I'm Coming Out. The crowd stood and cheered as she stepped out, the kids and adults ran up to shake her hand. The arena was alive. She tagged that night with Mercedes. What a first memory to have of The Diva. The last time I saw and spoke to The Diva was at an HPW event. She was introduced as "The one we all love, the one, the only, The Diva!" She came running out to the ring once again with the fans screaming her name as they rushed up to shake her hand. The Diva was the first to welcome me to the ranks of being a Glory Girl wrestling photographer by introducing me as "Her personal Photographer", I was really just her biggest fan.
Marvin Brewer CMP
Brewer Studios
---
From: Tiffani Monroe (December 26, 2002 10:00am)
I had never met Kelly in person, but like so many others I feel the loss of a very special human being. Somehow there is a bond here on Glory, that even if we have not met one another in person we still have gotten to know each other just by our information that John puts out about us and our postings on the Glory Message Board.
Kelly was new to us here as a Glory Girl, but we had heard of her far before her actual debut here on Glory. Her energy and style is something that I could only wish for. Kelly seemed to be a beautiful young woman both on the inside and on the outside. I am sorry that I never have and never will get the chance to meet and get to know her better.
My heart goes out to her family and friends. And I pray for them to feel some comfort in reading the postings here on Glory and realizing just how many friends that Kelly has.
God Bless You All.
Sincerely,
Tiffani Monroe
---
From: Katie Stiffler (December 26, 2002 1:00pm)
I have been hesitant to send something in to Kelly's memorial page as I am never quite sure how to deal with these situations... I never know what to say. So I started to think about all the things I would say to her if I could talk to her just one more time.
First, I would tell her how much I looked up to her and admired her as a wrestler, as a manager, as a person. Although I did not know her well, I knew that she was one of the nicest people I could ever meet. She always had a smile for everyone, and she didn't get mad when we would always cheer for her even when she was a heel.
Then I would tell her all of the "I'll never forgets"... I'll never forget the first time I saw her in Marion at an EWF show. I was a Diva fan from that moment on. I'll never forget when Uncle Steve introduced us to her in Columbia City. She stayed after and talked to us for quite awhile. I'll never forget how happy I was then. I'll never forget watching her win the ICW women's title. We were in the front row (thank you Uncle Steve), and I'll always cherish the pictures that I took of her that night.
Finally, I'd tell her all of the "I wish we hads"... I wish we had gotten to see her "Kelly Spirit" gimmick. I wish I had gotten to see her wrestle Daffney, my two favorite girls in all of wrestling. I wish we could've seen her make it to the WWE (I know you had the talent). Kelly, I wish I had known you better... and I wish I had told you all of these things before. I wish I could still wonder "Is Kelly going to be on this show?"
I will always be a Diva fan, I will always be down here cheering for you Kelly. Whenever I hear "Get This Party Started" by Pink, I will smile and think of you. You will still be at every show that I go to. Thank you for all of the wonderful memories. I miss you already.
Katie Stiffler
---
From:Chris Halen (No DQ) (December 26, 2002 3:30pm)
I just wanted to pass on my condolences to the family, friends, and loved ones of The Diva. It is sad when someone so talented is lost at such a young age...
As a Wrestling and Sports Entertainment Journalist, I have been trying to follow the story for a few days now, and have read everyone's tributes. I am touched by the feelings left by her family and fans.
My heart goes out to The Diva's loved ones. As a journalist and as a fan, I also feel their loss. As a fellow Indy worker, I feel the loss to our great sport, and as a human being, I can only express that it is tragic when someone so young and talented is taken too early on in life.
Chris Halen
Host/Reporter of NO DQ
---
From: N. Osprey (December 27, 2002 10:15am)
Well, it is taking me a long time to write something as this is a very difficult thing for me to do.
I was fortunate to see Kelly in action against Brandi Alexander in a show in Ohio in October. It is the only match I have seen featuring GLORY Girls to date. The two women put on a great match, but I was unable to stick around and meet and talk to Kelly, as I needed to drive back up to Cleveland. What I saw in Kelly was a lot of enthusiasm and passion for the sport. She looked like she was having a great time and I was fortunate to take some pix of her and Brandi in action that were added to the GLORY site.
On a personal level, I have advised a lot of people like Kelly to help complete their degree. I know how difficult it is for students to work full time AND take classes. For Kelly to also add wrestling to her life takes a lot of perseverance and dedication. To do all that she did, she had to have great support by friends and family in her life, as well as give support to others in their endeavors. I know Kelly will continue to be with all of us in our heart to continue her support.
Thank you Kelly for giving us your love and spirit of joy. You will never be forgotten.
R.J. (Osprey)
---
From: Sarah (December 27, 2002 11:00pm)
The Diva.....
My name is Sarah and I am Kelly's little cousin. I love her very much. She is so sweet and beautiful.
The first time that I saw her in a year or two was this past summer. My grandmother told me that Kelly had reserved some seats in the front row for her family and I loved wrestling so I wanted to definitely go to see what she does. She was in the main event with Mercedes as her tag-team-partner. She was wearing this pink tank top that showed a tattoo in the middle of her chest. I was surprised to see it because I didn't know she was into tattoos. I thought she looked so beautiful and I noticed that she lost a lot of weight. I envied her so much.
She was the tough girl in our family that always hung out with the boys. I was there when she became the women's champion on Thanksgiving night. I was so very proud of her. I had to go to work later on that night at FedEx so I had my FedEx shirt and hoodie on. My sister Rachael and I bought a picture of her and my sister was having her sign it but I didn't have anything for her. So I lifted up my shirt and had her sign my shirt. Kelly just laughed at me and signed it.
Even though her time was short here with us, she made such a positive impact on everyone. As much as I want to be mad at the world that she's gone, she's not letting me. I just think of her and I know that she wouldn't have wanted me or anyone to be angry. When I think of her I can't help but smile.
That's my cousin, The Diva, Kelly Tabor.
I love you Kelly.
---
From: Johnny Cafarella (December 27, 2002 4:25pm)
I've been in the women's wrestling business since 1983. I have never encountered the level of respect and admiration from her peers in the industry as I have with The Diva.
My thoughts and prayers go out to her family during this tremendously difficult time.
Sincerely,
Johnny Cafarella
Exec Producer
GLOW Entertainment
---
From: Ginny and Trevor Stevens (December 27, 2002 5:00pm)
Kelly, The Diva.....
I wish to express my feelings in some way as a tribute to Kelly, a sweet tender hearted lady. She is my niece, my brother's daughter.
THE LIGHT OF ANOTHER DAY
Our lovely Kelly has passed from dark into the light of another day.
Feeling pain and sorrow we try to understand and find our way.
Now, the balancing of our load is so hard to find.
We search and we search for some peace of mind.
To struggle with grief is so hard to cope.
We look to the One in whom we have Hope.
He is the One who dearly loves us all.
He sees even the smallest sparrow fall.
He sets the lillies in earthly fields to grow.
He is the merciful Father we've come to know.
For a time our beloved Kelly, has gone away.
Memories we will treasure, until that brighter day.
Now encircled in the arms of the Savior, she will safely stay.
1 Peter 3-4, 24-25
"Blessed be the God and Father of our Lord Jesus Christ, which according to his abundant mercy hath begotten us again unto a lively hope by the resurrection of Jesus Christ from the dead,
To an inheritance incorruptible, and undefiled, and that fadeth not away, reserved in heaven for you,
~~
For all flesh is as grass, and all the glory of man as the flower of grass. The grass withereth, and the flower thereof falleth away:
But the word of the Lord endureth for ever......"
1 Thessalonians 13-18 the words of Paul.
Our hope for comfort and peace go out to all the family.
Kelly We Love You,
Ginny and Trevor Stevens
---
From: Erotica D'Vine (December 27, 2002 7:45pm)
I just wanted to say how very sorry I was to hear of Kelly's passing. Although I didn't get the chance to get to know her I knew people that did, and all I ever heard about her were good things.
I heard she was a tremendous talent and very friendly person. As Scotty has already said, he met her on a show that they were on in Ohio. Me and my son were sick that night so we stayed back at the hotel. But from what I understand, Kelly was disappointed that she wasn't going to meet me, a fellow GLORY girl. She spoke very highly of the site, and at the time she wasn't on it yet, but she already loved it.
We will forever keep her in our hearts and I will keep her family and friends in my prayers as I know this is a very difficult time.
Rest in peace Kelly.
---
From: Lady Vendetta (December 27, 2002 11:45pm)
I am not a person of eloquent words or flowery phrases, so if what I say doesn't measure up to the other tributes to Kelly, I apologize, but what I have to say comes from my heart.
I only got one opportunity to work with her. Kelly and I both knew the promoter we were working for was only bringing me in for a one shot deal...she did not have to be nice to me if she didn't want to...but she was.
She told me stories of how she had attended shows at the Tyndell Armory in Indianapolis weekly and watched me there...eight years previously. She also let me know how much she enjoyed those shows. Suddenly, it seemed as if something I had done in my life actually mattered to someone...and Kelly had made me a very happy person.
When we hit the ring, I was greatly impressed with her wrestling skills and her ring persona. She was destined for greatness.
Women's wrestling needs more ladies like Kelly Tabor...and she is going to be sadly missed. I made up a little picture as my tribute to her...it isn't much, and I'm also including a poem that made me think of Kelly when I read it.
Rest In Peace Diva, until we meet once again...I hope the angels enjoy wrestling!!!
With all my love,
Lady Vendetta
*+*+*+*+*+*+*+*+*+*+*+*+*+*+*+*+*+*+*+*+*+*+*+*+*+*+*+*+*+*+*+*
"Do not stand at my grave and weep,
I am not there, I do not sleep.
I am a thousand winds that blow,
I am diamond glints in fallen snow.
I am the sunlight on ripened grain,
I am the gentle autumn rain.
When you awaken in the morning's hush,
I am the swift uplifting rush
of quiet birds in circled flight,
I am the soft star that shines at night.
Do not stand at my grave and cry,
I am not there, I did not die."
*+*+*+*+*+*+*+*+*+*+*+*+*+*+*+*+*+*+*+*+*+*+*+*+*+*+*+*+*+*+*+*
---
From: Allison Danger's "Alliletter" to fans... (December 26, 2002 4:35pm)
Alliletter-Dedicated to The Diva.....
Hi guys. This is going to be a hard Alliletter to write so I am going to keep it short. In all honesty, I am struggling to write this without becoming too emotional.
I never had the chance to meet Kelly but the news of her passing was shocking and very hard to digest. Never in my wildest dreams did I ever think that one day we would witness the loss of a fellow Glory girl. I can't really put my mind around the idea that someone we have all watched through the Glory site and through her other wrestling venues is gone.
So I humbly ask your help in making the Diva the Glory Girl of December and to please keep Kelly, her family and her friends in our prayers.
To our fallen sister, may you rest in eternal peace. One day we will finally meet in that wrestling ring in the sky.
Allison
---
From: Steven D. Tabor (December 28, 2002 3:30am)
My name is Steven D. Tabor. Kelly was my sister. Though we spoke here and there, I am truly crushed that my sister is no longer alive. She did not get to meet her niece and nephew, my children. To anyone who reads this, hang in there. THE DIVA RULES!!!!! GOD BLESS.
---
From: Mike (December 29, 2002 2:10am)
My Thought on Kelly.....
Even so I never met Kelly or see her wrestle or even spoke to her in e-mail I will miss her and will think about her everyday for rest of my life it alway sad when someone died but hey life does go on I am sure by the way people said Kelly was she would want the glory girls and everybody else go on with our life and to live life to the fullest until it our time to leave earth. I guess some of us would have to meet her someday in heaven. I guess we take life for granted sometime then when someone close to you or people you know you hear about them passing away it bring you back to reality that life is short and you should go for your dreams like Kelly did.
Mike
---
From: Steve Goodman (December 29, 2002 8:45am)
Condolences.....
The management of PointMe.To/Wrestling wishes to extend its deepest sorrow's and sympathies to the family and friends of Kelly Tabor. It is always tragic when a young person's life is cut short. Although I never had the chance to meet or see Kelly wrestle, the notes that have been posted about her reveal a loving and caring person who was always willing to give to others.
Perhaps the best way we can all remember and pay homage to Kelly is to remember how she was always willing to support charities and other less fortunate. Follow her example, make a donation to your local United Way or other favorite charity in her name.
Sincerely,
Steve Goodman
http://pointme.to/wrestling
---
From: Jimmy (December 29, 2002 2:15pm)
The DIVA.....
Well, little girl. You always loved me calling you that. We are all in a weird place now. Having to go on with the Barnyarders isn't the same without you. You were always my best student at bringing psychology into the ring. You never stopped practicing and wanting to learn new moves. You kept all of us straight.
I know you are with the veterans that went before. I know that with you being the great student that you are, you will show the veterans respect and still keep learning. Remember to tuck the chin, turn right and DON'T HOLD YOUR BREATH! Learn what you can because I'm still down here teaching and learning. We're gonna have one BIG match when I get there.
Erin Go Bragh!
Jimmy
---
From: Michael A. Tabor (December 29, 2002 2:30pm)
Kelly's passing.....
My name is Michael A Tabor. Kelly was also my sister. We hardly talked to each other. Steven has told me what has happened. I am sad for my family, and friends of Kelly, as Steven said earlier THE DIVA RULES!!!! GOD BLESS YOU MY SISTER!!!!
---
From: Terry Jones (December 30, 2002 2:30am)
Kelly (THE DIVA) Tabor.....
The Diva will be honored by all who knew her. Family, friends, fans and just people who knew of her, were obviously deeply touched by this quite remarkable young lady.
I first learned of her through the web sites of some of the other Indiana wrestling groups. What can I say? She was a pretty lady with a bright smile, and she showed great ring presence. She had a spark in her eye, that told you, she wanted to be at the top. And she reflected a professional demeanor, that told you, she had the drive to get there.
The name and the face, was familiar to me the first time I met her. When we were introduced the first time at HPW, it was like meeting a relative I had only known through pictures.
She had a great attitude. And an even greater respect for the sport, and the people in it.
As we all know, before Bell-Time, wrestlers need to prepare for their matches, and at the end of the night, everyone is focused on the drive home. Unfortunately for me, our conversations were usually brief, because it was always before the event when I had a chance to talk to her. I thought there would be plenty of time for somewhere down the road.
I know she is still among us in spirit, and her presence will be felt every time we think of her. She will be aware of everything that happens, good or bad, to those closest to her in life.
Kelly touched our lives when she was with us. So speak her name out loud, and let her know that's she is in your thoughts.
She will live in our hearts as long as we remember her name.
Terry Jones
Ring Announcer for HPW
---
From: Referee David Lee (December 30, 2002 5:15pm)
The DIVA.....
Kelly was working into the business at the same time I was being reintroduced to the business. I too got to see her grow from a valet troublemaker to achieve a championship in several federations. Kelly was a wonderful young lady who will be sadly missed. It was always fun to work her matches and watch her improve each and every time. It truly is sad to know that we will not see her here in the ring anymore. May God Bless and keep her family and friends. And yes Kelly the Splash you laid on me at the Ramada was Stiff and I hope to pay you back some day. Fly high friend.
Referee David Lee
---
From: Brandi Alexander (December 31, 2002 9:30am)
Kelly.....
Well, I finally can bring myself to go to Glory and write something about my friend Kelly. I couldn't bare seeing all of these pictures of her knowing she's not here anymore. I was supposed to wrestle her again January 25th. We wrestled in Cambridge every month. It won't be the same. We had become very good friends, she was very smart and loved wrestling and I loved wrestling her.
I'm lucky enough to have wrestled her one last time December 14th in WV. I had the flu that night. We talked after the show for 2 hours, just gabbing away. The guys were getting tiffed I'm sure. I'm also glad I got to hug her one last time. If I only knew it would be the last time I would see her again.
Kelly was beautiful, smart and very funny. I wish everyone could have known her.
I hope you're at peace now Kelly, until we meet again.
Love you,
Brandi Alexander
---
From: Da L Double (Chris) (January 12, 2003 12:30am)
Heaven is a brighter place now. Rest in peace wonderful angel...
It is so sad when someone so beautiful and so young and full of spirit and so talented leaves us all. Rest in peace young Kelly Tabor. Glory girls and GLW and all of us here have lost a diva and heaven has gained a wonderful wonderful angel.
Da L Double (Chris)
R I P young princess.
---
From: Shaun (January 31, 2003 4:30am)
I am just a wrestling fan. I first saw Diva at EWF in Marion. I then saw her at HPW at Columbus, Indiana. I got my picture taken with her and talked to her a little bit. She was a very nice person. I saw her a couple times after that. I even ran into her at Ryan's Steakhouse in Indianapolis when I was there with my family in Indianapolis. I was in shock when I saw that she died. My thoughts go out to her family, friends, and coworkers. I saw the last CIWIndy show in Greenfield and Steve did a very good job in his tribute to Kelly.
Shaun
---
From: Steve (January 10, 2004 11:35am)
Always Remembered
Hard to believe that it has been over a year, since Kelly left us. What is NOT so hard to believe, is that the pain is still there. I suppose that it always will be, and maybe that is a good thing. It means that we care.
I wanted to post something special, but words always seem to fail me when it comes to this. I suppose that one of the best things I could share, would be concerning one of the loooooong road trips that we all took. We always discussed wrestling and life, and anything else that came up.
One particular trip, Kelly was talking about her fledgling career-and really wanting to know just how a person would know that they were a success--in wrestling, business, or LIFE. You see, neither money or fame meant success to her. We were able to agree (THAT was a shocker, lol), on several things that we felt would mean success.
1 - If you could honestly say that you enjoyed what you were doing...
Well, all anyone had to do, is to look at the smile on her face, after a match...or to hear her talk non-stop on the ride home, about the match...to know that she TRULY enjoyed what she was doing. As I said once before, Kelly was a "STUDENT" of wrestling. You HAVE to love something to approach it with the enthusiasm that she did. Same with coaching little league, same with reading, same with...well, you get it!
2 - If you had people who loved you, and cared about you...
Look at all the messages on here, look at all the posts that were made a year ago...I personally received hundreds of phone calls, emails, and personal greetings from fans, and wrestlers...and am still approached at shows...IS THAT LOVE AND CARING? Oh yes!!! Our little group, that she so lovingly called "barnyarders" (since we all trained in a barn)...each person...a member of the "family". Dave, Appollo, Ian, Matt, Jimmy, Myself...she was, AND STILL IS, a big part of us. Sister, friend, partner, manager...and "daughter". THAT IS LOVE.
3 - If you have an impact on people...
Refer to all the emails, etc...above.
All I can say, is that I have talked to wrestlers who told me that they seriously considered getting out of the business after this happened last year...myself, included. But each and everyone of them...decided that they would keep at it, and become the best that they could...out of respect and to honor Kelly. Wrestlers are still wearing tape with her initials on it...others are using her finisher...or other moves that she loved...out of respect...and to honor. There is even a production company, that will benefit the ladies who wrestle...that has used her gimmick name as part of their company name...to show respect and honor...of course I refer to "Diamond Divas", a wonderful company created by Clark Adams out of West Virginia.
How about the fans, who at one show, she had so fired up, that several of them tried to come over the guard rails to get her during a show. Security had to hold them back...I'd say that was an impact...lol! The little girls...AND big girls who all surrounded her for an autograph, or just to talk to her..EVEN after being the BIG heel. The little boys...and the not so little boys, who seemed to melt when she looked at them.
4 - If you are remembered...
I don't think this one will EVER be a problem. There are so many people who will remember Kelly, The Diva...for what she did IN the ring...and all of the contributions that she made OUTSIDE the ring. Just a note on this one. I spoke with the Riley Memorial Foundation (the charity that was listed as her favorite), and they told me that their contributions had jumped during the 1st quarter of 2003...and that a large number of those contributions had notes with them, saying things like "In memory of Kelly...", "In memory of The Diva", etc.
When I did the tribute in CIWIndy, last year...I reminded the fans of one of her "tag" lines..."DO you people know just how much I hate each and every one of you?" I made a change to how she really felt about them...the line, in her "non-Diva" mode...would have been..."DO you people know just how much I LOVE each and every one of you?"
She always had time for the fans, because she knew that without them, she couldn't have been who she was...THE DIVA!
IMPACT, LOVE, REMEMBRANCE, ENJOYMENT.
I would have to say, that in the short time Kelly was with us, she WAS AN UNQUALIFIED SUCCESS!
Kelly, you will be part of us...always.
WITH ALL OUR UNDYING LOVE...MATT, JIMMY, APPOLLO, IAN, DAVE...AND STEVE ("DAD") BRANAM.
---
From: Steve (April 26, 2004 6:42am)
Birthday Memories
As hard as it is still.......we all try to remember the fun things that we did on previous birthdays. While Kelly was definitely NOT one to celebrate birthdays (and I STILL don't believe that she hated getting gifts...lol), it was a challenge to come up with sneaky ways to get her to a little party. She thought she could outwit us all. The last birthday that we were able to celebrate with her, was shortly before a benefit show, and we had set up this elaborate scheme. We told her, that we had to get together...in gimmick...so that we could have a few publicity pictures taken. When she arrived at the "Barn", she noticed that the rest of us all had on our regular jeans, tennis shoes, etc...and had not dressed in "gimmick". But she was all decked out in her traditional "Diva" outfit, with the overstated makeup...that even SHE made look good....LOL! ONLY when we brought out her birthday cake, along with her gifts...did she realize that the great "Diva", the great Kelly...had been fooled. She tried to act upset, but as we sat there, after a half hearted punch to my arm...and the "mock" indignation...did she allow her true feelings out...there were tears in her eyes. Tears of happiness.
So, on this, her 30th birthday...we will again celebrate...there will be some tears...but there will be much happiness...at what she meant, and what she means...to all of us...her second family.
Kelly...you have all of our love...and our hearts.
Steve...and The Barnyarders...Jimmy, Matt, Q, Dave, Ian, and Kara.
---
From: Steve (April 26, 2005 6:58am)
Note To Kelly
Wow...hard to believe. You would have turned 31 today...just doesn't seem possible. All of us are still struggling, but know that you are keeping an eye on us. The pain is still fresh in our minds...BUT, we will do what we think you would want us to...well, not everything, because we are going to celebrate YOUR day. I know you would have hated that...lol..."Don't make a big deal of it...it's just another birthday", I can still hear you say.
So, tonight, we go out and offer a toast to you...and your life...and our friendships...and most of all...our love.
Happy Birthday, Kelly
Steve, Matt, Jimmy, Appollo, Ian, Dave, and Kerra--"The Barnyarders"
You will forever have our love...we miss you.
---
From: Steve (April 29, 2006 10:44am)
The Diva
Hard to believe that another birthday has come and gone....as it has been for the past 3 years, April 26th is a hard one for all of the friends and "family" of Kelly. Those of us who have been remembering her day for the past 3 years-with our little "Celebration of Life"-once again met. We shared memories, thoughts.....and looked at what might have been.
We know that she would have been extremely proud to know that one of her best friends, Jillian, has made it to the "Big Show".......she would have been extremely pleased with the new group of ladies who continue to bring ladies wrestling to what it once was......and she would have been pleased with those who have carried on the great "heel-ness" that was part of her...Camron, Jillian, Mickie, et al....
But I'm not sure that I ever mentioned just how much being part of the GLORY family meant to her. The day she was added to GLORY, I know she burned up the phone lines, calling her family, calling me, calling her friends...to let them all know that she had been added to this amazing site. She was as excited to have been a part of GLORY....as she was about her very first match. On road trips.....she would talk about the different girls who had contacted her...just to talk. She would talk about the wonderful fans...who had posted-either in support of, or to argue with...her. And she talked about the person who had given all of the ladies, and fans of the ladies....this great site. Yes, she truly loved the time she spent posting...the POD's....and all of the interacting with the girls and fans.
I needed to mention all of this, because it was something that she felt strongly about...something that she loved, and enjoyed. And I think that she would be very excited about how GLORY has grown.
Anyway.......Kelly, while it is a little late......on behalf of your wrestling family....I wanted to wish you a Happy Birthday. Our toast to you was this: "May we always remember that sparkle in your eyes.....may we always remember that love in your heart....and may we always remember your SPIRIT. And, Kelly......may you always remember our love."
The Barnyarders from Camp Braveheart: Steve, Matt, Jimmy, Kerra, Appollo, Dave, Ian........
---
Remembrances, thoughts and comments for The Diva may be emailed to: GloryWrestling@hotmail.com