Picture Of The Day for August 23, 2010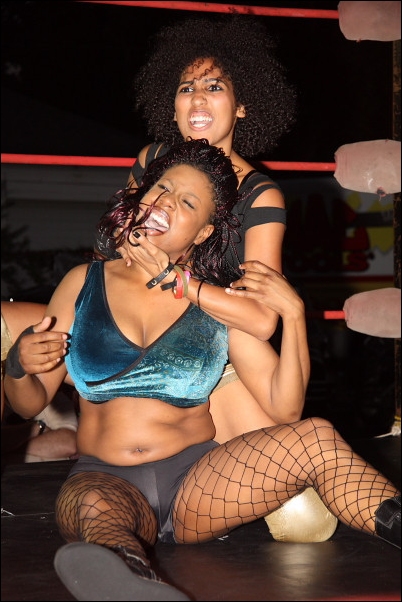 A Lesson Learned!
Remember yesterday's POD featuring G.L.O.R.Y. Girl Jana against up-and-coming Marti Belle? In that match, Jana tried her best to disconnect Belle's head from the rest of her body...luckily to no avail. But these two ladies met up the very next night for a match in Long Branch, New Jersey...and it appears that young Ms. Belle is a fast learner. Now it's Jana who is fighting to keep her head attached!
Just as Jana had attempted to do to her the previous night, Belle tried with all her might to twist and screw her opponent's head off of her neck. When that didn't work, Marti ran across the ring and connected with a knee to the chin to try and send Jana's skull flying through the ropes.
The feud between these two ladies is turning into one of the most heated on the East Coast. We think it will stay that way for a long time...if these two women don't lose their heads!
Photo:
Scott Finkelstein
Bonus POD!
Picture #2
Bonus POD!
Photo:
Scott Finkelstein
Bonus POD!
Picture #3
Bonus POD!
Photo:
Scott Finkelstein