Picture Of The Day for November 22, 2009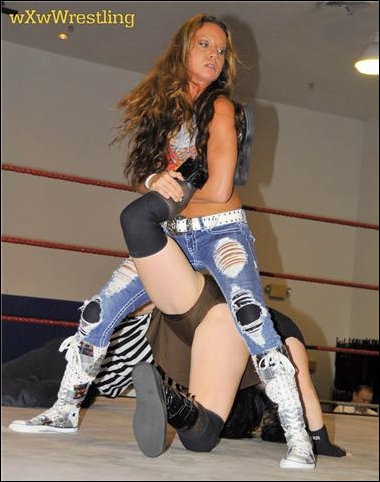 WXW Elite 8 (2009) - Part 2
SLAMminLadies.com was on hand in Minneola, Florida, last weekend to witness WXW's Elite 8 tournament for 2009. And what a tournament it was! The event had veterans, newcomers out to make a name for themselves and plenty of upsets. We turned over G.L.O.R.Y.'s Picture Of The Day to our friends at SLAMminLadies yesterday and they provided us with Part 1 of the tournament action. Today: Part 2! Enjoy the pictures and descriptions they've provided...
Kimberly vs. Leva. Leva must have been in a nasty mood this night as she made no qualms about her feelings towards the fans, sticking out her tongue and making comments about how she was going to maul her opponent, Kimberly. Kimberly was full of spunk and even though Leva tried every trick in the book plus a few short cuts, Kimberly was able to get the three count over the werewolfish Leva. [Above & Picture #2]
Kimberly vs. Betsy Ruth in the semi-finals. Kimberly was talking to the fans directly after her match against Leva when Betsy Ruth interrupted and got their match started immediately. Kimberly fought back valiantly but never really gained the upper hand after the vicious attack. Betsy moved on to the finals. [ #3 & #4]
Lace vs. Sarona Snuka in the semi-finals. Sarona wanted to show her respect and offered her hand to Lace at the beginning of their match. Of course, Lace took the advantage and kicked Snuka to start off. Some good back and forth action before the strength and size advantage of Snuka took over. Snuka advanced to the finals. [ #5 & #6]
Betsy Ruth vs. Sarona Snuka in the final round. The size difference that usually helps out Betsy Ruth was not so noticeable next to Sarona Snuka. She definitely has some power! This one was anyone's game, very back and forth. Betsy did gain the upper hand after some cheating tactics but Sarona valiantly fought back. It looked like Betsy was going to come away with the win when she went for the Vadar Bomb, but Sarona was able to roll out of the way in time. Sarona went to the top (maybe for her father's patented splash?) but Lace ran out while the ref was down and shook the ropes. Betsy was able to take advantage and with a big power slam, the match was over. Betsy Ruth wins the 2009 WXW Elite 8! [ #7, #8 & #9]
The DVD of this tournament will soon be available at WXWwrestling.com.
Bonus POD!
Picture #2
Bonus POD!
Bonus POD!
Picture #3
Bonus POD!
Bonus POD!
Picture #4
Bonus POD!
Bonus POD!
Picture #5
Bonus POD!
Bonus POD!
Picture #6
Bonus POD!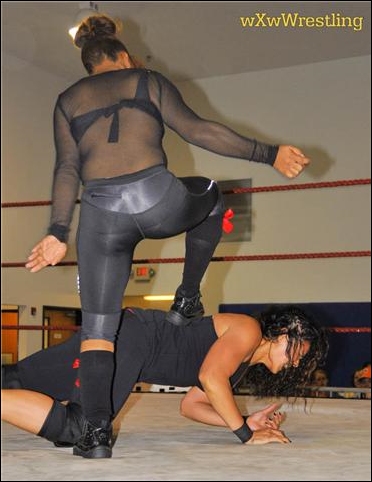 Bonus POD!
Picture #7
Bonus POD!
Bonus POD!
Picture #8
Bonus POD!
Bonus POD!
Picture #9
Bonus POD!