Picture Of The Day for August 30, 2009
Who? Me???
G.L.O.R.Y. Girl Kellie Skater--a.k.a The Rate Tank--took to the ring with partner Sway a couple of weeks ago for a tag team battle against fellow G.L.O.R.Y. Girl Jessie McKay and her partner Shazza McKenzie. As usual, the cheating started early and came often from the team of Skater and Sway...despite Skater's feigned ignorance of the rules.
When Shazza found herself trapped in the wrong corner with Sway holding her her place against the turnbuckles, it was Skater who lined up the pretty blonde as she reared back and then blasted away with some ab-shattering right fists [above & Picture #2]. And when the referee finally got the villainous pair to break the double-team attack, Rate Tank had the nerve to raise her hands as if to innocently proclaim, "Who? Me???" [ #3]. Come on! Nobody's buying that, Skater!
Later, the lethal Australian did some solo damage to the unfortunate McKenzie as she stood on those blonde pigtails...pinning them to the mat while she pulled up on the wrists [ #4]. Shazza could scream and bridge all she wanted in this position, but it wasn't going to decrease any of the pain she was experiencing at the hands of her attacker. Once again, the referee forced Tank to release the illegal hold. Believe it or not, Skater once again pulled that innocent routine as she raised her hands as if to say "Me? I'm not doing anything wrong, sir!" [ #5].
Don't get us wrong. We realize that Kellie Skater is one of the most skilled and determined wrestlers on the Australian continent. But let's see her win some matches fair and square for a change instead of resorting to these kinds of illegal and immature tactics to collect her victories!
Photo:
Jade Sue-Tin
Bonus POD!
Picture #2
Bonus POD!
Photo:
Jade Sue-Tin
Bonus POD!
Picture #3
Bonus POD!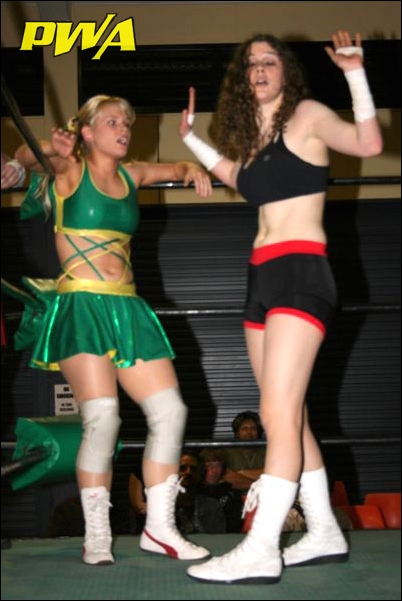 Photo:
Jade Sue-Tin
Bonus POD!
Picture #4
Bonus POD!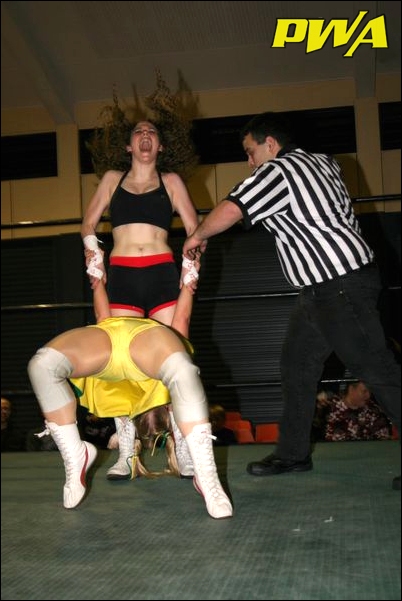 Photo:
Jade Sue-Tin
Bonus POD!
Picture #5
Bonus POD!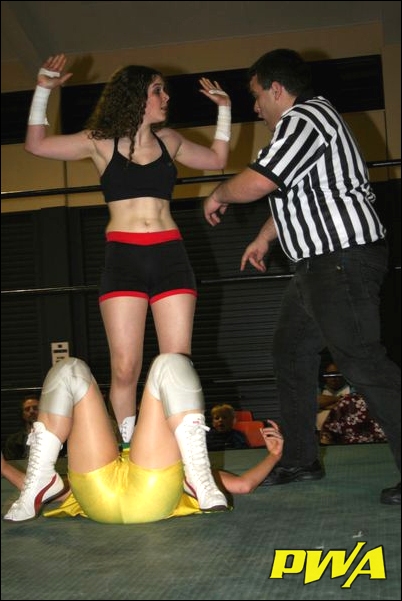 Photo:
Jade Sue-Tin