Picture Of The Day for August 8, 2009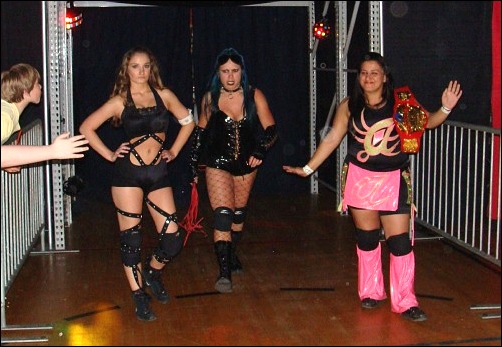 Team Ariel: "The Rules Don't Apply To Us!"
When Team Ariel entered the arena for a six-woman tag team match during July's World Women's Wrestling event in Massachusetts, they made it clear to everyone in attendance that they just didn't believe that the rules of the ring applied to them. Their cocky attitudes certainly didn't endear them to the fans [above]. And when the all-G.L.O.R.Y Girl team actually stepped to the ring to do battle, they proved that they had no intention of winning this battle fair and square!
Once the bell rang, Team Ariel's strategy was clear: pick a member of the opposing team and isolate her for punishment. Their unfortunate victim was poor Taeler Hendrix. Each lady in this dastardly trio took a turn in working over the suffering redhead, with Ariel herself initiating the attack with some vicious hair pulling [Picture #2]. It was Sammi Lane's turn next. While Ariel distracted the referee, Lane planted a knee across Taeler's shoulders and neck and forced the throat of the suffering girl over the lower ring rope [ #3]. What a disgraceful performance!
And then the mentally-disturbed Mistress Belmont got in on the brutal action. You didn't think she was going to miss out on all the "fun", did you? Look at her as she actually climbs onto the shoulders of the already injured Hendrix and bounces up and down on those ring ropes, causing even more distress on the windpipe of the overwhelmed girl [ #4].
Talk about a disgusting display of so-called "wrestling". Don't these ladies feel any shame at all using these tactics? Not a legit wrestling move during the entire match! And you know what? They still couldn't come away with the victory!
Photo:
Mike Jas
Bonus POD!
Picture #2
Bonus POD!
Photo:
Mike Jas
Bonus POD!
Picture #3
Bonus POD!
Photo:
Mike Jas
Bonus POD!
Picture #4
Bonus POD!
Photo:
Mike Jas