Picture Of The Day for July 22, 2009
So Much For Posing...
Seems that Kellie Skater took offense at yesterday's Picture Of The Day feature, which highlighted her antics before this past weekend's Pro Wrestling Australia - Queensland event. Hey, we tell it like we see it. We can't think of anything that would justify "The Rate Tank's" cocky and arrogant display prior to her tag match. But she sees it differently, and she told us so in a post on the G.L.O.R.Y. Message Board. Click here to check out what Ms. Skater had to say. But just to show you that there's no hard feelings, we're going to go right ahead and once again feature Skater on the G.L.O.R.Y. POD just as we planned and promised you yesterday...
Yesterday we brought you the antics of G.L.O.R.Y. Girl Kellie Skater as she entered the ring with her partner Sway for a tag match during last weekend's PWAQ event Down Under. You would think that after all the posing, posturing and self aggrandizing, the Australian wrestler would want to prove to the crowd what an excellent grappler she was. But things didn't quite turn out that way...
When the bell sounded, it was Skater who was almost immediately on the defensive. In fact, she was howling in pain as her opponent locked up her left arm with a nice wrist lock and twist [above]. The cries of agony continued...and again came from the mouth of Skater...when her opponent stretched her out nicely with this perfectly executed floating surfboard [Picture #2]. We don't know what hurt "The Rate Tank" more during this maneuver: her arms, her back or her pride!
Only seconds into the match, here was Ms. Skater with shoulders planted on the mat, very nearly counted out by the referee [ #3]. Lucky for her, she was able to roll out of the pin attempt with a fraction of a second to spare. This had to be embarrassing...especially after all that pre-match showing off for the crowd, don't you think?
And still the tank couldn't get on track! A perfectly timed clothesline by her opponent almost decapitated Skater [ #4] on the way to putting the cocky Aussie back down to the mat. Then came perhaps the sickest looking seated full nelson that we've ever seen in nearly nine years of G.L.O.R.Y. Wrestling Pictures Of The Day [ #5]. Look at the unnatural angle of Skater's head and neck as her opponent pours the pressure on that hold! It looks like Skater's head can't possibly still be attached to her shoulders! Her neck and spinal column at least should have suffered severe damage.
But despite what you think of Kellie Skater's arrogance and cocky attitude, there's no denying that the lady is tough. She survived this early attack and made a comeback...although the tactics she used could hardly be called sportsman-like. We'll show you what we mean tomorrow.
Photo:
Jade Sue-Tin
Bonus POD!
Picture #2
Bonus POD!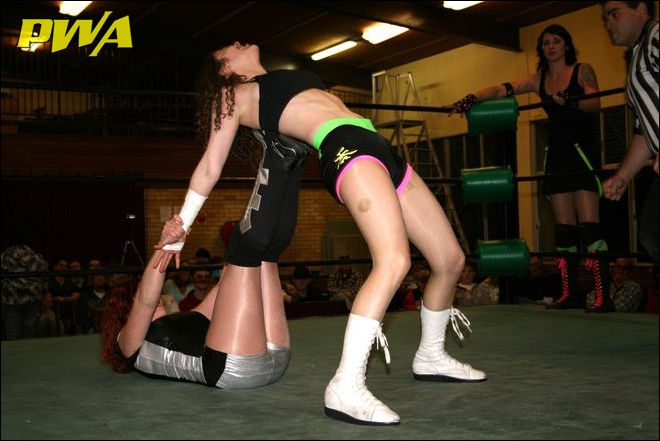 Photo:
Jade Sue-Tin
Bonus POD!
Picture #3
Bonus POD!
Photo:
Jade Sue-Tin
Bonus POD!
Picture #4
Bonus POD!
Photo:
Jade Sue-Tin
Bonus POD!
Picture #5
Bonus POD!
Photo:
Jade Sue-Tin