Picture Of The Day for April 28, 2009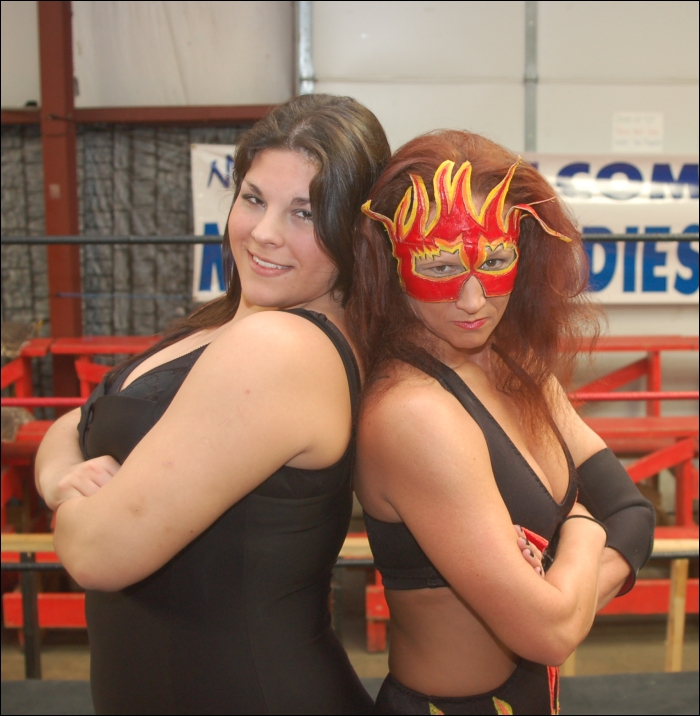 A Busy Weekend For Miss Rachel
In yesterday's Picture Of The Day we watched as Miss Rachel took on LT Falk in mixed action as part of this past weekend's special match program sponsored by Memphis Ladies Wrestling. Apparently, MLW wanted to keep Rachel busy because they also scheduled the powerful wrestler in a match against dangerous fellow G.L.O.R.Y. Girl Molotav (a.k.a. Tasha Simone).
The smiles you see above (well, the smile from Rachel at least...that's the closest Molotov will ever get to a smile) quickly disappeared once the bell sounded. A fingerlock test of strength started the action (below). But it soon became apparent that Molotov would be the aggressor in this match. The masked mauler took advantage of the fact that Miss Rachel had perhaps not yet fully recovered from that earlier mixed match against Falk. Molotov's plan of attack was to ground her larger opponent and incapacitate her by working the back...and the strategy seemed to work perfectly.
A Tazmission-like hold had Miss Rachel screaming in agony as her spine, arms and shoulders were stretched to the limit. While the painful hold didn't win the match for Molotov, it effectively set up Rachel for further punishment. Molotov went after the back again...this time using a boston crab to do even more vertebrae damage.
We don't know who ended up with the victory in this match, but we're sure that future meetings between these two ladies won't be wrestling matches...they'll be wars!
Bonus POD!
Picture #2
Bonus POD!
Bonus POD!
Picture #3
Bonus POD!
Bonus POD!
Picture #4
Bonus POD!