Picture Of The Day for March 14, 2009
Barefoot Beatdown in Tennessee
Some of the ladies of Memphis Ladies Wrestling got together in Tullahoma, Tennessee, a couple of weeks ago to settle a few differences in a private ring. No fans. No screaming crowds. Just lady vs. lady in the squared circle. Luckily, Wrestlin' Wally was one of the very few non-wrestlers admitted to the exclusive event. And he has the pictures to prove it!
One of the matches that Wally shot was the battle between G.L.O.R.Y. Girl Pandora Boxxx (a.k.a. Miss Rachael) and newcomer "Rock-n-Roll" Rock-C. The rookie grappler decided to fight this match bootless...harkening back to the days of the popular barefoot wrestlers such as Velvet McIntyre, Daisy Mae and LeiLani Kai. But Rock-C's decision to face the much bigger and more-experienced Pandora was not a good one...
The trouble started for the rookie before she even got into the ring. Halfway through stepping between the ropes, Pandora attacked...hammering Rock-C's spine with a double-axe handle blow that drove the girl down to the mat. Once downed, Rock-C was defenseless and unable to protect herself as Pandora nailed her with a double leg drop across to the back (below). And it only got worse from there for the rookie.
After sufficiently damaging the youngster's back, Pandora rolled her over and crushed her with a big body splash...nearly splattering the barefoot beauty's body to the four corners of the ring. By now, Pandora was content to toy with her opponent. After a stomp to the stomach, the big G.L.O.R.Y. Girl ground her boot into the belly of the suffering rookie. Look at how she uses her arms to help press down on the leg to get every last bit of crushing power into it. Pandora isn't just looking to beat this kid...she just wants to see her suffer!
Pandora's next stop was Rock-C's legs. Once again, she utilized her body mass and gravity to do the job as she dropped down on the rookie's lovely left leg...crushing the limb into the ring mat. It's apparent that Rock-C is hurting big time. But as we'll see tomorrow...Pandora is in no rush to end this match!
Photo:
Wrestlin' Wally
Bonus POD!
Picture #2
Bonus POD!
Photo:
Wrestlin' Wally
Bonus POD!
Picture #3
Bonus POD!
Photo:
Wrestlin' Wally
Bonus POD!
Picture #4
Bonus POD!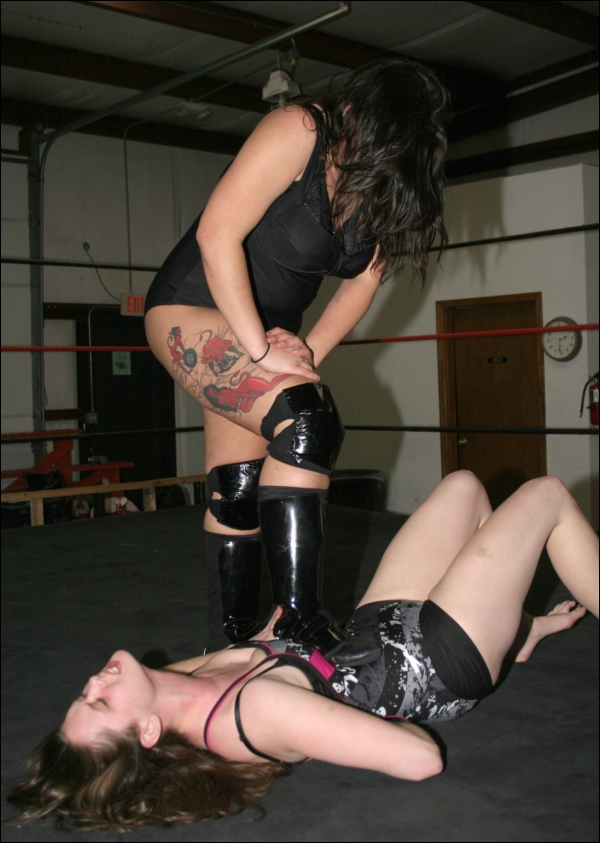 Photo:
Wrestlin' Wally
Bonus POD!
Picture #5
Bonus POD!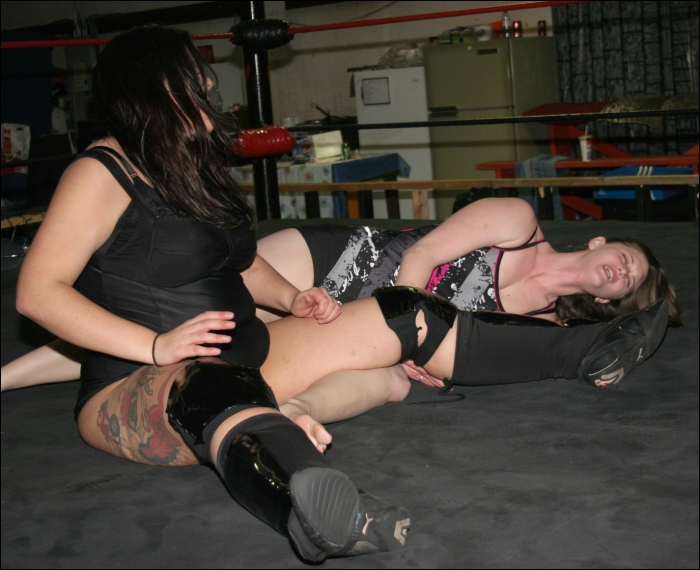 Photo:
Wrestlin' Wally