Picture Of The Day for March 5, 2009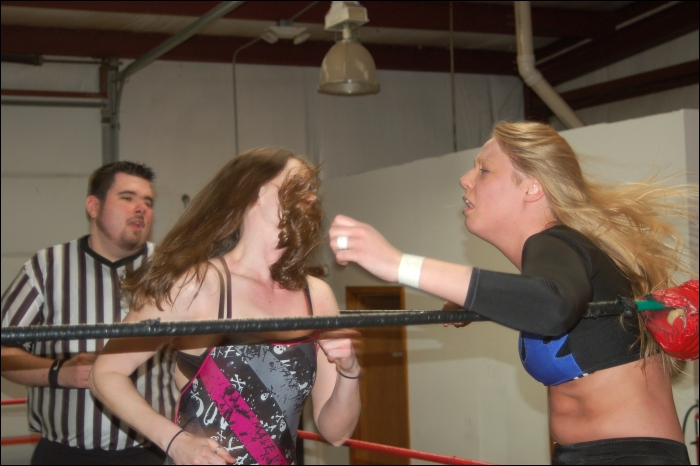 Rock C Rocks Misty James!
Tough times for G.L.O.R.Y. Girl Misty James at last weekend's Memphis Ladies Wrestling get-together. The blonde beauty stepped into the ring against Rock C and took a pounding...a pounding that was highlighted by a pummeling attack from the brawling brunette that had James trapped against the corner turnbuckles and seeing stars. After taking away Misty's breathe with a series of belly blows to her bare midriff (above), Rock C literally rocked Misty with another fist straight to the jaw...a shot that violently snapped the blonde's head backwards (below) and almost off her shoulders!
Rock C proved how violent she could be when she later utilized those ring ropes to further abuse Misty...this time draping the blonde's throat over the middle cable and in an attempt to choke her into oblivion. Rock C did eventually give up on the illegal hold. But as you can easily see from today's final picture, the damage had already been done. Misty was left hanging in a heap, nearly lifeless, in an attempt to survive the vicious attack.
Photo:
MLW
Bonus POD!
Picture #2
Bonus POD!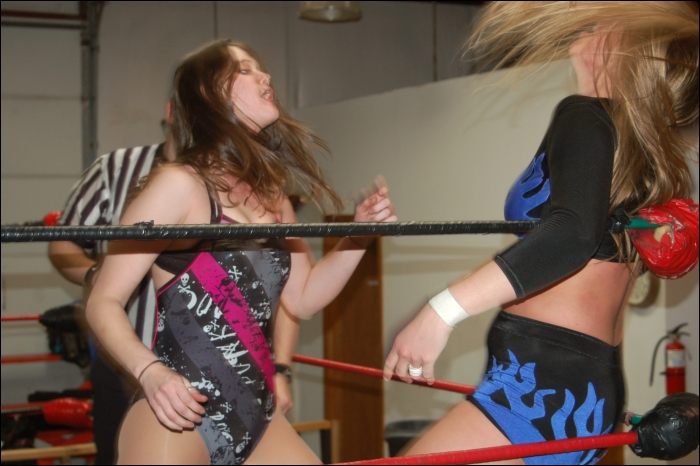 Photo:
MLW
Bonus POD!
Picture #3
Bonus POD!
Photo:
MLW